I saved the best for last. These are, in my opinion, the best nail polishes Essence ever made. Glam Rock was limited edition released in December last year. Among other things, it included three shades of nail polish, which hit me straight in the heart and became my "precious" polishes. I have a story about how they have become my "precious" :D
I've never really cared about new Essence collections, because they were never anything special to me. And I didn't expect anything special from this one either and then I saw photos on the net. First I saw a shade called Gothic Girl and it was love at first sight. I knew I am going to have difficulties getting the collection, as the Essence Trend Edition collections are very quickly sold out. I made the hunt. No luck. I told all my friends to please look around. I had no luck and almost gave up. And than one day Nati called and told me, that she found all three shades for me. I jumped from joy up to the ceiling. And that's how these polishes became my "precious" polishes. Nati, thank you again!
Anyway, I got all three shades. I should probably mention, why they are so special. They are holographic As a rainbow in a bottle .. Let the photos speak for themselves…
Metal Babe
Pink Punk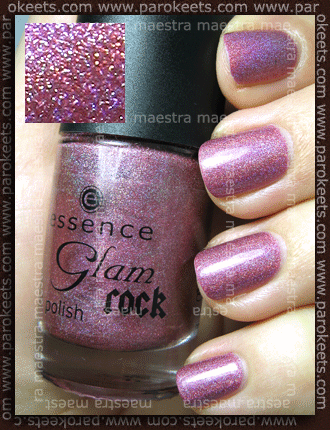 Gothic Girl
Unfortunately the pictures don't give enough credit to the holographic shimmer. Indeed, the holographic effect is much more noticeable IRL. I'm so happy that I have these beauties!