On the last day of the old year the postman made my day with a package of five Revlon nail polishes. Shades that have been hiding in the package were: Hot For Chocolate, Brazil Nut Brown, Craving Coral, Raven Red in Blackberry. All shades are just wonderful! Of course I had to test them and was immediately impressed. They all applied wonderfully.Let's better get on to the pictures…
First we have the cream shade Coral Craving, which applied extremely well. If applied carefully, perhaps only one coat could be sufficient. However, it is one of those shades which leaves VNL. Therefore even after two coats tips stay slightly visible. But that is not the problem with my short nails.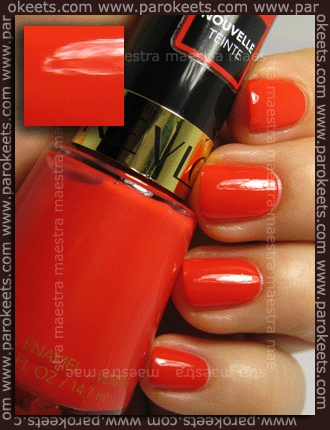 Next is Hot For Chocolate. I was not sure if this one will impress me. It is a cream and a dark brown one at that. Such shades are screaming in my head: "Streakyyy!" . I must say I was pleasantly surprised. It applied entirely streak-free and it was totally opaque in two coats. The color alone… it falls into the category "almost black", but you can definitely tell that it is brown.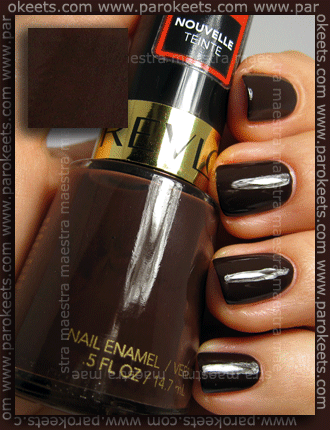 The last one is my favourite shade of this bunch. It is called Blackberry. Because it is such a deep color and it was a dream to apply. The only thing that confuses me is the name. I mean, I really can't see any blackberries in it, but maybe this is just me…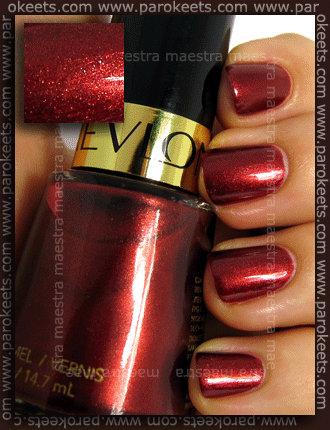 As you may have already seen, I have been thrilled with Revlon nail polishes and I will most likely buy some more. As I said before there were five in the package, so I have another two to show you, but let's leave that for the near future.