I don't know if it is just me or am I really really into greens lately Today I also have something green for you. This time it is a fresh light green shade, which will be great for spring and summer. It's CHI's Hypnotized.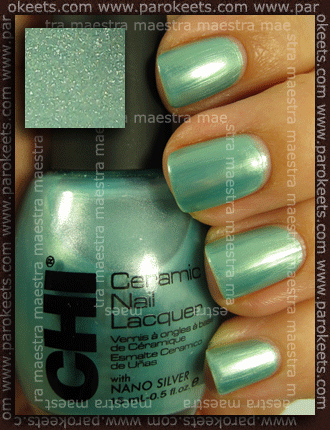 I apologize for a not very good photo, in which my skin looks too yellow and too dark, but only in such conditions could I get the most accurate color of the polish. Hypnotized is a polish with frost finish. Brush strokes are visible but not so much as with some other frost polishes. This one is a bit on the sheer side and the formula is a bit watery, but despite all this I didn't have any application issues. I needed three coats for it to be fully opaque. I am totally impressed by the shade and I will definitely wear this shade often!
After I applied the polish, I had to immediately go through my stash of mineral eyeshadows to search for a matching eyeshadow. I found a close match. It is Peridot from Sweetscents. Peridot is slightly more blue than Hypnotized, but it was close enough for me to do a matching make-up.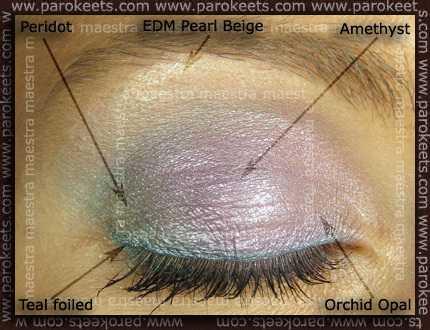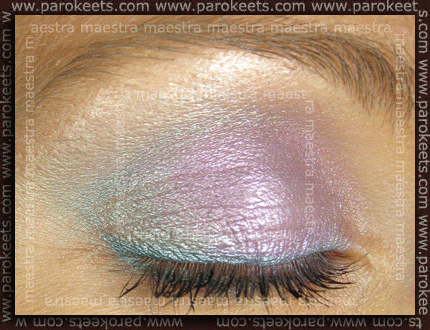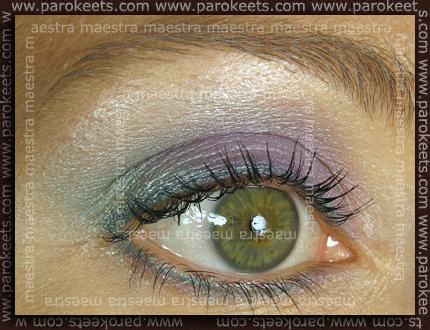 On the above pictures Peridot looks more blue than IRL. The reason for that it's probably the base I used for this make-up, which was Gosh's light blue waterproof eyeshadow.