Ponovno sem odkrila svojo ljubezen do odtenka Apple Jam znamke Gosh. In ne, tokrat ne pišem o laku za nohte, temveč o čudovitem rumeno-zelenem prahcu oziroma senčilu za oči. Neverjetno, kako lep odtenek je to in zelo dobro pigmentiran ter z lepim finišem.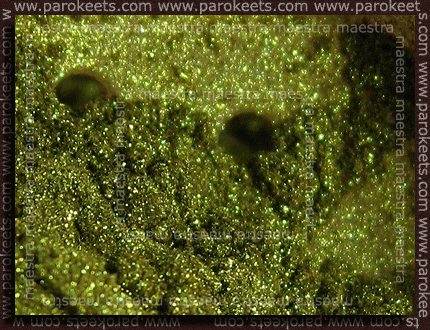 Čeprav sem želela narediti zelo enostaven "make-up" z mojim priljubljenim Apple Jam-om, mi to ni uspelo. Apple Jam je želel več in več. Dal mi je navdih in nastalo je tole…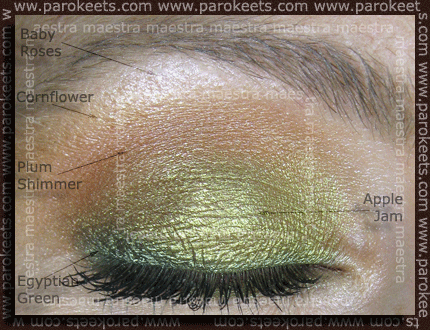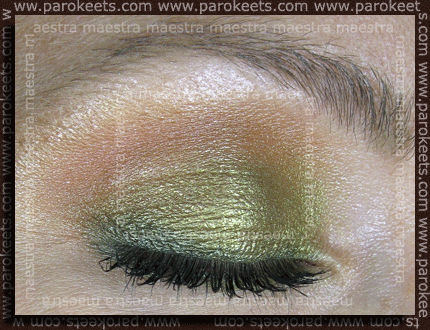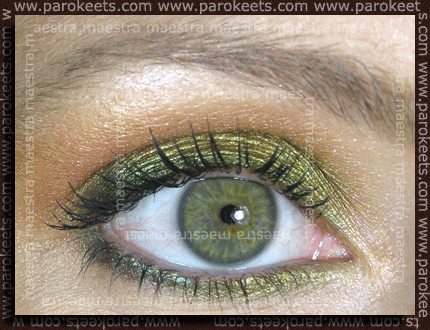 Moram priznati, da sem bila kar ponosna na Apple Jam, ker me je pripeljal do tako lepega "make-up-a".
Ostala senčila, ki sem jih uporabila za zgornji "make-up" so znamke Sweetscents.
K "make-up-u" sodijo tudi ustrezno obarvani nohti. Tokrat sem izbrala odtenek Poison znamke Look by Bipa. Že nekaj časa me je v moji zbirki čakal tale nenavaden odtenek. Priznam, da sem se ga kar malo bala. Prepričana sem bila, da ga ne bom mogla nositi. Da bo moje roke spremenil v nekaj bolnega. A sem se motila. Prav navdušena sem nad odtenkom. Očitno se je splačalo čakati, kajti pozimi bi zagotovo prav smešno izgledal.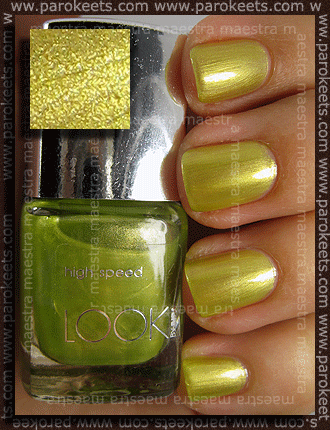 Lak je nekoliko prosojen, a na mojih kratkih nohtih zadostujeta dva nanosa, da je videz skoraj popolnoma prekriven. Sicer se nanaša lepo. Ker ima metalik do frost finiš, so proge opazne, a niso moteče. Suši se dokaj hitro. V steklenički je 8ml. Cena je 2,19€. Look by Bipa lake se dobi v drogerijah Bipa v Avstriji.
Za konec še par… Apple Jam in Poison.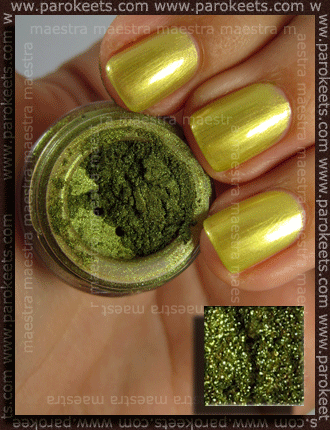 Kaj menite? A nista lep par?