I bought two waterproof eyeshadows from Essence Down On The Beach TE. White one I borrowed from Goga. :D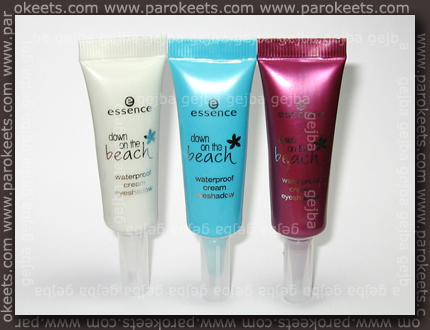 One of the things I like the most about these eyeshadows, is their packaging. You get 7 ml (0.2 fl.oz.) of product in a hygienic tube.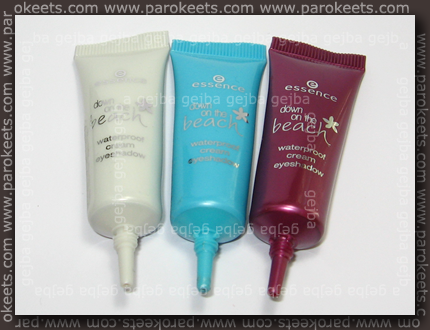 You squeeze out the needed amount, then apply eyeshadow with fingers or brush. I used Stargazer corrector brush.
From left to right I applied: Pearly Shell, Viva Caribbean in Wild Orchid.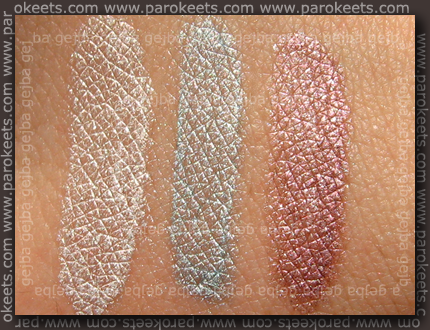 Pearly Shell is the most compact shadow. Mineral shadows did not stick to it as well as on other eyeshadows, but they did stay on the longest and it was hardest shadow to remove with water from my arm.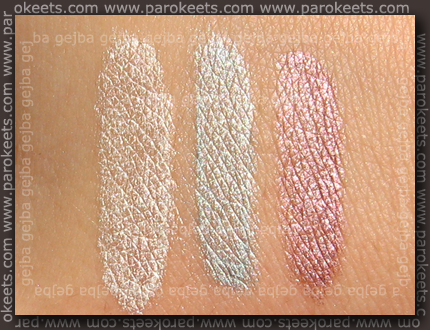 Viva Caribbean was hardest to apply – it's kind a watery. I needed three layer to archive color you see in the swatches It's great base for mineral eyeshadows as they stick to it … well if you don't have oily lids, since it will probably crease on you.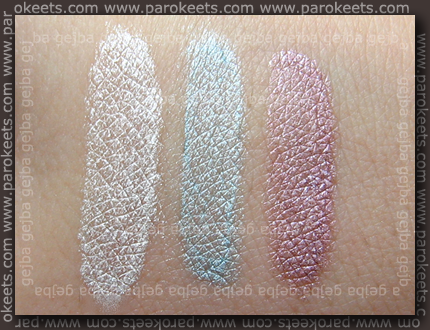 Wild Orchid was disappointment. I expected color similar to the one of the tube, but got one you see in the photos. Staying power wise it's somewhere in between blue and white eyeshadow.
If we look at the shimmer present in eyeshadows – blue one has really fine one, while violet and white eyeshadows have larger simmer in them. I especial am not fond of combination – violet base and silver simmer.
Price is around 2 EUR in Muller drugstores.
Polishes were not available in any drugstore that caries Essence brand. I hope they'll be available in the future.
Goga has for you pictures and description for the glosses Bird of Paradise and Wild Orchid.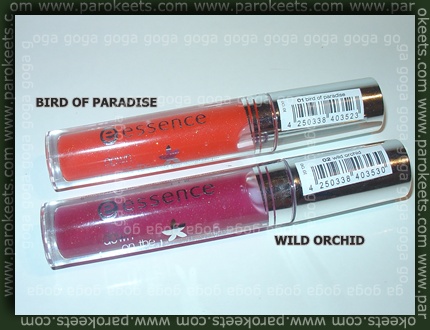 Glosses are not very pigmented. They're quite thick and give jelly look to your lips. Shimmer is little larger than in other Essence glosses, but it's not grity. Both of them have good staying power and are not sticky.
I'm already thinking of buying few more … as a backup.