Kako sem jaz v zaostanku… Na računalniku imam namreč ogromno fotografij, ki vam jih še nisem pokazala. In iz dneva v dan nastajajo nove. Danes torej fotografije iz arhiva.
Tokrat gre za sodelovanje Manhattan in OPI lakov za nohte.    Manhattan je iz omejene izdaje, zato se ga verjetno ne da več dobiti. Na steklenički piše High Tech. Odtenek se imenuje 107N. Gre za kovinski temno siv odtenek, s katerim ni bilo problemov pri nanašanju.
OPI – Purple With A Purpose je čudovit vijoličen odtenek, ki se prav tako lepo nanaša. Odtenek je zelo podoben odtenku Birds Of Paradise znamke Jessica. Fotografijo najdete v TEM prispevku.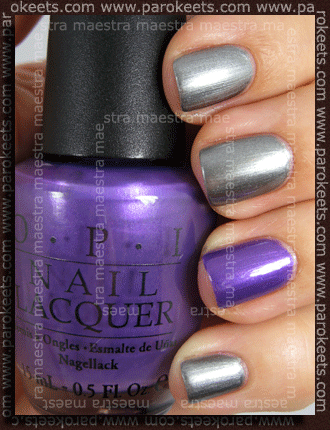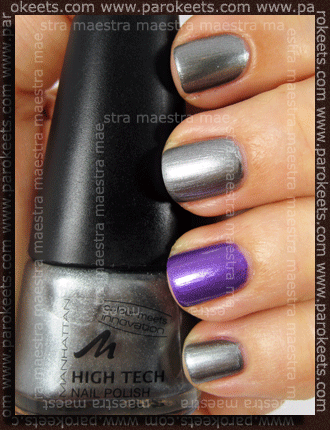 Manikura je malo posebna, vendar še zmeraj "nosljiva". Kaj menite? Vam je všeč ali ne?