New Essence limited edition became group project. Most of the Essence Creamylicios stands were empty so each of us took pictures of the products she managed to obtain.
Goga took pictures of eyeshadows, one polish and eyeliners, Mamy was responsible for bronzer, lip glosses and two polishes and I only got one polish, so I took pictures of that one.
Corresponding comment to each picture was written by the same Parokeet that took the photo.
First part is dedicated to our greatest love … polishes.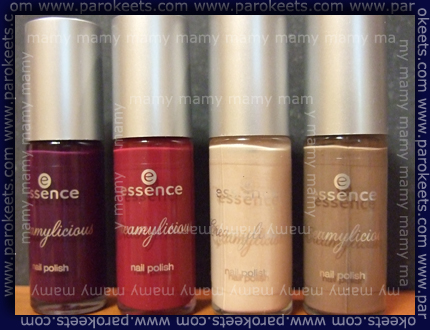 01 Wild Berry Sorbet is gorgeous classical purple. It's very opaque and creme. I used two coats. I highly recommend it.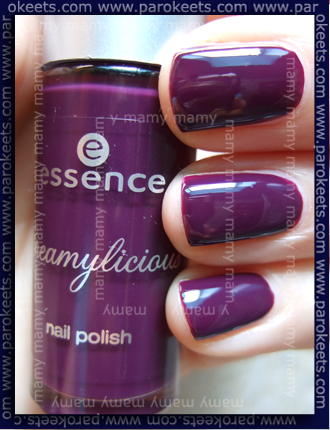 02 Raspberry Smoothie is very pretty berry creme shade. It becomes almost red in the sun and more pinkish-purple in the shadow. But if you look at it under artificial light you don't see red at all. It dries very quickly, so you have to hurry up with the application, so two coats are must. Otherwise one would be sufficient.
I personally dislike narrow and tall bottle because of it's instability. I almost spilled the polish … twice. On each photo I used two coats, no top coat.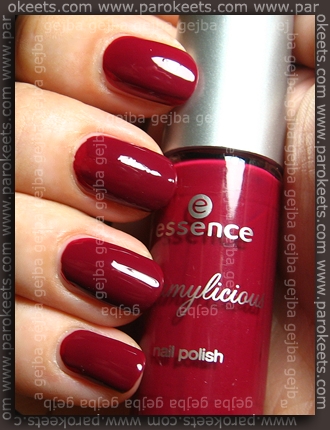 03 Iced Chai Latte is very difficult to apply. It's streaky and dried too quickly. I can not remember the last time polish caused me so much trouble. It contains very fine silver shimmer. I dislike the color … if you can even call it that. :D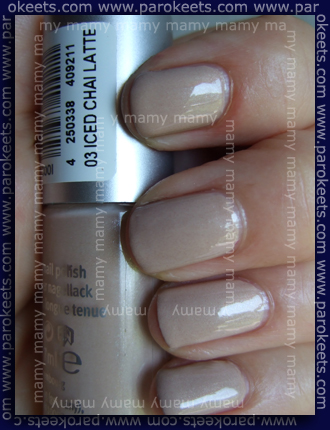 04 Chocolate Shake is light brown polish with red and orange shimmer. I used two coats and top coat.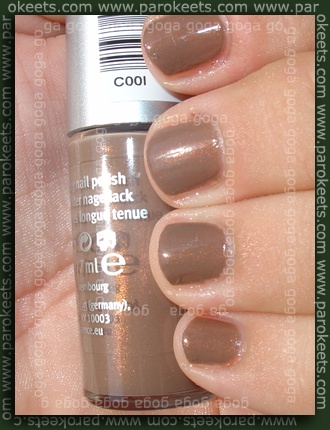 Bottles hold 7 ml (0.2 fl.oz) of polish and cost 1,75 EUR.