My today's konadicure is one of the funniest I've ever worn. I simply love it!
I started with two coats of Avon's Sunshine, which is the perfect creme sunshine yellow. You wouldn't believe it, but this one actually applied like a dream. No streakiness at all. Great! The yellow base screamed for some nail art. After a few minutes thinking, I decided to use images from the Konad plate m10, so I end up having sunshine beasts on my nails. It looks like I have a cartoon on my nails.
I didn't think I could improve this manicure, but Essie's Matte About You (matte top coat) works wonders.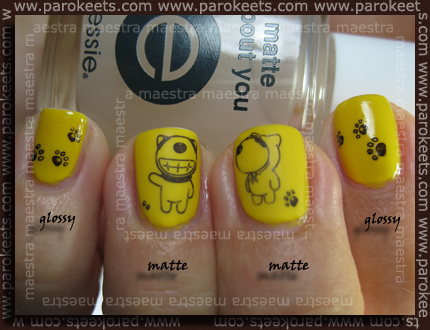 I have a feeling that this konadicure could entertain me a whole week, but it most likely won't as I just got the new fall fashion Essies, so I have some swatching to do.
And what is on your nails right now?