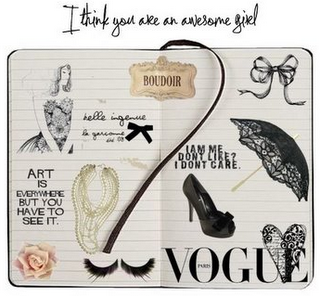 Tako, danes sem na vrsti… jaz… Maestra… :D Naključne reči o meni…
Največja neuresničena želja iz otroštva, ki se je spomnim, je imeti robota. :D Ja, tega sem si resnično zelo zelo zelo želela in še zmeraj je to moja tiha želja. Nekoč imeti kakšnega "ta pravega" robota.
Ne znam pomežikniti samo z levim očesom. Evo, še ta smajli ( ) se dela norca iz mene in mežika z levim očesom.
Imam 8 let starejšega brata, ki je doktor znanosti. Izredno sem ponosna nanj!
Moj dragi je moj najboljši prijatelj. Živiva skupaj v svojem stanovanju. Letos sva imela deseto obletnico, ki sva jo praznovala v Disney World-u v Orlandu na Floridi. A sploh moram napisati, da je bilo nepozabno lepo?!
Zaključujem študij uporabne matematike. Še diploma…
Trenutno sva z dragim malo obsedena z najnovejšo igrico za Wii konzolo. Wii Sports Resort.
Ko sem bila stara dve leti sem svojo mamo zaprla na balkon. Živeli smo v četrtem nadstropju. V stanovanju sem ostala sama. Kaj vse bi lahko dve-letno dete počelo v stanovanju? In še huje, kaj vse bi si lahko naredila sama v stanovanju? K sreči se je vse končalo srečno. Na pomoč so priskočili gasilci.
Ni več skrivnost, je pa dejstvo, da sem včasih skoraj tako obsedeno, kot danes lakiram nohte, izdelovala nakit.
Z dragim imava v stanovanju trenutno dva akvarija. Enega velikega, ki drži 175l vode, drugega manjšega z 58l vode. Ribice so najini edini hišni ljubljenčki. V nastajanju je še tretji 37 litrski nano akvarij.

"Ta velik" akvarij kmalu po postavitvi…

Nekaj mojih mini ljubčkov…

Izredno se bojim pajkov! Amen.
Rada bi se zahvalila Nati in unsu, ki sta nas dodali na svojo listo blogov, ki jih radi prebirata. HVALA!!!
Za konec moram napisati še svoj seznam desetih blogov, ki jih rada prebiram… hmm… Dnevno vsaj preletim precej blogov, zato jih je težko izpostaviti samo deset. Odločila sem se za deset blogov, na katerih še nisem zasledila "I Think You Are An Awesome Girl" spiska. Torej moj spisek je:
The Edge Of Sanity
Polished Beauty Blog
Sasse'e 'nad Stamping Stampede
Enamel Coated
This post is also available in SLO.