In my previous post I showed you the Enchant polishes that Thriszha from FAB UR NAILSsent me. I don't know much about the company or the brand. They are made in China. I guess, Thriszha bought them in Abu Dhabi and if I remember correctly these are without DBP and toluene. But I'm not sure about the formaldehyde. Each bottle contains 16 ml, which is very generous. I know, that they aren't very expensive and that they come in packages of four or five and cost about $8 or $9. But I could be wrong. Thriszha, please correct me, if I'm wrong!
I just know that they are amazing! Look at them again …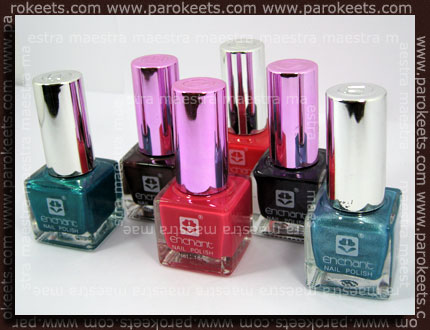 Almost all of them are very pigmented and all of them have great application. I have five of them to show you today.
My least favourites of the bunch are the "pink" ones.
42 is a pink coral creme. It's more pinkish IRL. The application was great. Two coats in the picture.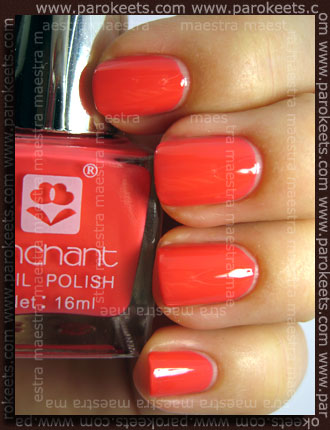 69 is a  similar to 42, but it's more on the berry side. No application issues. Two coats shown in the picture. 42 is on my pointer finger on others there's 69.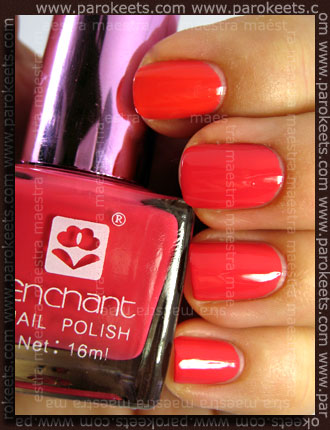 Now we come to my favourites …
70 is a rich shimmery burgundy shade. Two coats shown in the picture.
Next we have number 31. A wonderful shimmery dark purple. A little less blue IRL. Two coats shown in the picture.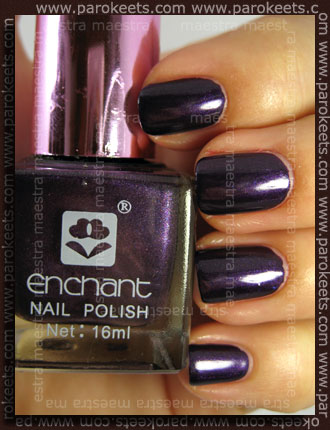 My absolute favourite of the bunch is 67. I really can't describe the shade. It's green and it's blue at the same time. But it's not teal. It's more green. Maybe it's turquoise.  Well, I don't know … I better show you the pictures …
Isn't it gorgeous? I can't stop looking at it.
The only shade I didn't show you is the shimmery blue one called 33. Unfortunately it's very sheer, so I have to try and layer it over another blue. I didn't have any problems with the application. The brush isn't the very best, but I've tried much worse brushes. The other thing worth mentioning is that these doesn't dry to a  high glossy finish. They definitely need a glossy top coat for that. Otherwise, I think Enchant polishes are great. At least the ones I've tried. If you can find them, I think you should give them a try! If you are a blue and/or green lover, you really should have the 67 shade!
I am really thankful to my dear Thriszha, who gave me the opportunity to try these amazing polishes!