I was very surprised to see a stand full of matte polishes from Deborah at a local store. The surprise was twofold. First to see a matte collection at a local store. No way. And second, Deborah joined the matte club?!? A little late but I'm pleasantly surprised anyway. There are six different shades in the collection but I grabbed only the three that appealed to me most.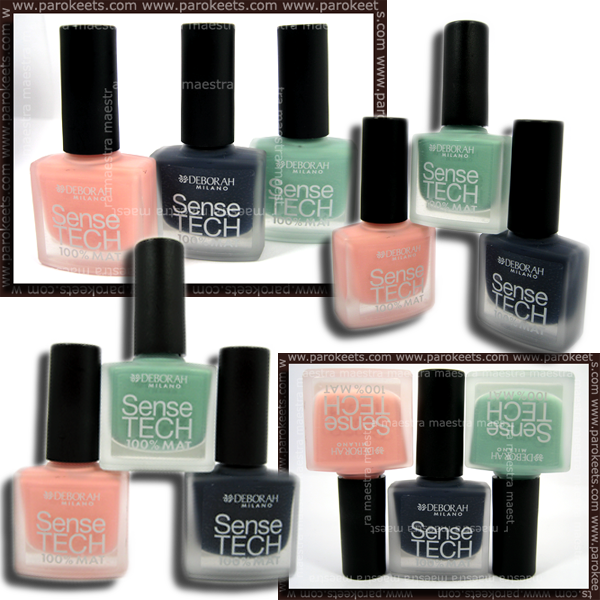 That's what the company has to say about their matte collection:
Silica-based nail enamel with a trend setting 100% satin-matt finish. Velvety, sophisticated, glamorous. Advanced technology that stirs the senses. An eye-catchingly distinctive fashion statement. Use without base coat, top coat or quick dryer.
I totally agree with the statement that the finish is satin-matte. I think it looks kinda cool. All of the shades I got are cremes. Normally I don't like creme mattes but these are OK, because they are satin looking. The colors are nice and trendy with perfect application. I've never applied a matte shade so easily. I mean, these are very pigmented and they do dry quickly but not too quick, so you can make little mistakes and you still have time to correct them. I was really impressed! I didn't follow the instructions and applied all of them over a base coat and that didn't cause any problems.
Before we move on to the swatches I have to say that I love the bottles. I love square bottles and these are matte square bottles. Love love love!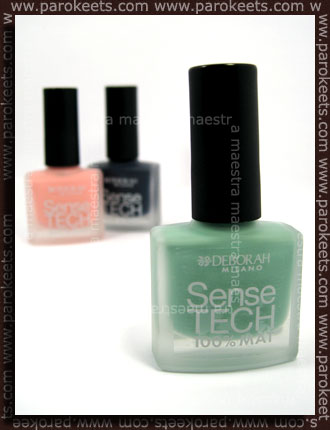 Another great attribute are the shade names/numbers on the cap. That way you can easily find the desired shade in the crowd of hundred, thousand, two thousand etc. bottles of nail polishes. And the best thing about the stickers on the cap is that they are in the color of the polish. How cool is that?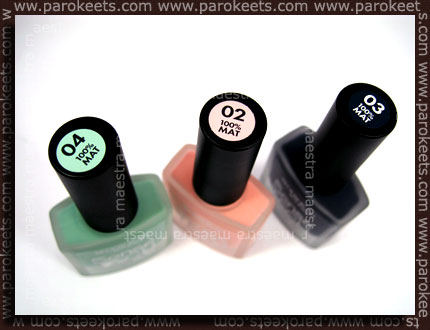 Of course the colors on the cap aren't totally accurate but they aren't that bad either. Here's an example …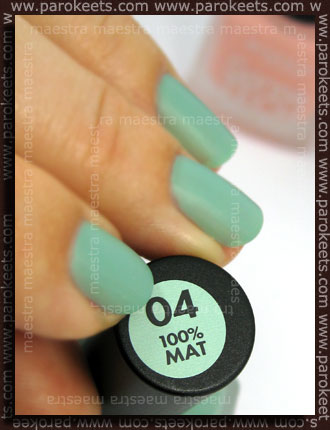 Finally we got to the swatches …
02 is the pink-peach shade. I think it's lovely and surprisingly it suits me well. Two coats. This one was a bit streaky but not as much as I feared it would be.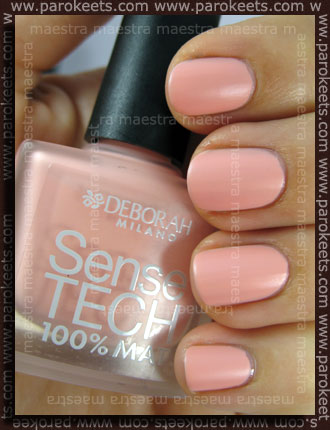 03 is dark blue shade. I love it! It's so cool. It looks almost like I have plastic nails. This one is a dream to apply and this is only ONE COAT!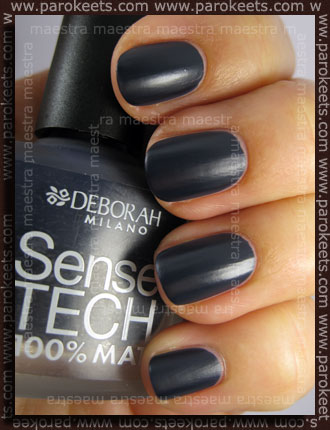 04 is dirty mint green shade. There is only one coat in the picture, but it would look better with two. Unfortunately I didn't have the time to do a second coat.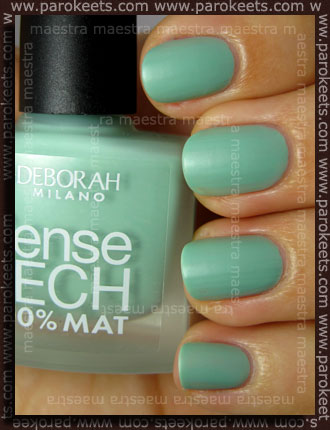 Because the dark blue one was so pigmented, I tried to Konad with it and it did well. Here's the polka dot konadicure I did with Konad IP m79, which I got from the lovely Thriszha.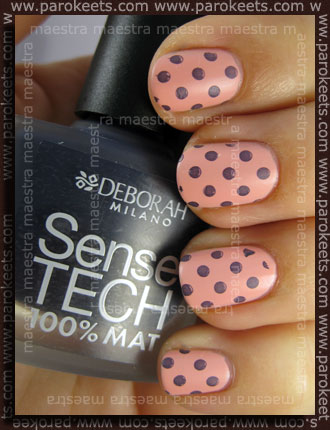 The only thing I don't like about these babies is the names. Of course the names … Numbers … Why??? Everything else … I love!
The bottles are 8,5ml. Actually, these could be bigger. The price: 6,21€. OK, the price could be also lower, but what can I say … take it or leave it. :D
What do you think about the collection, about the satin finish, about the colors …?