I spotted a new collection by Manhattan yesterday. It's called Wet Shot Look. There are six water flash lipgosses in the collection and three wet shot lotus effect nail polishes. I bought the most pigmented lip gloss in the collection (46D) and the matching nail polish (53U).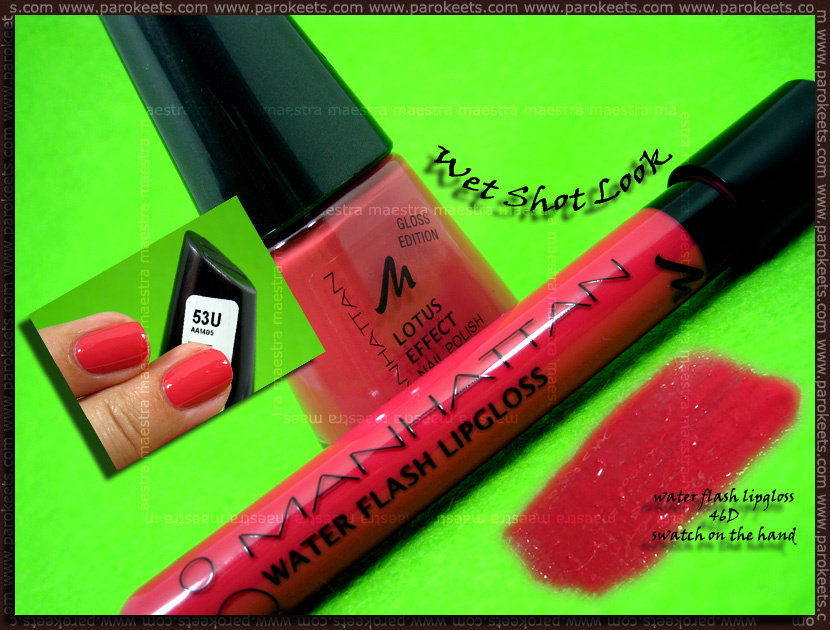 The 46D lip gloss is very pigmented and creme. There's no shimmer. The application is nice and easy. It's not sticky, which is always a good thing. I mean … I love it, just not sure if I'm comfortable with such bold color on my lips. I'm still deciding …
Next is a nail polish with a name 53U. It's a surprisingly nice pink coral creme. Surprisingly for me as I don't like corals very much, but this one is a bit different. I don't know why or how, but it is. I like it. There's two coats shown in the picture below.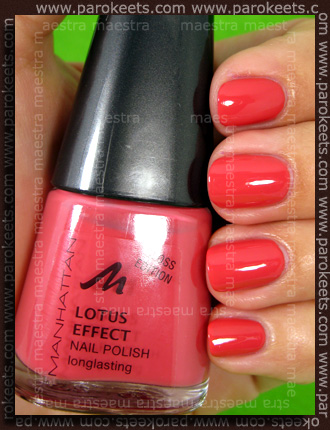 I don't get it what's with the words "flash" and "shot" in this collection. The collection is called Wet Shot Look, the lip glosses are Water Flash Lip glosses and the nail polishes are Wet Shoot Lotus Effect nail polishes. OMG, I'm really confused.
Overall I really like the collection. I'm considering to buy another lip gloss and/or nail polish. If you know the collection, what would you recommend me to buy?
For others .. what do you think of the two items I bought?