Isa Dora came out with a fantastic range of polishes. They named them Graffiti Nails, but we polish fanatics know them as crackle polish. I hope and wish these aren't going to be only a limited edition polishes, because these are fantastic crackle polishes. I'm really impresed by how they crack, how fast they dry and how easy they are to remove. For me everything about them (except the price) is just great!
I bought two of them Subway Green and Yellow Crew. I'll show you the yellow one today.
I started with two coats of dark shimmer green MNY – 761.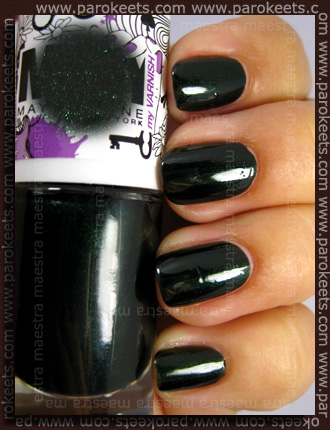 After the polish was dry I applied one coat of the yellow crackle polish Yellow Crew. After a few seconds the crack began to show. Amazing!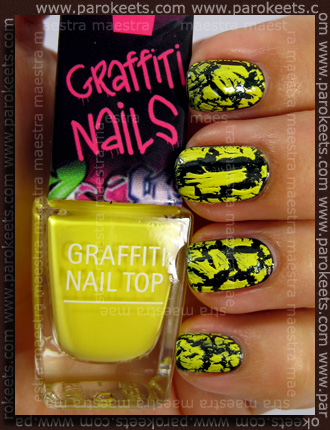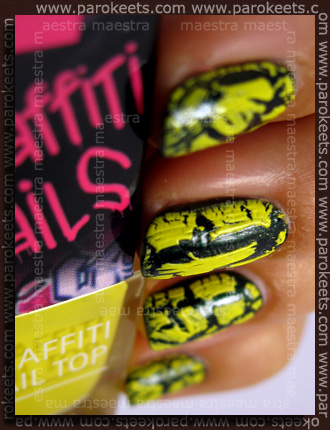 Top coat is only my pointer finger.
A few tips and tricks about the Isa Dora crack polishes. I figured out that the cracks are more random if you don't apply the crack polish only with straight strokes. You can zig-zag a bit. That way you'll get more zig-zag cracks. When applying crack polish don't mind the streaky application. It'll become unimportant when it'll start to crack. Also don't apply too thick coats, because the polish will have difficulties to crack.
I bought the polish in Austria in the Douglas store. The price was 8,90€ for 6ml. I think the price is too high, but unfortunately that's how it is here in EU. Isa Dora polishes are all that expensive, that's why I don't have any, but this cracks were just too special … I had to have them.
What do you think about crack polishes?