Happy New Year! I hope all your wishes come true … including your cosmetics wish lists.
I chose China Glaze Atlantis for my New Year's Eve manicure  – holographic glitter suspended in green base. I used 3 coats to achieve full coverage. Unfortunately I'm still searching for magic word to make my camera capture the sparkle of this polish, so please imagine bling-bling-bling effect.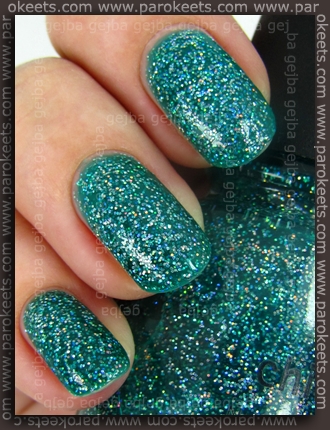 I "inherited" this beauty a while ago from our Goga, but there was never right time for it. This time it practically jumped in my lap while I was searching for really sparkly shade. :D Thx, Gogi.
A few more days and our blog will be celebrating it's second birthday.
I know I can't wait for BDay giveaway to begin  … and I hope you're looking forward to it too.