This must be one of the best trend editions by Essence in a while. None of their latest trend editions wowed me. When I saw Blossoms etc. in person … Such a nice and fresh colors. Here's what I bought.
Liquid blush Flowerkissed. I wouldn't call it a liquid blush, because it's more like a creme blush. If you look at my photo below you might get a feel of what I mean. It's pink and it has a nice shimmer that gives it glow. I like this blush very much!
Multi colour powder Flower Power is the cutest product ever! And it's a nice multicolored powder too. It has some tiny shimmer to it. I'll mainly use it a highlighting powder.
Swatches of the multi colour powder and the liquid blush. You can see what a nice glow the powder gives. The swatch of the liquid blush isn't very good. Obviously blush isn't very visible in my photo. But it looks very nice on the cheeks.
Next are the nail polishes. I only have the swatches on a nail wheel, because I really didn't have the time to properly swatch them. But I do have a bonus photo for you at the end of this review.
All the polishes have almost invisible shimmer, that gives them glow. The shades are very nice and refreshing. The only one that applied a bit streaky was the yellow one (My Yellow Fellow), but it wasn't terrible to apply either. All are applied in two coats in the photos below.
A Hint Of Mint is a light green shade with green (maybe mint) sheen. I wouldn't describe it as a mint shade. In my mind mint is a little more blue based, but I could be wrong.
I Like is a light blue-green shade with blue sheen.
My Fellow Yellow is a nice sunshine yellow with gold sheen.
Bloom-A-Loom is a lilac shade with lilac sheen.
Forget-Me-Not is a blue based purple with blue-purple sheen.
And the promised bonus photo.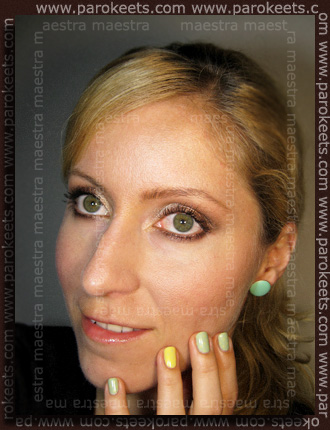 Products used:
– Eyes: various NYX Loose Pearl Powders
– Highlighting the face: Essence – Blossoms etc. multi colour powder
– Lips: MNY – 365 lip gloss (I'm not sure if it's part of the regular line or if it was part of a LE)
– Nails: Essence – Blossoms etc.: My Yellowe Fellow and A Hint Of Mint nail polishes.
– Cheeks: Essence – Blossoms etc. liquid blush
What are your favourites from the Blossoms etc. trend edition?