On my last trip to Austria I spotted Manhattan's new limited edition called  – Freaky Friday. I bought two polishes and quattro eyeshadow palette.
I chose those two polishes because they looked like lively shades … just what I wanted in the beginning of spring.
34K is cute orange shade. I had to watch out to have a lot of polish on brush at all times to insure even application, but had no problem with it otherwise. 2 layers + top coat.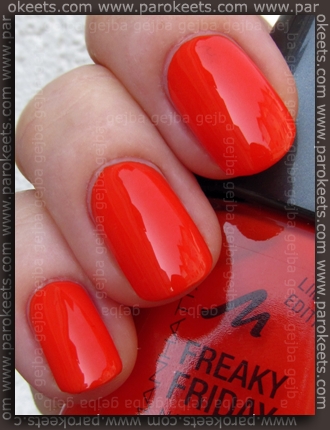 54K is pink polish with a lot of red in it. I like pink-red combos … I guess those are the only pinkish shades that I actually wear. Swatch is too pink – imagine a little bit more red color.I used two coats + top coat.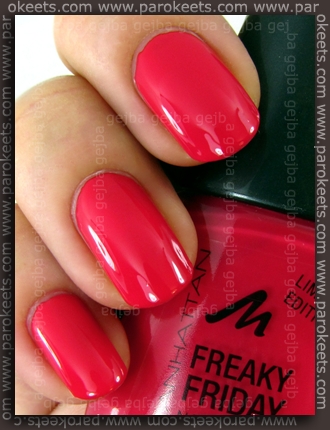 I did try to stamp with both shades, but they were very poorly seen one over the other. I'll have to choose lighter colors as a base.
Only other thing that I bought from this limited edition is Hot As Fire Quattro Eyeshadow Palette which consists of four shades: 34L, 93N, 91K and 99T.
Orange shade is only one with larger shimmer while others are more finely milled. All swatches were made over the base.
As you can see the lightest shade is almost the same color as my skin so it's practically invisible on me. :D
All in all I liked the palette. It is not heavily pigmented but you get very decent color payoff if you use good base and pat the eyeshadow on. I love the satin feel of these eyeshadows.
Purple eyeshadows looked really crumbly and more appropriate for cool toned individuals so I did not pick that one up.
Price: 3,95 EUR for 11ml nail polish and 5,95 EUR for mini eyeshadow palette.
EDIT: I tried out purple palette in our Muller and the formula was as silky as in my palette.