From the time I first saw Catrice Papagena promo material I could hardly wait for the goodies to come to the stores. So you can imagine how exited I was, to run into full stand in Austria. I bought all the polishes for me and palette for Maestra.
The polish that I was most looking forward to is Welcome To the Jungle. I simply love this dark green shade and look at that shimmer! I used 2 coats + top coat.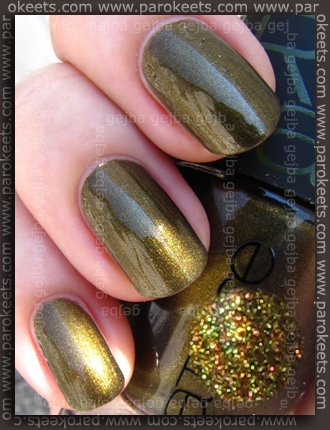 The only other shimmery polish in this collection is Amazonian Gold. Color I like – something between old gold and bronze shade. But the formula … slightly streaky, clumps in polish, 3 coats for the full coverage.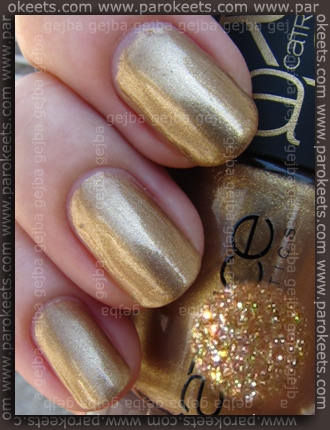 Surprisingly I loved Enter The Undergrowth. I'm not a huge fan of muted/army green shades, but this one is perfect – not to much yellow or blue, not to bright not to muted … And I think it looks good on me.
Formula is good to – one thicker layer is all you need. But of course I used two + top coat to make it look good with macro setting too. :D
Creme finish.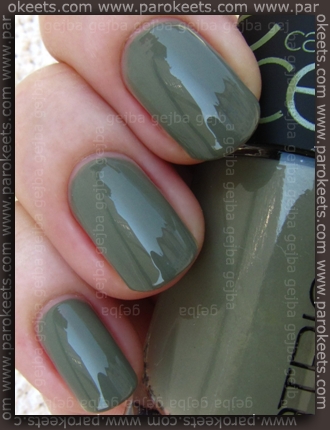 Bird Of Paradise is another great shade. Magenta-purple combo that brightens up my hands (more muted color in real life). Creme finish. 2 coats + top coat.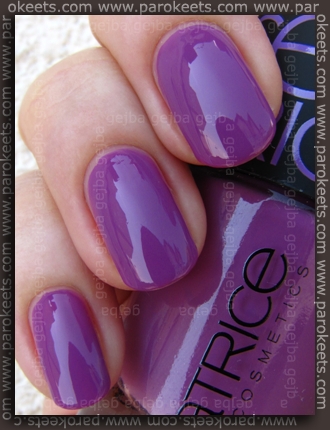 And did you see the caps on this polishes?!? They printed Catrice logo on the slightly rubberized cap and they used different color for each shade – the same shade and finish as the polish inside the bottle.
Two bonus photos for you – konadicures with Enter The Undergrowth as a base + Welcome To The Jungle + Fauxnad image plate H23 …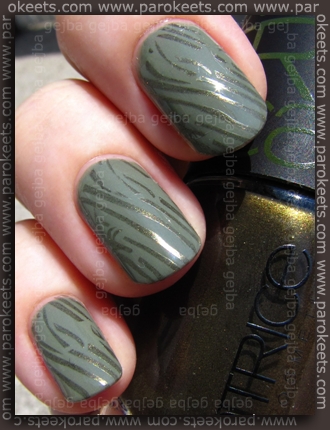 … and the color combo that Maestra suggested: Bird Of Paradise + Amazonian Gold + Fauxnad image plate A05.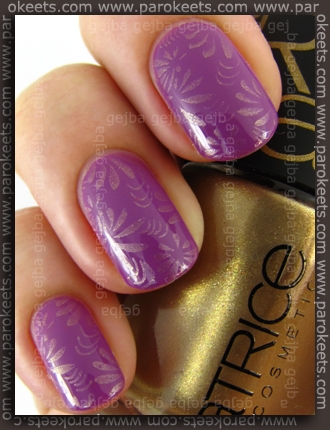 Price – 2,5 EUR for 10ml (0,33 fl.oz.).
Other products in this collection didn't impress me – lipsticks freaked me out with their see-through form, blushes were to "greasy", blush is way to shimmery for me  …
Now I leave the "floor" to Maestra and her cute palette.
---
Thanks, Gejba!
Rumble In The Jungle is indeed a lovely palette. It looks nothing but adorable. I love the packaging and the patterns on the eyeshadows.
The good thing is that the quality of the eyeshadows is good too. I swatched all of them over an eyeshadow base.
Three of the eyeshadows are shimmery, while the purple one is almost matte. The most shimmery (bordering on glitter) is the gold one. For my taste the shimmer is a bit too big. I guess in the summer you could use this one as a face highlighter as well. Just use it "carefully". All four of the eyeshadows applied nicely. The only one that was a bit harder to apply, was the light green one. But that's not due to the lack of pigmentation rather than because the eyeshadow itself is hard and I had to rub a bit to get the desired effect (result). But once I realised that I just had to rub harder and that the eyeshadow is actually pigmented well, I had no problems with it anymore.
All in all I'm really happy with the eyeshadow palette. It's a beautiful looking palette for a good price.