I'm not going to talk (or rant) much (more) about OPI's Pirates Of The Caribbean. I'll just copy-past my words from my previous post.
"I get it … The turquoise of the Caribbean sea and the mermaids in the movie and all. But not a single piratey shade in the whole collection? Just pinks and pastels? What the heck is that suppose to mean? I was really disappointed when I saw the release photos of the collection. I like some of the shades very much but not a collection as a whole."
Now move on to the two shades I actually like very much.
Stranger Tides is a light green or a light murky sage green. It's a fantastic shade! I love it! Sometimes it looks more grey-green and sometimes yellow-green. It all depends on the light. I think it's unique and pretty with a hint of ugliness. :D The application was nice and easy. Two coats shown in the photos below.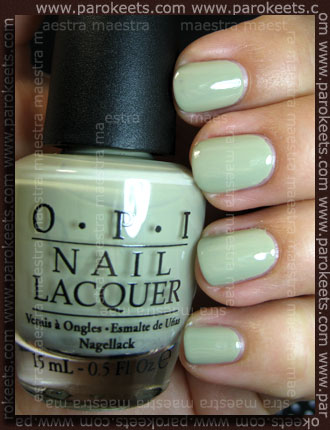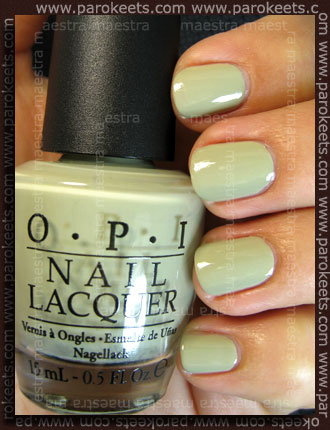 Skull & Glossbones is a very nice light grey. It's such an "fresh" grey, perfect for spring and summer. It looks classy. I think it's work appropriate with a little twist. I love how clean my fingers look, when I'm wearing this color. This one actually reminds me of Essie's Body Language. I'll have to check if they are close. Two coats shown in the photo below.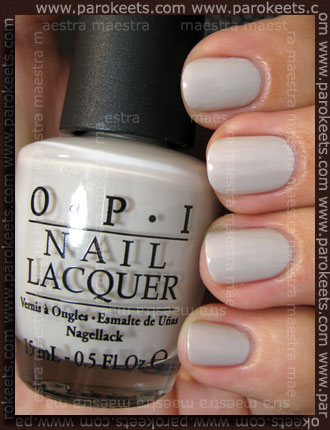 Silver Shatter is another polish from the collection that I really like. I showed it to you in THIS post and I used it as well to create the pirate manicure HERE.
What do you think about OPI's Pirates Of The Caribbean collection? Which polishes do you like?