I have quick swatches of three of the new OPI Shatter polishes for you. I swatched them over a light green polish with a slight holographic finish and over black creme polish with satin finish. The light green polish's name is CQ – Gem Green and the black one is Deborah – 01 100% Mat.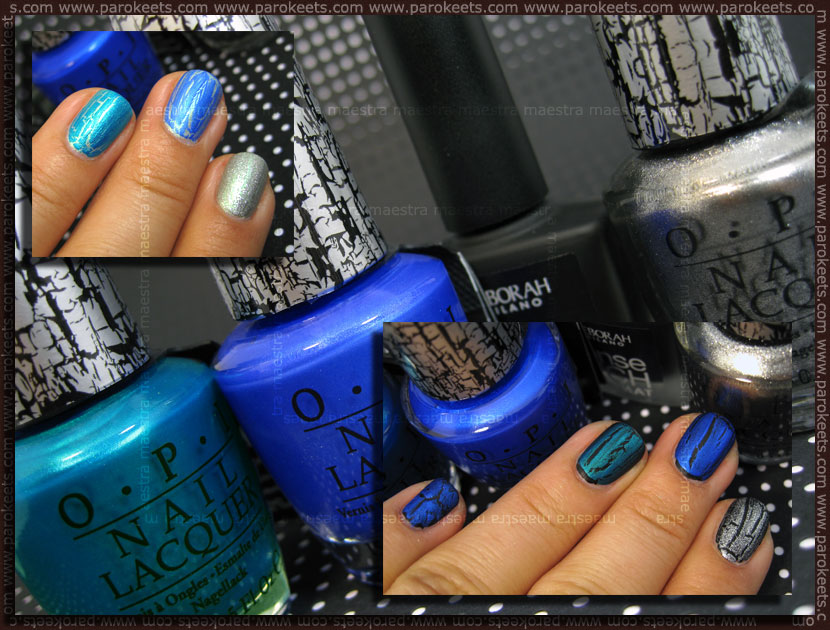 My very first impressions are good. I'm impressed by the vibrancy of the blue and turquoise one. Unfortunately I couldn't capture the true colors. The Turquoise Shatter is a true vibrant turquoise color. It looks too blue in my photo. The Blue Shatter is a true electric blue color. I thought that I would love the Silver Shatter the most, but now I just can't decide which one is my favourite. I love all of them!
The shatter effect is almost the same on all of them. You have to be careful to apply thin coats to get the best result (thin crackles). Considering that the polish cracks in the directions you applied it, for my taste these look best if you polish them in all directions. That way you'll get cracks similar to those on my pinky finger (the small photo in the down right corner).
That's it for today. What do you think about the OPI Shatter polishes? Which are your favourites?