I don't have many NYX polishes, but like those that I tried out. So when I was asked if I wished to review couple of them I said – yes, please. :D I chose three shades: Woman (131), Ink Heart (103) and Purple Noir (129). I think rainy weather is getting to me – I chose red and two darker shades … no bright shade in the bunch.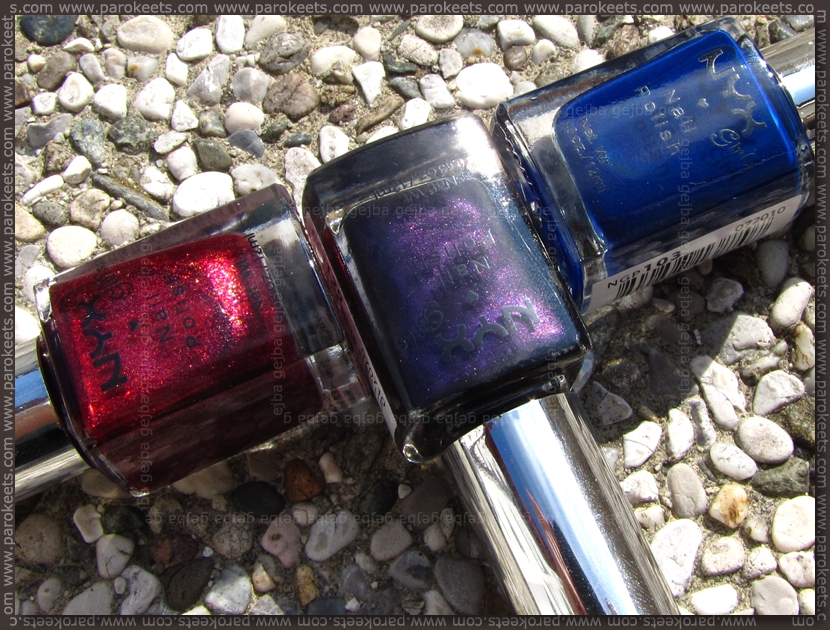 I loved NYX Girls Woman nail polish. Just dark enough red base to show off the multicolored glitter this polish is packed with. It's been a while since I was fascinated with polish as I was with this one. This shade simply looks alive in the sunshine.
My camera had hard time dealing with sparkling of Woman … all of the nail photos look slightly blurred. So I made collage of lightbox, sun and bottle (detail) photo. Unfortunately my Essence Nail Art Protecting Base Coat failed to protect me from staining.  Have to try different base polish next time.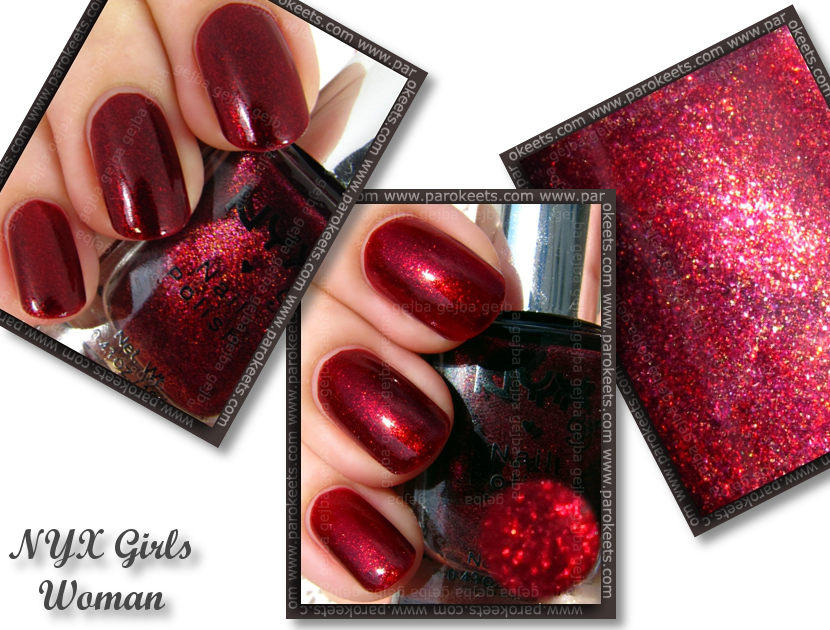 I must admit that while the other two shades are lovely, I was to much under the influence of Woman to appreciate their beauty.
NYX Girls Ink Heart is dark blue creme shade. Not as electric blue as most of my blue polishes, but more subtle/grayish toned blue that will be good base polish for konadicures, layering … I wish the weather was better, so I could show you this pretty blue color in daylight setting.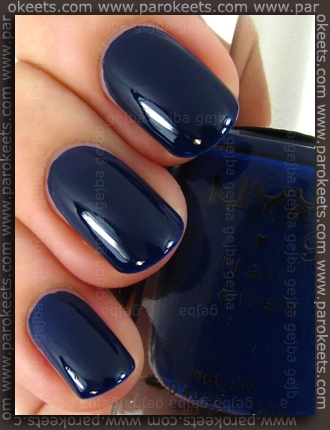 NYX Girls Puple Noir is very dark purple shade. Shimmer is very interesting mix of blue, red, goldish particles, but it doesn't show up that well on the nails. This polish looks vampy on me most of the time … except in the sunlight of course.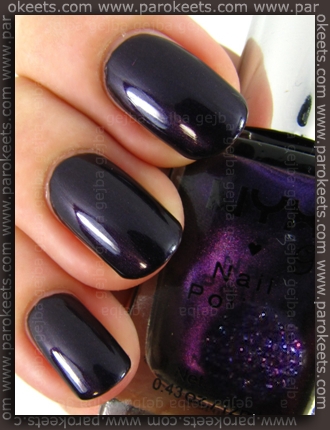 All of the shades applied well and had good coverage. I used 2 coats and top coat in all the swatches. Smell was little bit unpleasant to me – it reminded me of couple of new OPI and China Glaze polishes. And I found the hard way that they do not play well with my version of Essie Good To Go top coat. INM OutTheDoor and Ciate Speed Coat worked well though.
Price for 12 ml (0.43 oz.) – 3,12 EUR (4.5 USD).
Did you try out NYX Girls Woman? How was it with the staining?
*Products were sent to me for review.