Essence – 50's Girls Reloaded. New trend edition, new review. Here we go.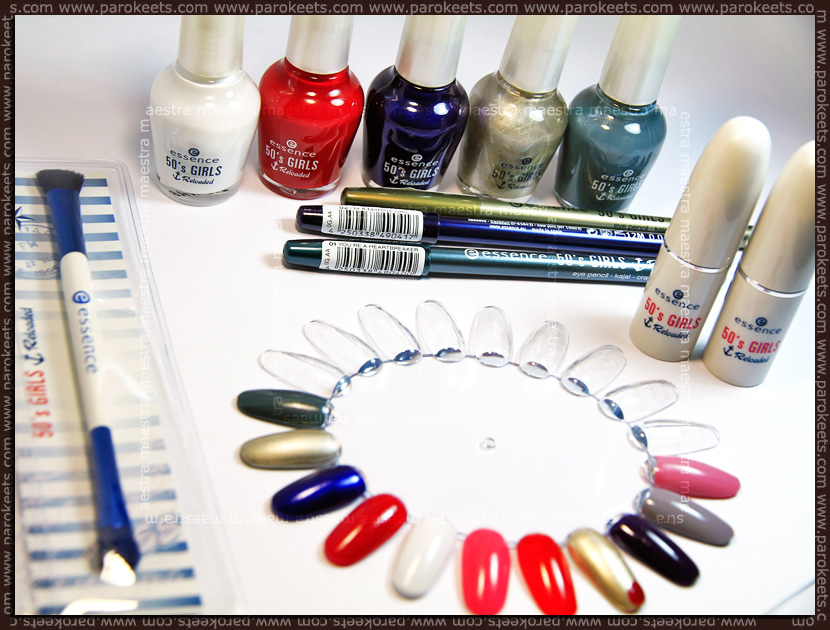 I was curious how the eyeshadow brush is going to be. I didn't expect much and I think I didn't get much either. First off, the brush is soft and it's not dense. When I washed it, it shedded a bit too much for my liking. When I used it to do my make up, it lost another hair. We'll see how it'll hold in the future. Next thing is the performance "on the field". I tried to do a make up with it and it was almost impossible to do a nice make up just with this brush. I noticed that it's almost useless for applying eyeshadows (it's OK for applying eyeshadow all over your lids), but it's very good for blending, because it's fluffy. It's soft, but it's not dense. The hair is pretty long. I'll say perfect for blending and applying highlighter eyeshadow.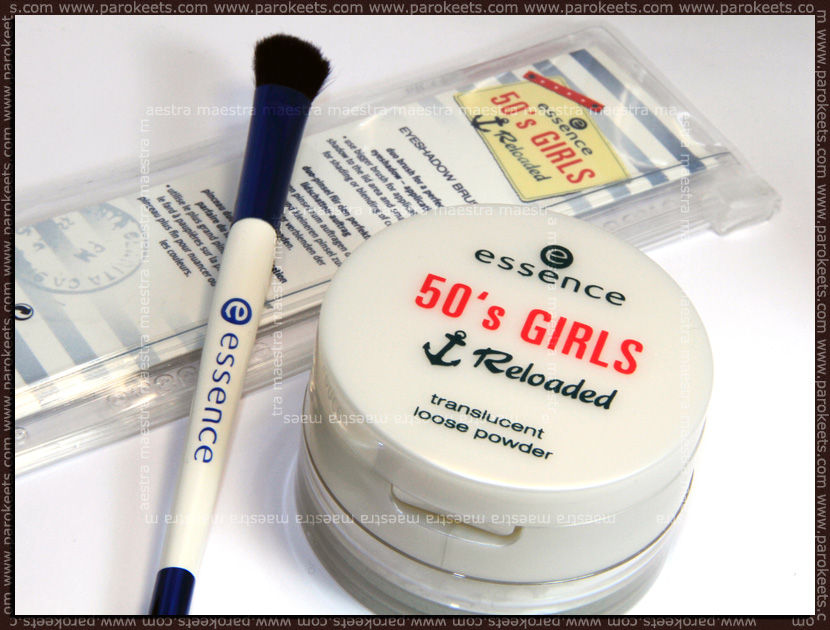 There are two shades of lipsticks in the collection.
Back To The 50's is a nice creme (no shimmer) red lipstick . The texture is creamy. The color on me is tomato red. It's nicely pigmented and the application is easy. I'd say that with this one you'll need a lip pencil to line the lips.
I'm Sailing is a nice light orange-y shade . Maybe it's even light salmon shade. The texture is the same as with the red one and it also doesn't contain shimmer. Though it's a bit less pigmented than the red lipstick from the collection. It's a nice everyday lipstick.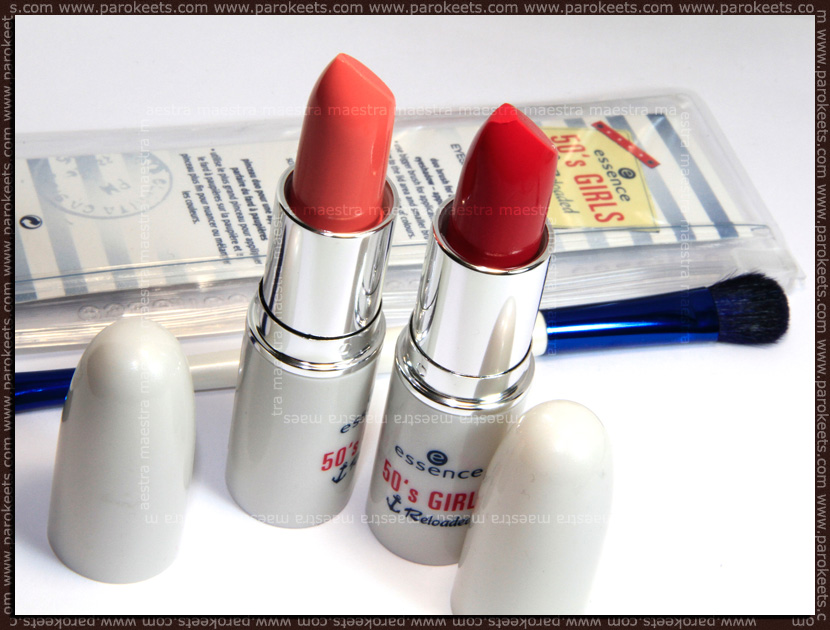 There are three eye pencils in the collection. All of them have shimmer (not glitter). These are nice, but a bit to hard for my taste. I'd love them if they were softer.
Love Me Tender is a nice olive to old gold shade.
I'm A Marine Girl is a dark blue.
You're A Heartbreaker is grey with blue undertones.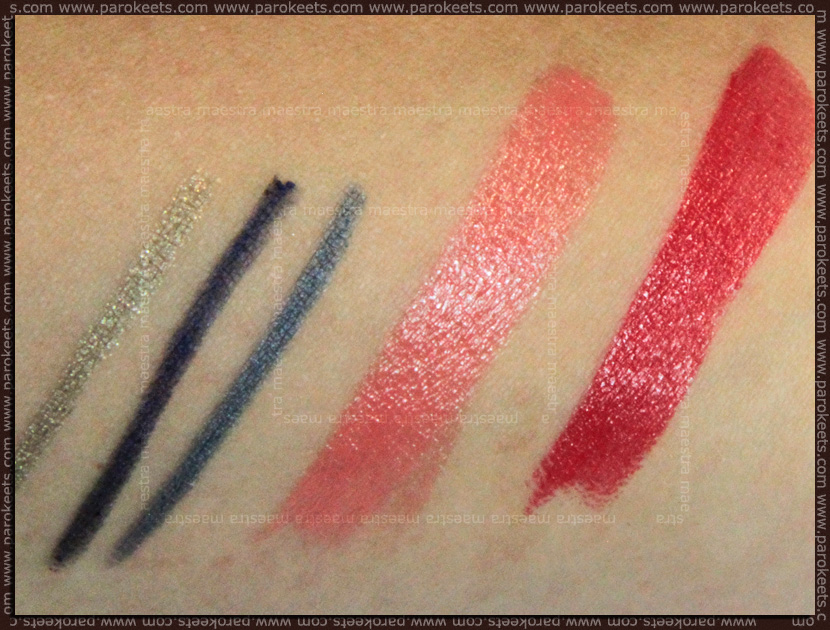 There's a translucent loose powder (for a flawless, matt finish) in the collection as well. I tried it on my face and I liked it. It has silky finish and it didn't dry out my face too much. It has a soft pleasant (maybe powdery) scent. I like it.
Five nail polishes. I think it's the first time I've seen 15ml bottles by Essence!!!
Ahoy! is a creme white. I had to trim my brush. Otherwise I think it's a nice white.
Back To The 50's is a creme (cherry) red.
I'm A Marine Girl is a dark shimmer blue.
Love Me Tender is a frosty champagne with a bit of pewter to it.
You're A Heartbreaker is a grey shade with tinny multicolored (silver, blue, green) shimmer.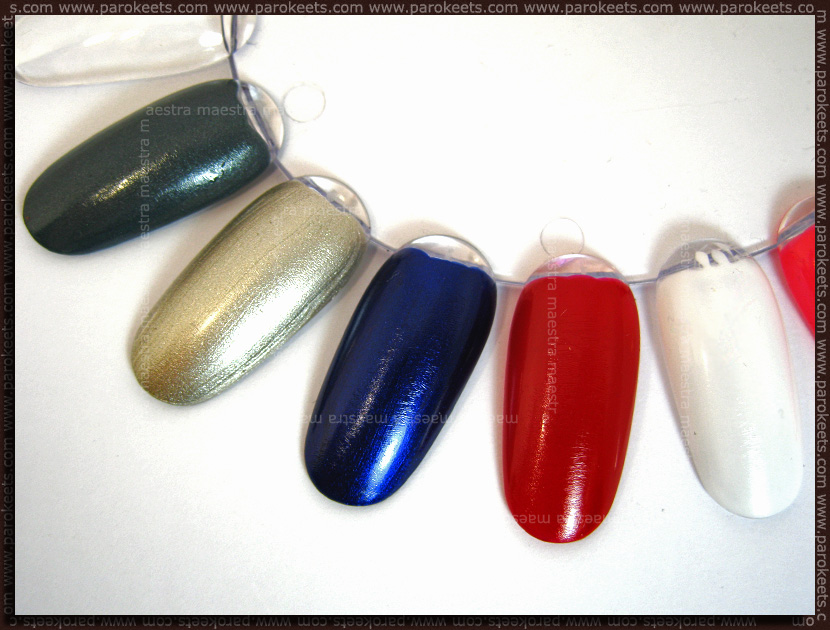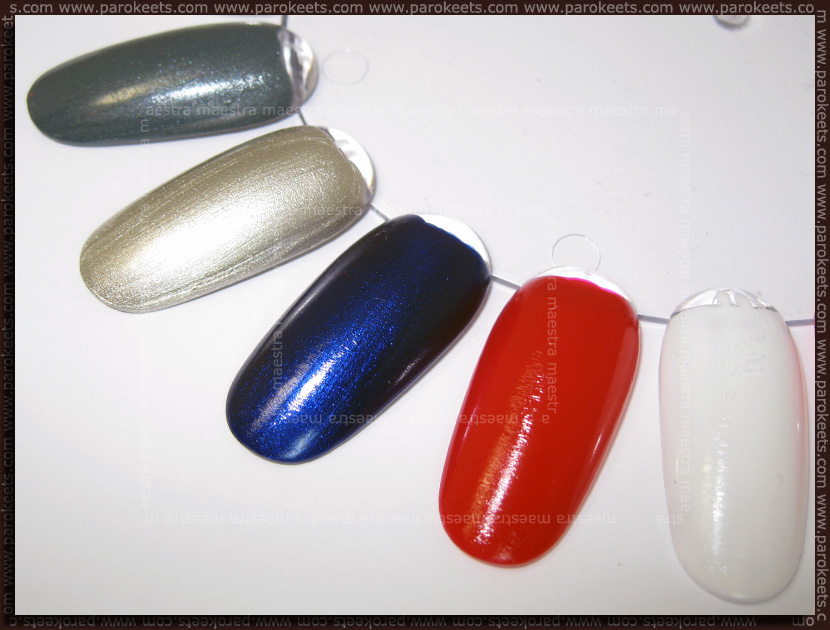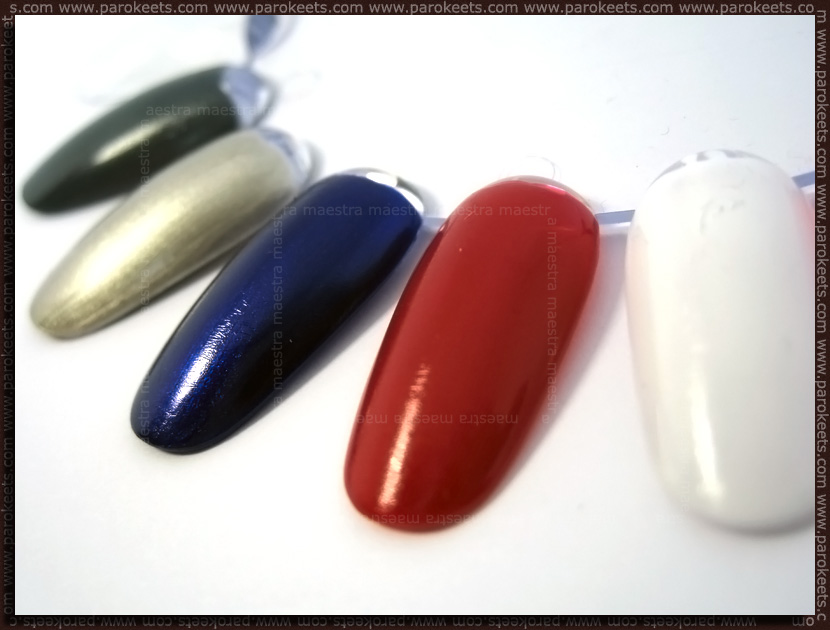 I also prepared a short video of every product that I bought. There's a better view of the brush and translucent loose powder as well swatches of the eye pencils and lipsticks. At the end there's also a nice view of the nail polishes. I hope you'll enjoy "the view". :D
My conclusion: The brush is OK for blending, not for applying eyeshadow. Lipstick are nice. One is great everyday shade and another classic red. And no shimmer. Thumbs up. Eye pencils are too hard. Nice colors though. Translucent loose powder is a very good powder. I recommend it. Nail polishes are nice and a huge plus are the big bottles!!!
---
Gejba bought the eyeshadows and here are her swatches and her thoughts on them.
---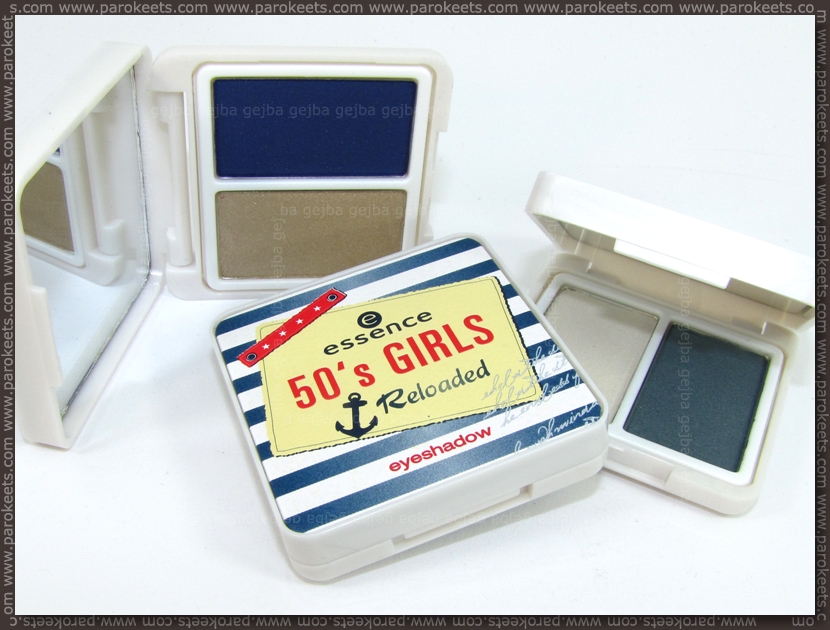 Swatches are made over the eyeshadow base – I used two different bases for the darkes part of the duo.
01 I'm A Marine Girl: This is duo that I like the least from 50's Girls Reloaded LE. Lighter shade comes in nice beige color, but is too shimmery for me. The biggest shimmer is limited only on the upper layer of the eyeshadow, so I'll probably use it once in a while. Blue shade is blurple at best. It looks almost warm purple on KIKO eyeshadow base, while Rival de Loop Young brings out the cooler toned purple.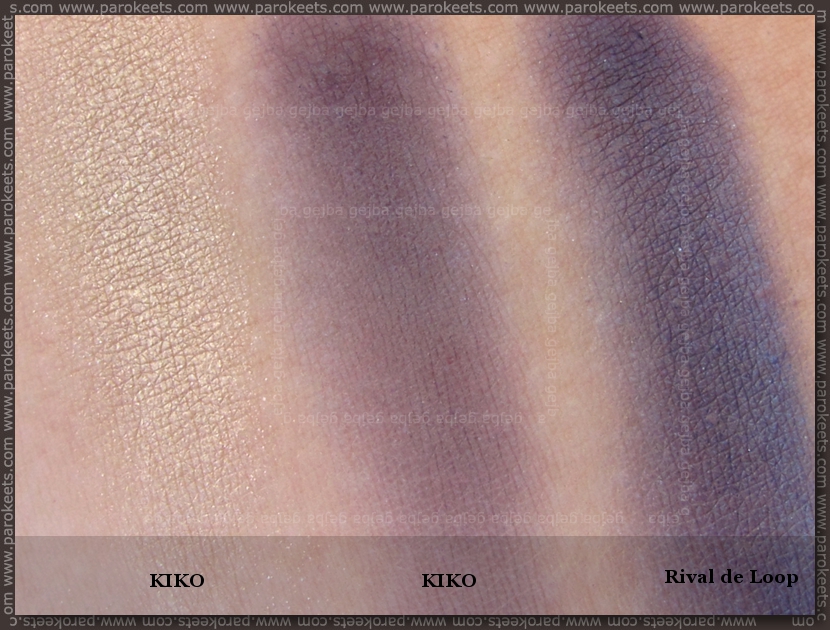 02 You're A Heartbreaker: I liked the gray part of this duo. It's finely milled and has slight blue undertone to it. The white eyeshadow is way too shimmery for my taste.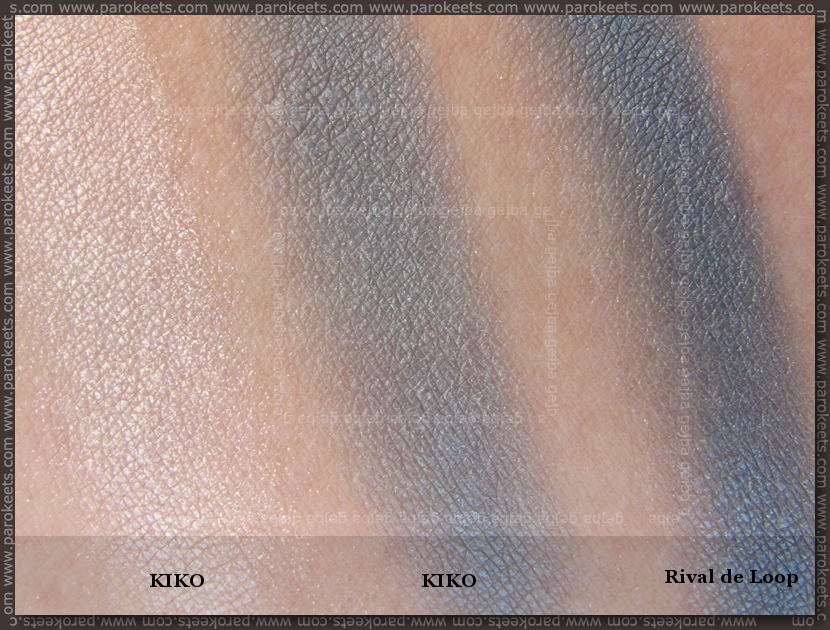 03 Come On Board Captain!: gray-green-beige eyeshadow was the main reason I stopped in front of the 50's Girls Reloaded stand (that and I had to check out lightest lipstick ). Very useful shade for me + it isn't very shimmery. Darkest eyeshadow looks like mix of black-blue base and blue shimmer. KIKO base does nothing for this eyeshadow while Rival de Loop Young brings out the shimmer to the front.