New Trend Edition by Essence is called I Love. What's cool about this trend edition is that it's a preview of what's coming. Namely from September 2011, these products will be part of the Essence standard range. Here's what I bought.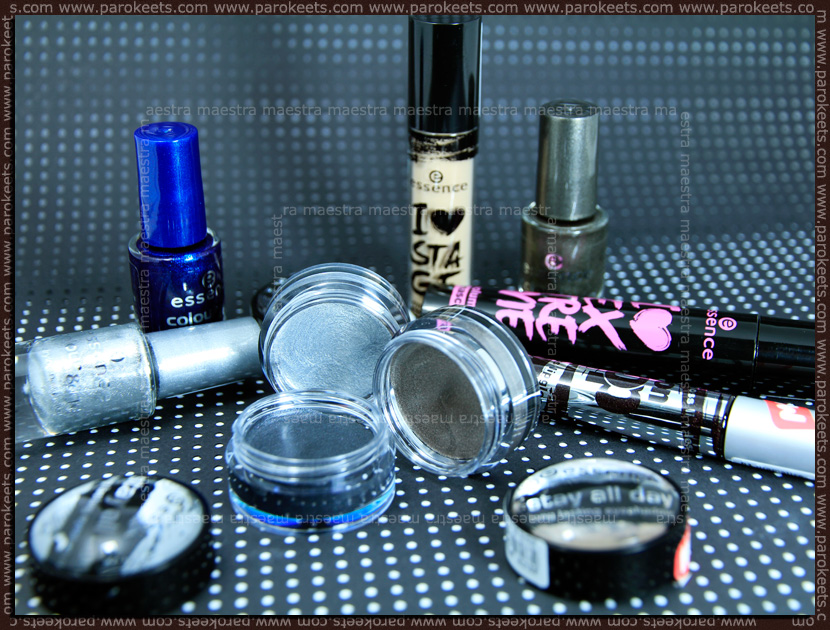 Colour & Go polishes in shades:
76 – Hard To Resist – dark blue with turquoise shimmer.
80 – Icy Princess – shimmery silver.
83 – Luxury Secret – I'd describe this shade as shimmery taupe shade. Very unique.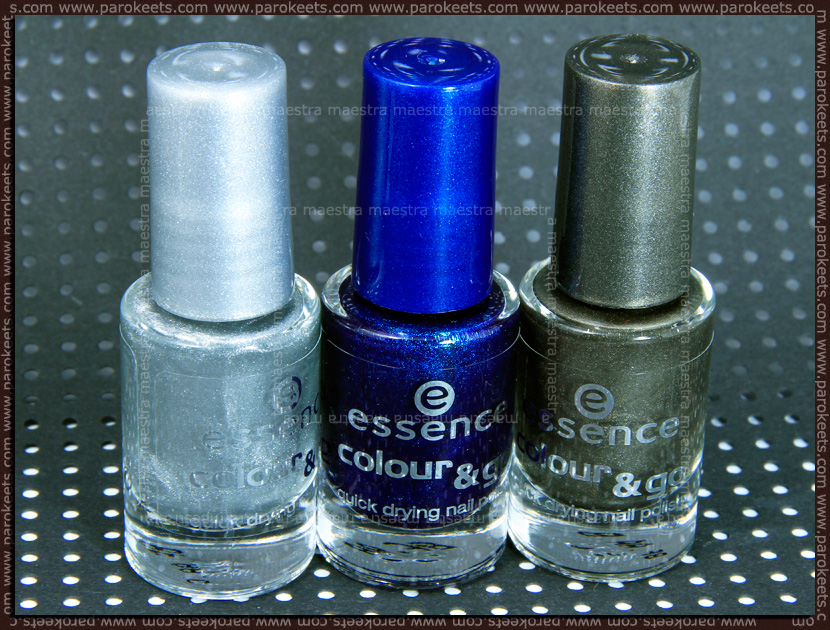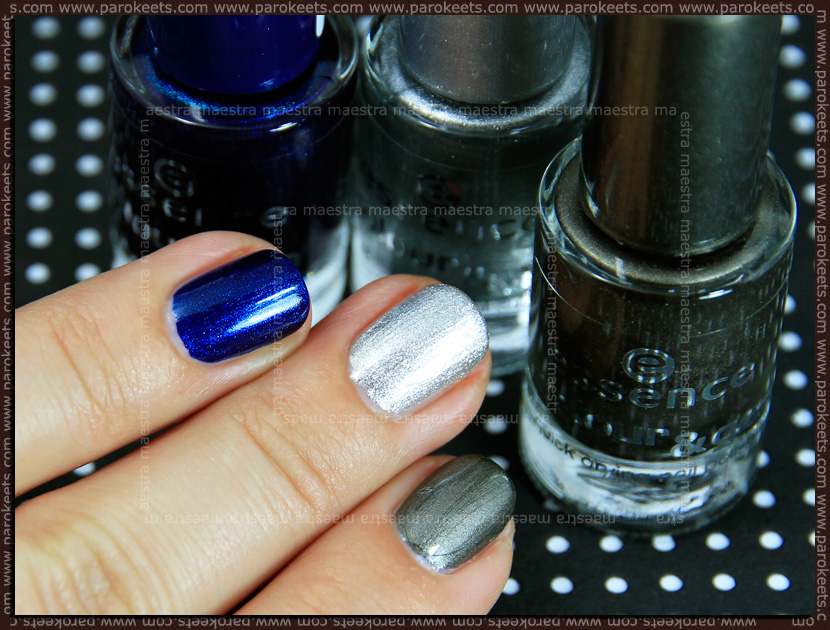 Lipgloss On Top in 01 Dramatize. It looks very dark in the tube. It isn't as dark when applied on the lips. The base is sheer. I don't know how to describe the shade. It's a mix between plum, brown in purple. It has gold shimmer. The texture is smooth and not sticky. It smells sweet (think sweet vanilla smell). I like the packaging.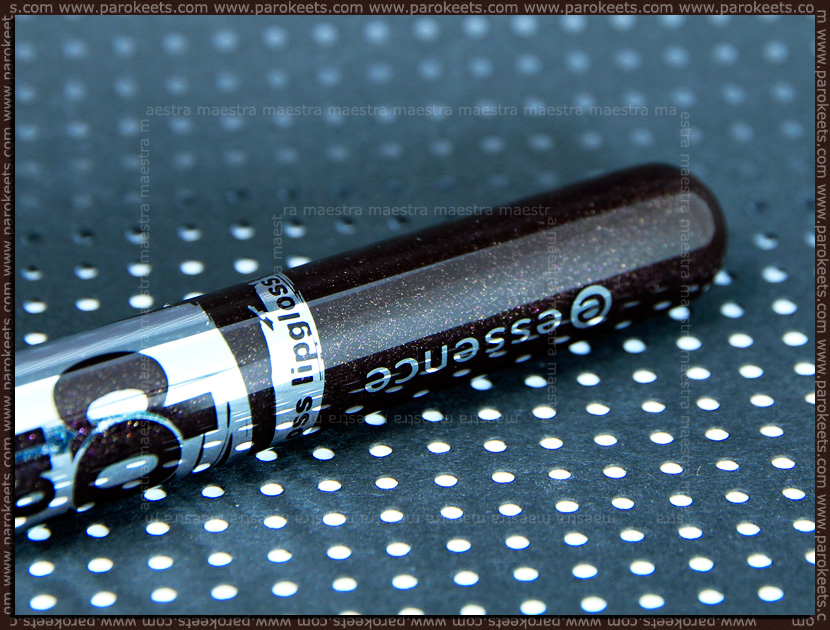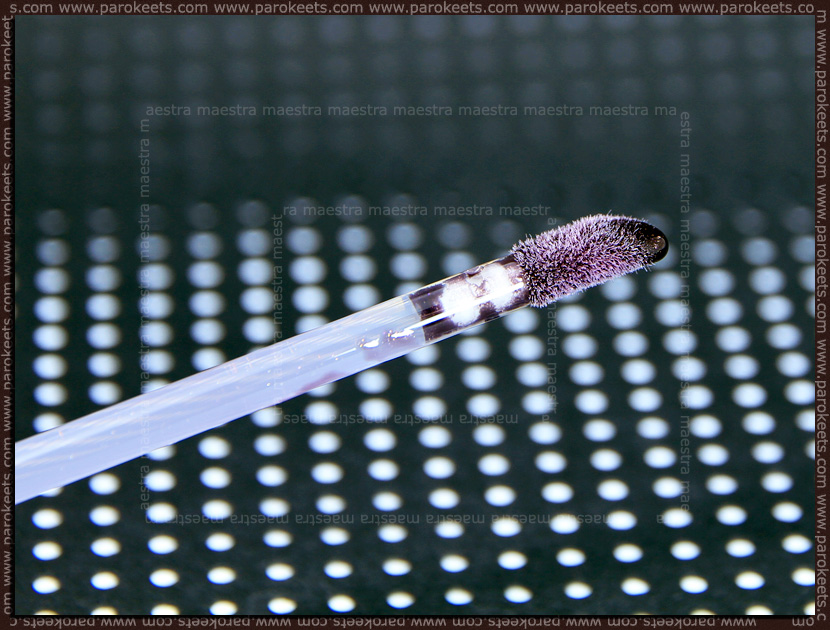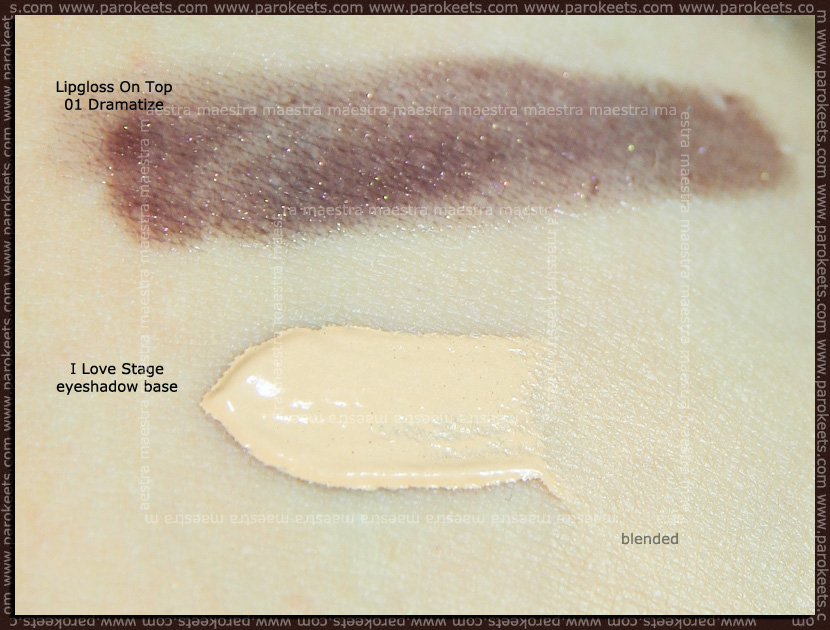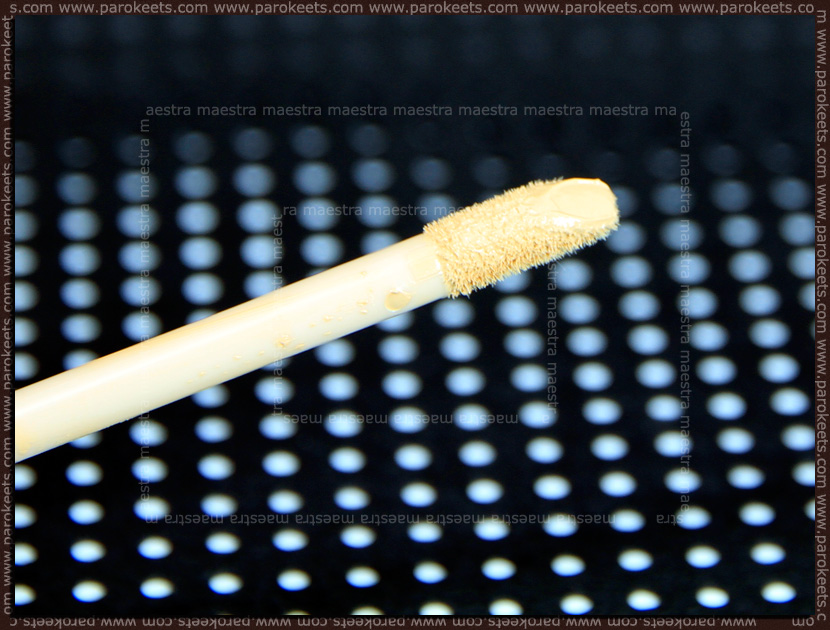 I Love Stage eyeshadow base has a nice creamy texture. It's nude shade and it doesn't contain shimmer. It contains 4ml of product. I've used it a couple of times and it worked nicely for me. The make up stayed in place for hours on my normal (not greasy) eyelids. The photos and swatch are above.
I Love Extreme volume mascara. I was never a big fan of Essence mascaras but this one is a winner in my book. It does what it promises. Extreme volume in one swipe. I have to mention though that it glues the lashes (I can'te remember a better word for that) if your not careful, but I guess that's quite common for such mascaras. I recommend you have a lash comb handy. And the best part is, it's reasonably priced and it contains 12ml of products! A true winner in my book!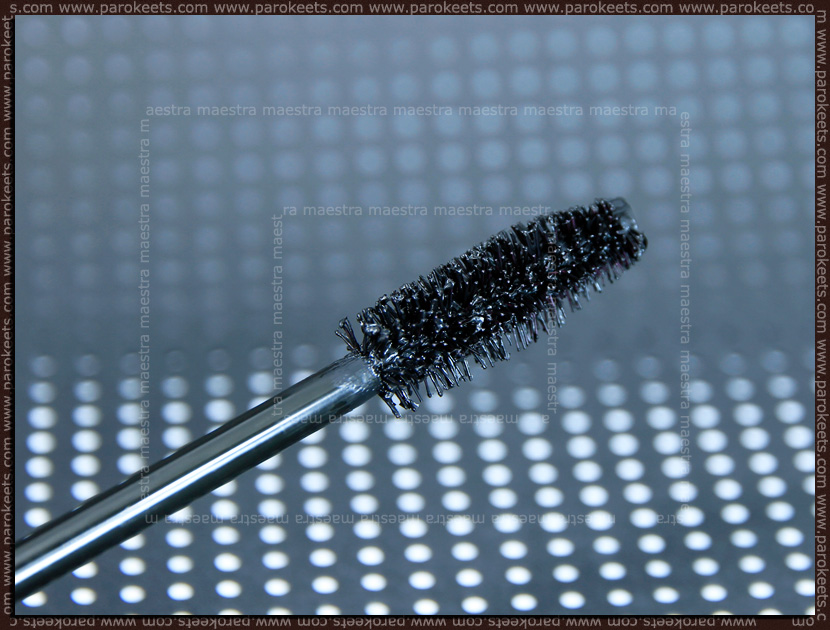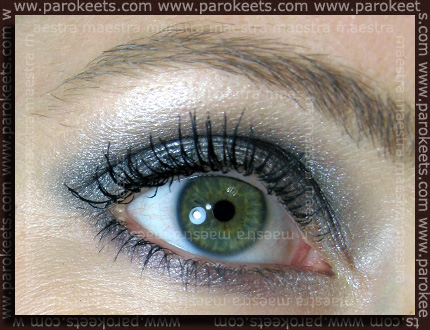 Another product that surprised me in a good way is the Stay All Day long lasting eyeshadow. I bought all three shades that were available and I'm happy I did. I'll explain everything as we go along. Let's talk about shades first.
03 Steel The Show. The color is hard to describe. I guess the best description is metallic shimmery taupe. It's similar color as the Luxury Secret nail polish is. Very nice and versatile.
04 Stars & Stories is metallic silver.
06 Rock Chic is metallic black with silver shimmer.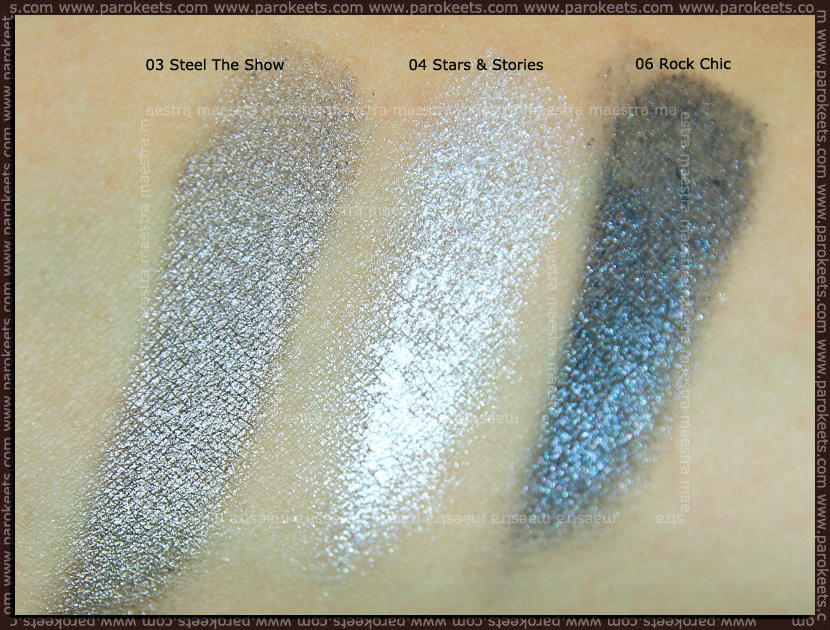 They all have a strong metallic finish.
The consistency is hard but creamy. I thought these are going to be creamy and soft, but they are not, which I don't mind.
Once they set they are almost impossible to blend.
I initially bought these eyeshadows because I wanted to try if they are going to work as an eyeshadow base, but unfortunately I haven't tried that (yet). But I'm quite sure these are good as an eyeshadow base as well.
To make it up to you, I tested the wear of these eyeshadows. They promise to "stay all day" and I had to test that. I was impressed. Below is my proof, that they actually stayed on all day. I even tried them with and without the eyeshadow base and there was no difference that's why I'm only showing you the photos without the eyeshadow base. I think the photos speak for themselves.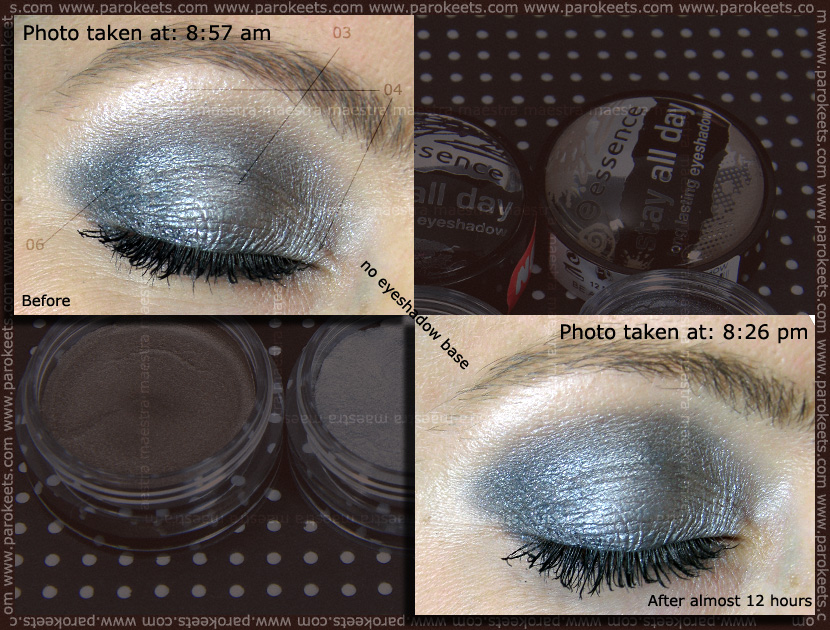 I'd like to mention that my eyelids are normal (not greasy, but also not dry). Though almost all cream eyeshadows do crease on me.
That's all I have for you for now. Please let me know in the comments what do you think about the I Love trend edition? Do you have any products on your wish list already?