I've been searching for a perfect green corrector for a while now. While shopping in Germany I spotted p2 Perfect Face Anti-Red Base (02 Correct Me!). BTW – shopping itself was nightmare as the lady who was filling p2 stand just wouldn't go away. She almost pushed me out of her way like I was annoying fly. Too bad my German sucks.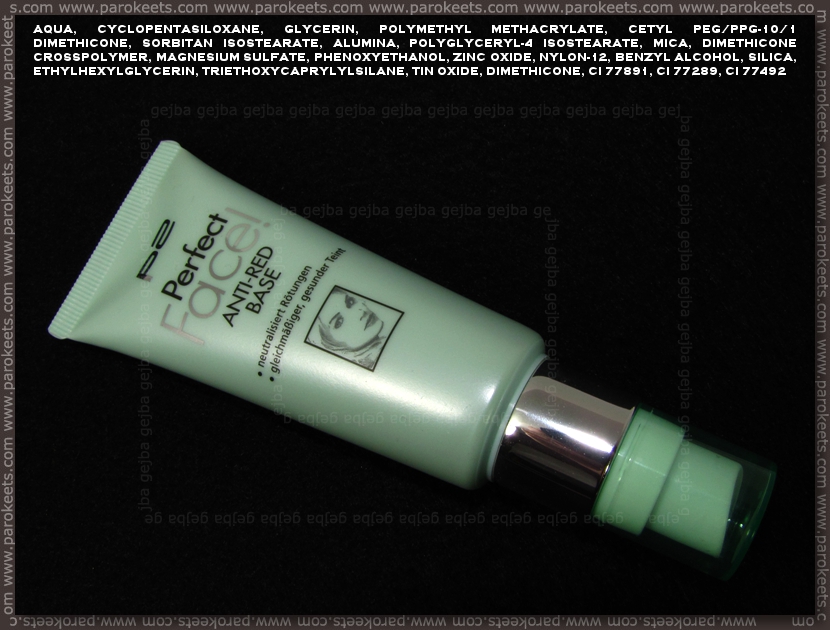 Because of the annoying "seller" I only quickly tested the texture/color and decided to get the corrector. If I had my peace I would probably spot shimmer in the store and would save myself the rant.
I find the color to be perfect for me – not to green and not too opaque. I need only a little bit to cover up the redness around my nose. And the glycerin is not the primary ingredient as in most of the correctors I saw.
But they had to add shimmer and spoil everything. I really don't need shimmer to draw the attention to the part of my face that I'm trying to correct.
I still use the corrector but in small quantities and only when doing full make up routine. But if there were no shimmer in this corrector it could have easily became on of my must have products.
You can see the texture, application, color and packaging in short Youtube video.
Price: 3,95 EUR (5.5 USD) for 30ml. Expiration date – 12 months after opening the product.