For Day 6 of Pink Challenge I used technique that I've been neglecting for years … "scotch tape" manicure. I never became fan of this technique as I'm pretty clumsy so I need lots and lots of time to make it look pretty.
If I was doing scotch tape mani, then I was determined to go all the way and do in with contrasting colors … greens. My problem was that I don't like yellow greens and those are the ones that should look the best with this manicure. Now I have to get at least few of those or I'll be nervous until they're mine. :D
I always start with 2 rules when doing scotch tape manicures – plan the sequence and stick to it + use polishes with very good opacity. But I'm really hopeless so I have to start experimenting and then redo part of the mani when experiments fail. And as I didn't have the colors I needed I broke rule no. 2 too.
For this manicure I used: Essence Love This City, Manhattan Fresh-Excited, Kiko 348, scissors and adhesive tape. Meet my scotch mani …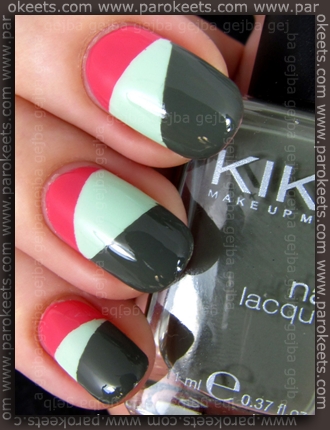 But my fingers were itching so I just had to stamp puzzle image from XL A image plate + Essence Stamp Me! Black over scotch tape mani.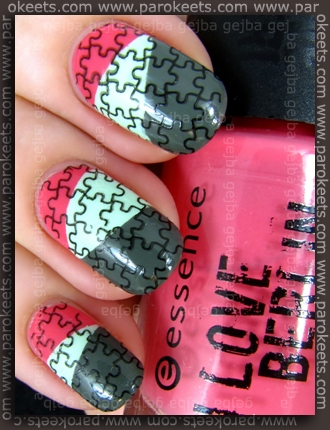 Which one do you prefer – with or without konadicure ?
Check out other participants in Pink Challenge: Caroline – Good Lack, Nail!, Maestra – Parokeets blog, Ulmiel – Did someone say nail polish?, Rebecca – Rebecca Likes Nails, Leslie – Polish Art Addiction, Inge – Polish Sis, Sidrah – Beauteous blog, Sarah – Lucky Lacquers.