I'm going to be superfast today, because I'm super tired. For today's Pink Challenge manicure I have a very easy to do manicure. Only stamping and only one stamp on each nail. Easy peasy, right? :D I liked how it turned out.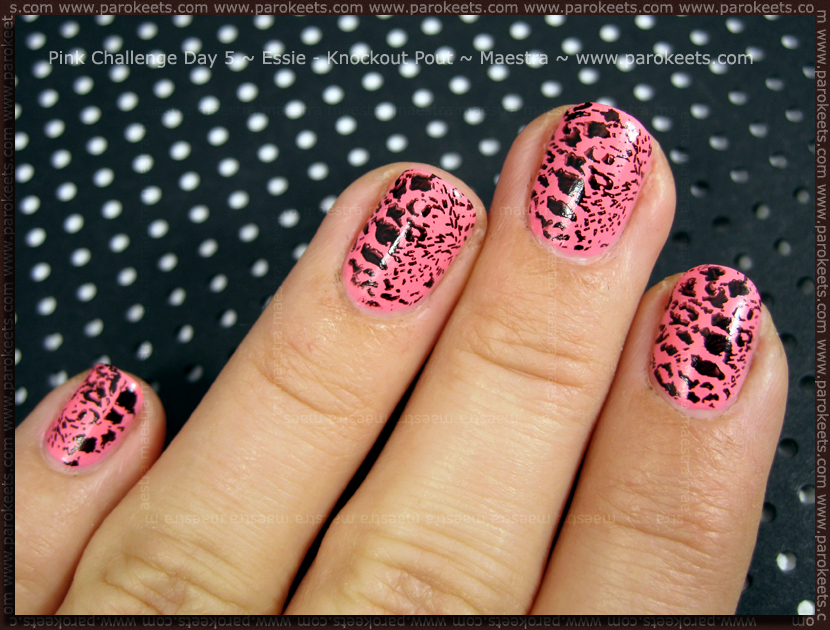 For stamping I used the XL plate D and Essence's Stamp Me black polish.
If you were wondering what is this Pink Challenge. Here are the rules:
for entire week you have to publish manicures with same polish;
you can layer, stamp over it, draw nail art … but base polish must still be visible in some way (so no layering black over it).
And here are the links to the lovely ladies that are participating in the pink challenge:
Caroline from Good Lack, Nail!
Gejba from Parokeets blog
Ulmiel from Did someone say nail polish?
Rebecca from Rebecca Likes Nails
Leslie from Polish Art Addiction
Inge from Polish Sis
Sidrah from Beauteous blog
Sarah from Lucky Lacquers
What do you think?