BH Cosmetics 10pcs Deluxe Makeup Brush Set is as the name suggests a set of ten brushes. There are seven eye make up brushes and three face brushes in the set. The brushes are stored in a zip-up black pouch.
Official description
Product Overview:
A sleek, zip-up black pouch, portable and nifty enough to toss into a purse, encases a deluxe, 10-piece makeup brush set.
It includes:
Powder brush, Blush brush, Foundation brush, Smudge brush, Large eyeshadow brush, Small eyeshadow brush, Eyebrow brush, Lip brush, Pointed Eye Liner Brush, mascara brush
Material:
Hair: (cruelty-free) Goat/Pony/Sable/Raccoon/Taklon
Ferrule: Gloss black aluminum
Handle: Birch wood
Dimension:
Brush Length: 8 inches (biggest brush)
Pouch size: 9″ x 3.5″
How does the set look like?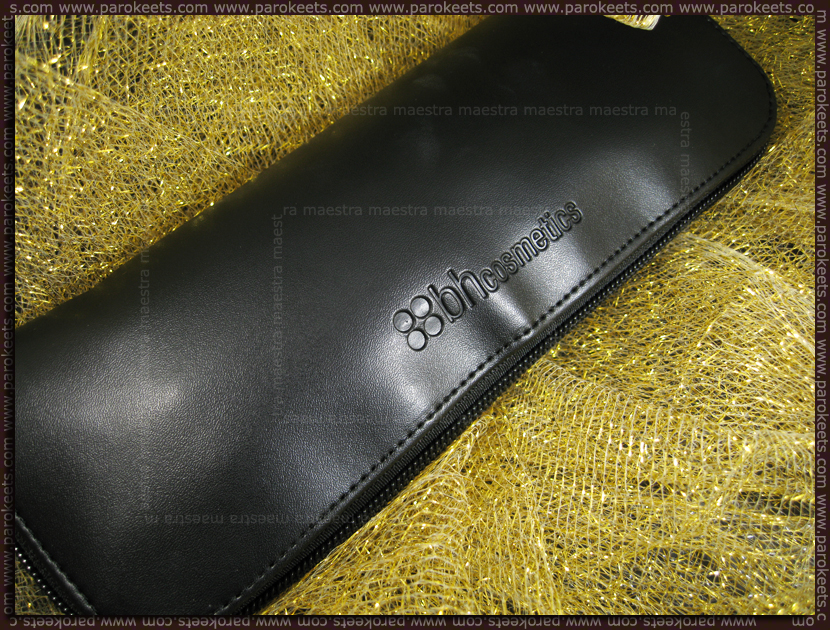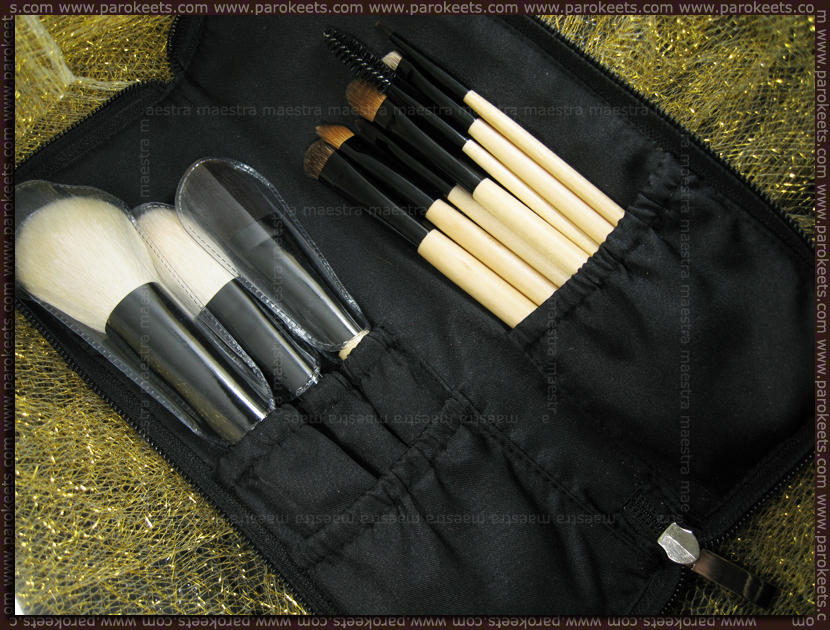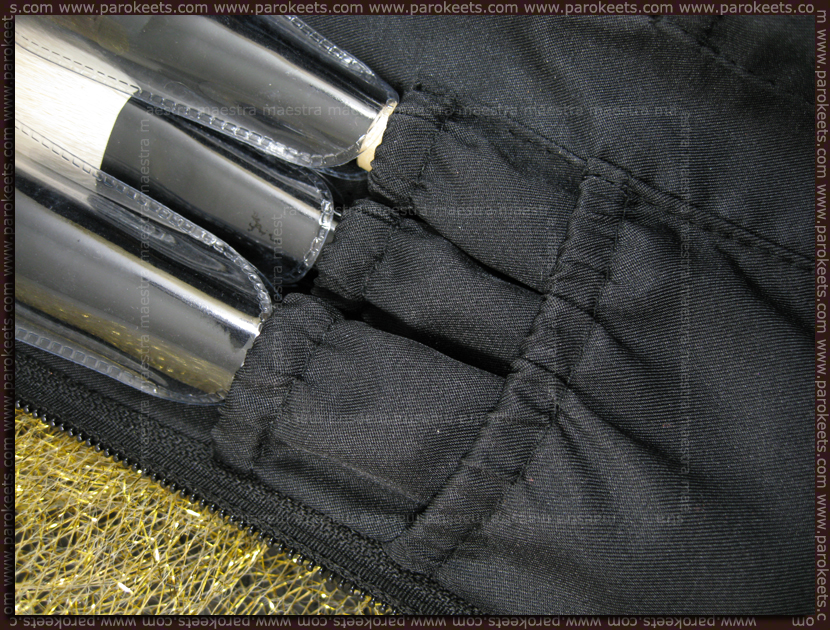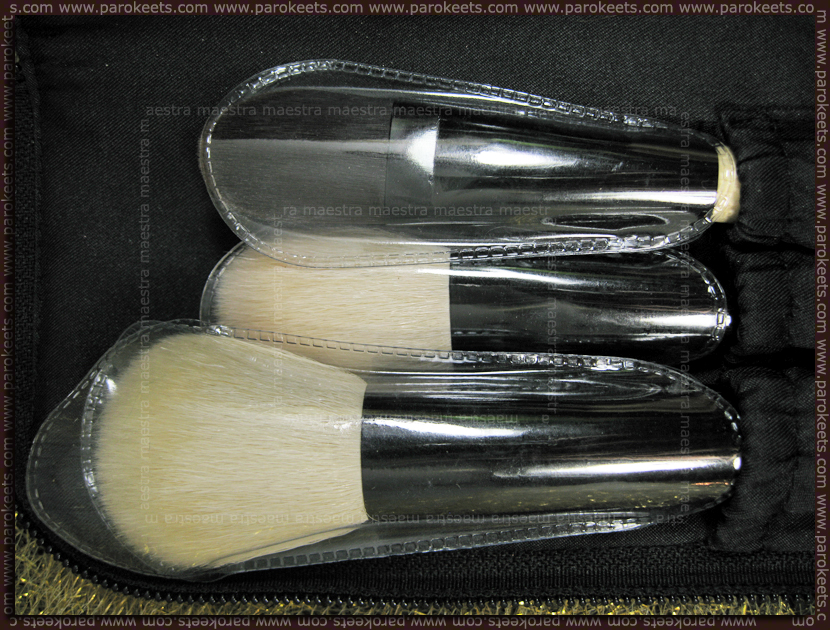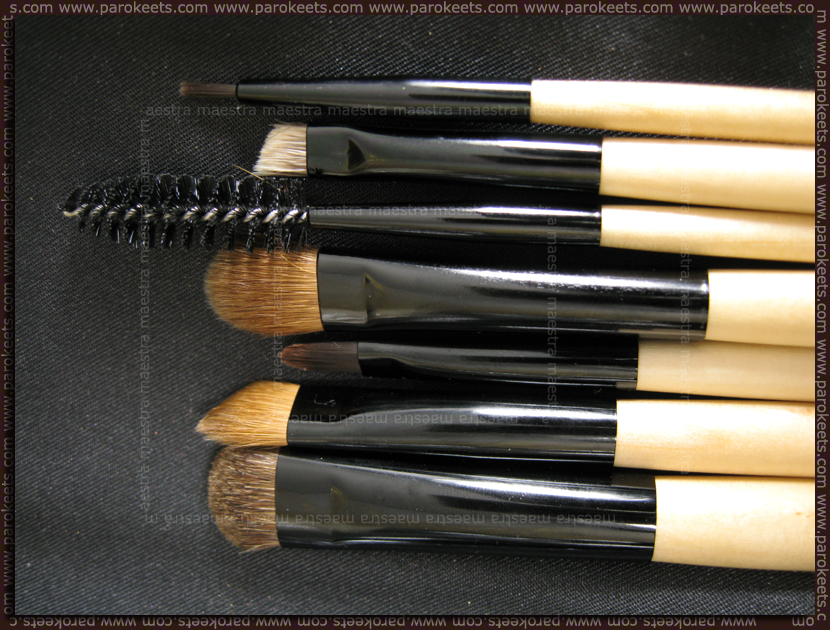 Review: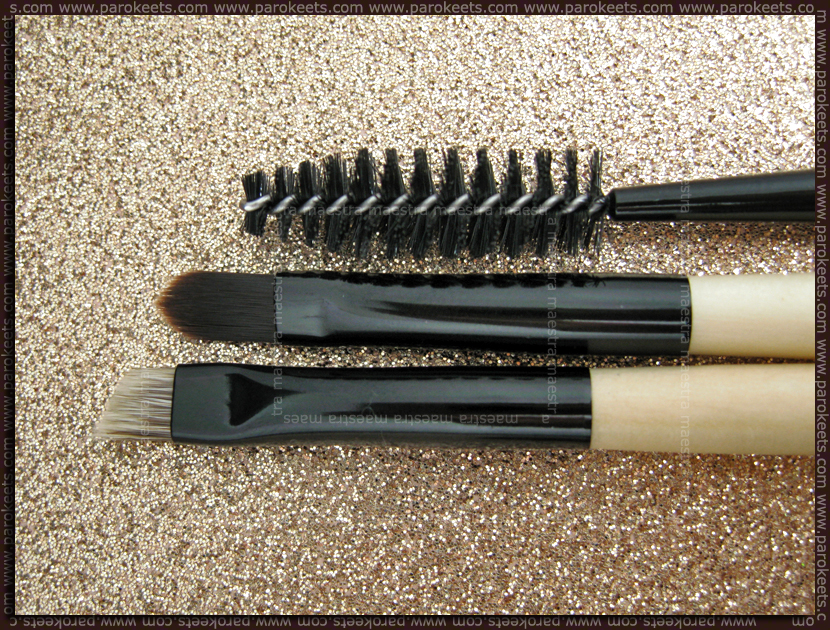 It has a very thin handle. It feels fragile. The handle is a bit loosened. Otherwise the brush performs OK. I use it mainly to comb my eyebrows.
Nice brush. I like it a lot. It's rounded, easy to use. It holds its shape well.
Good brush for applying color to your eyebrows. The bristles are stiff and a bit harsh but not a problem, because it's an eyebrow brush.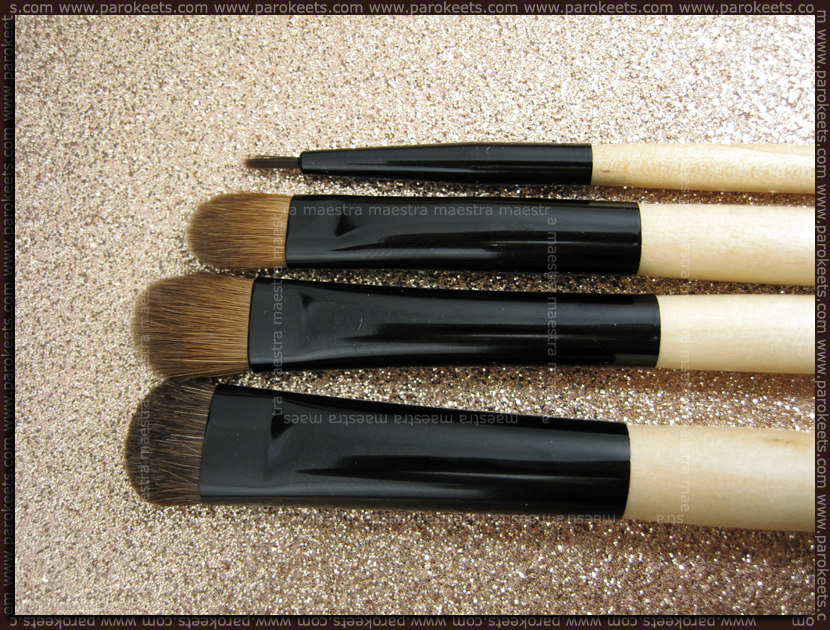 Very thin eye liner brush. It's a fine brush for detail work. For lining my eyes with a gel eyeliner I prefer angled brushes, but that's just a matter of preference. There's absolutely nothing wrong with the pointed eye liner brush by BH Cosmetics. I love it for applying thin line of eyeshadow near my lashes etc.
A flat eyeshadow brush. It's a very nice brush for laying down the color on your eyelids. The bristles are soft, but firm. Because it's a flat brush it's not appropriate for blending. Although it's called small eyeshadow brush, it's not tiny. It's 0,9cm wide and the bristles are approx. 1,1cm long. I like it a lot!
A larger flat eyeshadow brush. It's 1,1cm wide and the bristles are approx. 1,3cm long. It's practically larger version of the small eyeshadow brush. Very good brush. I like it a lot.
Another very good brush. It has soft bristles and it's gentle. I like to use this brush for highlighting (under my eyebrows). It's 1,3cm wide, the bristles are 0,9cm long.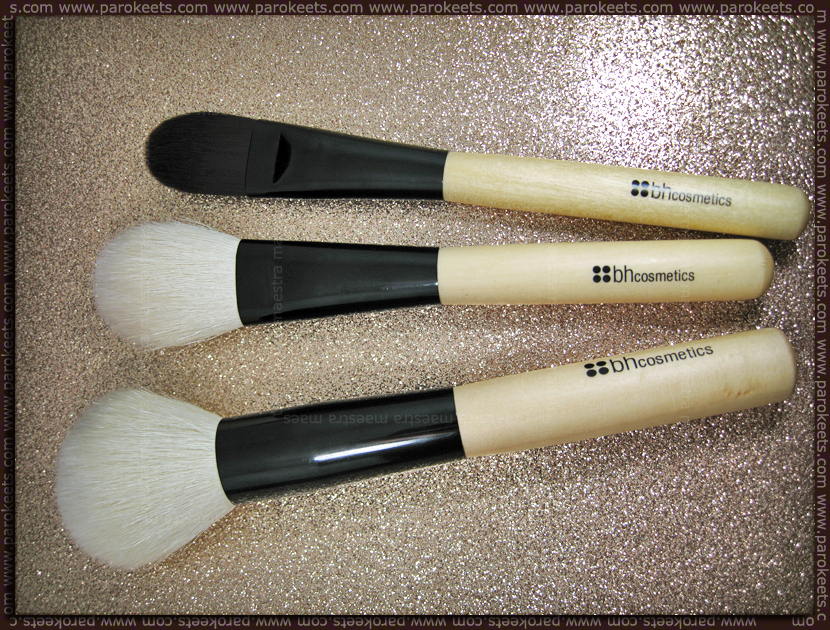 I love this brush. It applies liquid foundation nicely (no visible brush strokes). The only down side is, that the handle on my foundation brush isn't glued well, so it is a bit loosened. Otherwise a very good foundation brush.
A very nice fluffy blush brush. It's flattened. The brush applies blush nicely.
A bigger fluffy brush. It's round. The bristles are soft. It's a very nice powder brush.
Overall
A very good beginners set of brushes. There's a good variety of brushes. The quality of the bristles is very good. Only the big brushes lost a hair or two. Other brushes didn't shed at all. The brushes feel nice in the hand. The handles of two brushes in my set loosened after a short while, which is not a good thing. I'll admit, that the brushes are not of superb quality, but as I said before, it's very good set of makeup brushes to start with. I love that the brushes are in a pouch. Even if I have better quality brushes in my collection I love this set when I'm travelling. The only brush I'm missing in the set is a crease brush and maybe a blending brush. If you add the Essence smokey eyes brush, you have a very nice set of brushes. I purchased the set myself and I would do it again.
If you are interested, how do the brushes perform, you are welcome to watch my tutorial, where I mainly used the brushes from the reviewed set.
---
That was the review of the brush set. Moving on to the SURPRISE part of this post…
The year 2011 is almost gone. It was a great year for Parokeets. We wrote 397 posts this year and we received over 6565 awesome comments on our posts. You guys are the best!!! Seriously, you are the best possible readers out there! Thank you very much for taking the time to comment! We love comments and sometimes the comments are the one thing that give me the energy to keep writing. A lot of times your comments make my day. THANK YOU VERY MUCH!
At this point we would like to give a little bit back to you. We decided that we are going to say special thanks to our most "hard working commenter". A person who wrote the most comments in the last year. A person who reads our every post and really takes time to write sometimes very long comments (and that's a good thing ). She is an awesome person. She also has her own blog, which I love to read. Well …
ULMIEL, THANK YOU AND CONGRATULATIONS!
Ulmiel wrote 311 comments in the last year. She definitely deserves a huge thank you from us and a present!
Ulmiel, as a special thank you we have (thanks to Licila.si) a set of BH Cosmetics 10pcs Deluxe Brush Set ready for you. Please, send us an email (maestra(at)parokeets(dot)com) for further information.
We wish we could give everyone a gift, but unfortunately we can't. I want to let you know, that your comments are highly appreciated and not taken for granted.
THANK YOU!
HAPPY NEW YEAR TO YOU ALL!
XOXO