Maybe you've noticed that I've been a bit absent in the past month or so. There's no particular reason for that (and at the same time there's tons of reasons, but I'm not going to talk about them). I guess the main reason is that I've been giving a lot of energy in this blog in the past three years and now I need a bit of time to recharge my batteries. At the moment I just don't enjoy writing posts and taking photos of make up. I hope that will change soon (I'm very unpredictable, maybe I'll be back on track tomorrow – who knows). Until then I'll write a post or two from time to time. This is not a goodbye post or anything like it, I just wanted to let you know, why there's less posts than usual.
Today I have a mix of the week for you. Here we go …
My cat had to be taken to the vet, because he's been fighting with another cat and the wound got infected. (Don't worry, he's already feeling much better.)
He's such a cute, brave and good cat. He helped to reorganize one of our fish tanks …
Sleeping in my light box was a challenge (even for him).
I've been shopping a bit last week. I got some nice make up stuff on sale. And some (well actually a lot of) candy too ..
I wanted to buy DS Mystery for a long long time now, but I always changed my mind, because it was too expensive. And now I got it on sale and I'm happy.

I bought DS Illuminate because of the green flash.

This one looked like a nice nude shade.

This eyeshadow duo looked promising and also the tester was nice quality. I bought it because it was on sale and also because it's such a basic duo with almost completely matte eyeshadows.

The light shade is almost invisible on my skin. The dark shade is hard and needs a couple of layers to become visible and even as it is in the photo below. I'm not impressed.

I haven't been adventurous with make up for a long time now. I've been mostly wearing brown tones on my eyes. My make up from yesterday using Catrice – Berlin make up palette …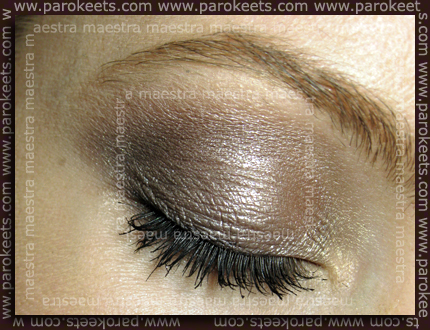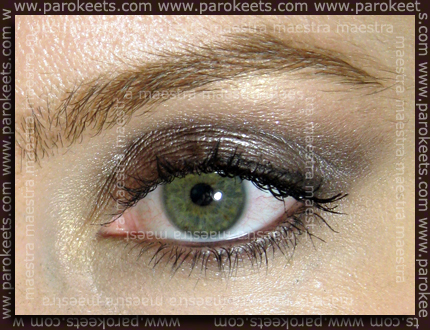 I've been neglecting my nails. The result … My nails are not in a good shape at the moments and they are very short (which I don't mind, but they look funny on photos). My cuticles are dry. My nails have been naked almost a week now. I wore only a base coat. Yesterday I painted them in a nice nude color: Catrice – Mona Lisa Is Staring Back. It's a lovely milky peachy pink shade with nice gold shimmer. Very lovely and work appropriate color. It's very easy to apply. It even looks nice and even with only one coat. I think you can build it up to full opacity with three coats. This shade is on sale right now, because it's soon going to be discontinued. You can get it for 2€ right now.
And weird photos of today's FOTD using the Catrice eyeshadow duo I showed you above. After trying these eyeshadows I can not recommend them. The light eyeshadows barely shows on my skin and the brown one is hard and not pigmented enough for my liking. Though the brown one could be very good for eyebrows.
I think that's it for today. That was my mix of the week. If you feel like it, write in the comments your mix of the week. I can't wait to read what you've been up to last week.