Essence Legends Of The Sky TE is one of those rare collections where everything that could go wrong … And I don't mean product wise but on my end.
First I was unable to get my hands on red nail polish from this TE, which made me sad. I got 4 out of 6 shades available. I make video first and then proceed with nail swatches. But I made a mess of things before I even got to swatching. So I officially pronounced video to be cursed. :D But when I saw the weirdish colors of nail swatches on my monitor, I just declared that Legends Of The Sky TE is cursed.
All the polishes in this collection have muted colors, little bit thicker formula and applied well. I used 2 coats for all swatches.
I Wear My Flying Goggles At Night is the lightest shade. Like most of the shades in Essence Legends Of The Sky TE, this one has me puzzled. It looks (slightly) brownish gray most of the time, but under artificial light gets few shades warmer.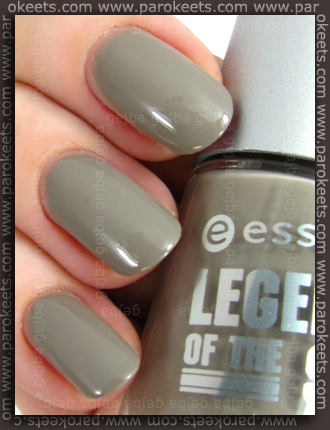 Like Leo's Pilot Jacket was the hardest to photograph as it looks a lot greener inside than outside. I edited all the photos (hence the weird skin tones) to show you at least approximate colors. It's very understated grayed out yellowish green … ideal to stamp over.
I Am A Viator is the weirdest brownish color (with hint of red and violet) that I ever saw. But it actually looks great on me … just not as chocolate brown as on swatch. I didn't use top coat with this one.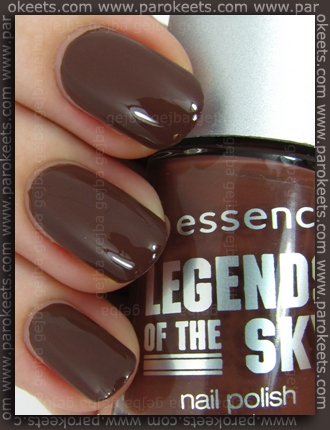 Last one I found was No Better Way To Sky. Very lovely burnt orange that I wish Essence included in one of the fall editions. This is something I would love to wear when trees are dropping the leaves … Again swatch is to washed out and not the almost pumpkin orange it should be.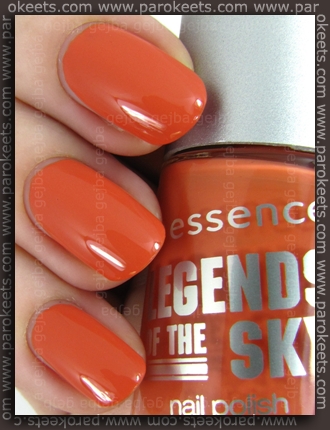 I did try to stamp with I Am A Viator over No Better Way To Sky but as everything else in this trend edition it didn't turn out as planed so I'm not showing you that one. :D But you can stamp with it … if you want paler image.
Now From Zero To Hero eyeshadow palette left me speechless.
I had to decide whether to get blush or palette and as there was tester for palette and not the blush … palette went home with me. I love all the eyeshadows except the blueish grays on the left … those colors don't look too hot on me. Apricot, Red and Brown are more pigmented than others but they are all so soft and easy to work with that it's joy to use them. I already wore 2 or 3 makeups with this palette and I LOVE it so far. I would recommend  this to all the beginners to experiment with (you have 2 matte shades, highlighter, brown …) and to those that wish to have orange and red eyeshadow in their collection that are easier to use in everyday makeup than those insanely pigmented ones. Swatch is made over eyeshadow base – 2 coats.
Video swatches:
Price:
10 ml (0.33 fl.oz.) nail polish 1,89 EUR (2.4 USD)
eight eyeshadow palette (5,5g=0,19 oz) 3,89 EUR (5 USD)
How do you like Essence Legends Of The Sky trend edition? Did anybody get red nail polish? Is it as pretty as on promo photos?