While cleaning the flat and reorganizing my stash, I came across all the beautiful polishes I bought in the States. Memories memories … Because my nails were in desperate need of a new manicure I decided to paint my nails with a beautiful and interesting polish (bought in America of course). It's called Peacock and it's by Icing. It's green with purple sheen. I don't have anything like it in my stash and that already makes it special. The polish is quite sheer. After three coats it's still not completely opaque. I was satisfied after three coats, but my nails are very short (especially after cleaning the flat the whole weekend). If you have longer nails, you'd definitely need at least four coats. In that case I suggest layering is a better idea, right?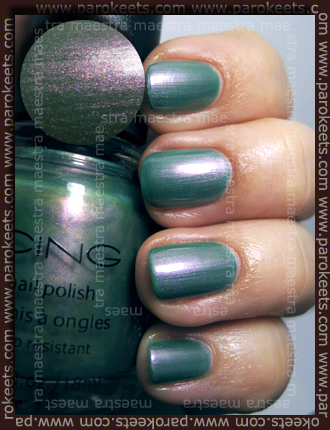 That's my nails of the day. Do you like the Peacock on my nails? And I'm curious … what is on your nails right now?
This post is also available in SLO.