Part three of my favorite products for summer. Today I'm going to show you my favorite lipsticks, lipglosses and blushes.
Lipsticks and lipglosses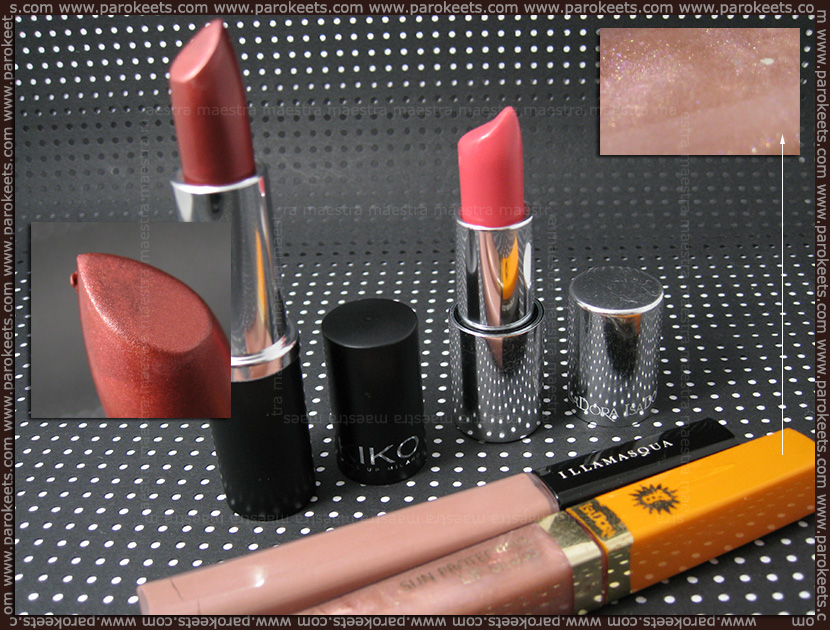 IsaDora Jelly Kiss lipstick in the shade 57 Coral Punch is a simple and nice products by IsaDora. It's a very glossy lipstick and it's not very pigmented but still pigmented enough to give my lips a flush of color. It is buildable. It feels very nice on the lips. It was also part of the summer 2012 set.
Kiko lipstick in the shade 62. I'm not sure which line this lipstick is from. It was on sale when I bought it, so I'm not sure if it is still available. It is a nice almost duochrome lipstick with metallic finish (at least that's how I would describe the finish, although I'm really not an expert when it comes to lipstick). I know this might sound odd, but I somehow like it. It looks nice with a bronze make up look. It's a red lipstick with a twist. I'm wearing this lipstick in the FOTD photo below. The photo was taken a while ago, that's why my skin is a lot paler than in the swatch photos that were taken a just couple of days ago.
IsaDora Sun Protecting Lip Gloss with SPF 8 in the shade 21 Apricot Pink is a very sheer lipsgloss with tiny shimmer. Very simple and nice product.
Illamasqua Sheer Lipgloss in the shade Intimacy is a very nice nude lipgloss with shimmer. Read the whole review HERE.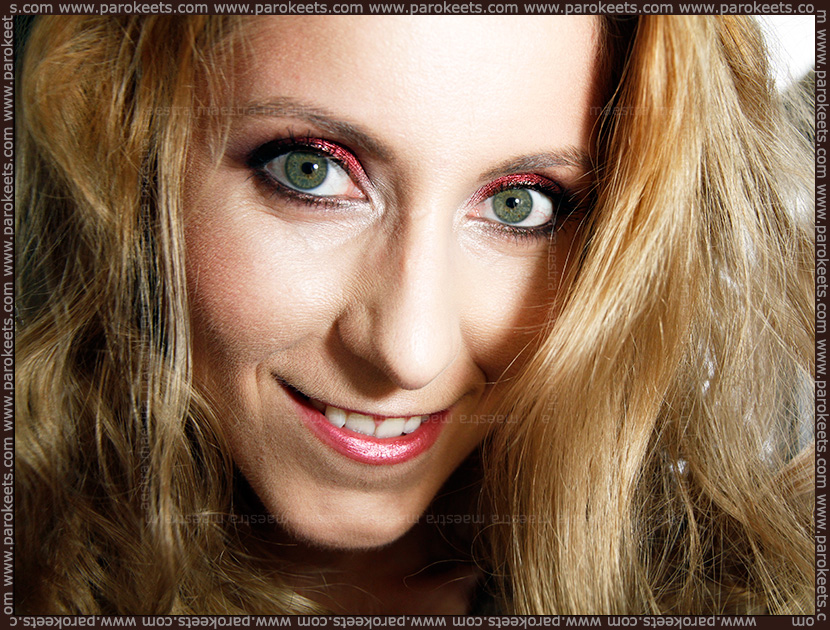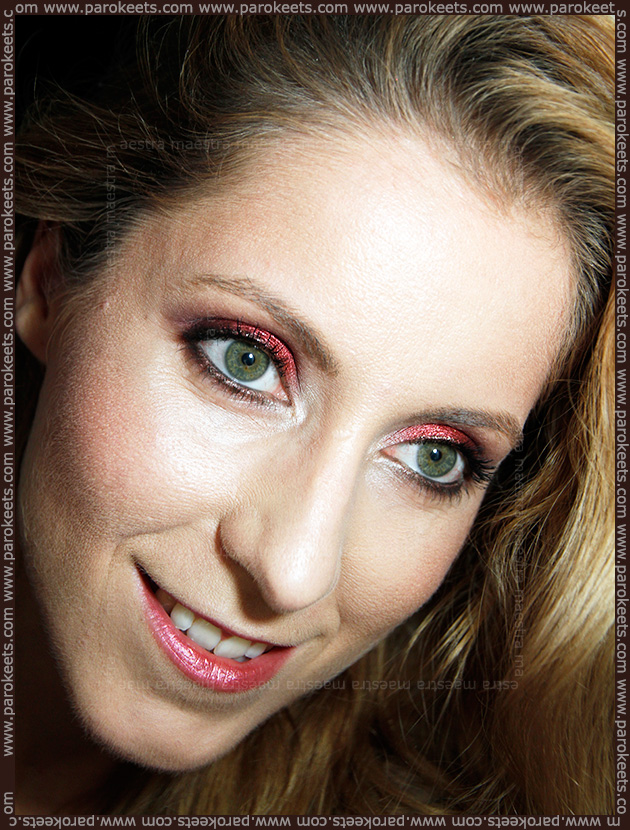 Blushes
I'm a huge fan of blushes and I always wear a blush if I wear make up. These are the ones that I wear the most at the moment.
Artdeco Blusher – Dita Von Teese in the shade 09 Ingenue is a soft peach color with matte finish. Yes, it is completely matte. The texture is very smooth and nice. The pigmentation is good. I love to combine it with the Zygomatic cream blusher by Illamasqua. They look beautiful together.
MAC Mineralize Blush in the shade Moon River. I don't think this one is still available. I bought it a couple of years ago and didn't use it a lot, because it is (or at least it was) too shimmery and shiny for my taste. I've always loved the pink-coral side of the blush and that's why I have always came back to it. This summer even the finish grew on me and I've been wearing it lot in the past couple of weeks. I apply it with a fluffy brush, so it doesn't look to frosty on my cheeks.
Tarte Amazonian Clay Blush in the shade Tipsy is very vivid coral blush, that is very pigmented. This blush is not for blush-shy people. Because it's super pigmented you have to be very careful when you apply it. I would say it's almost too pigmented for a blush (if that's even possible). If you just started wearing blushes I would recommend you start with some blushes that are less pigmented, just so you get used to blushes and how to apply them. Otherwise this blush is wonderful. The color is very pretty (if I'm not mistaken I'm wearing it in the FOTD photo above).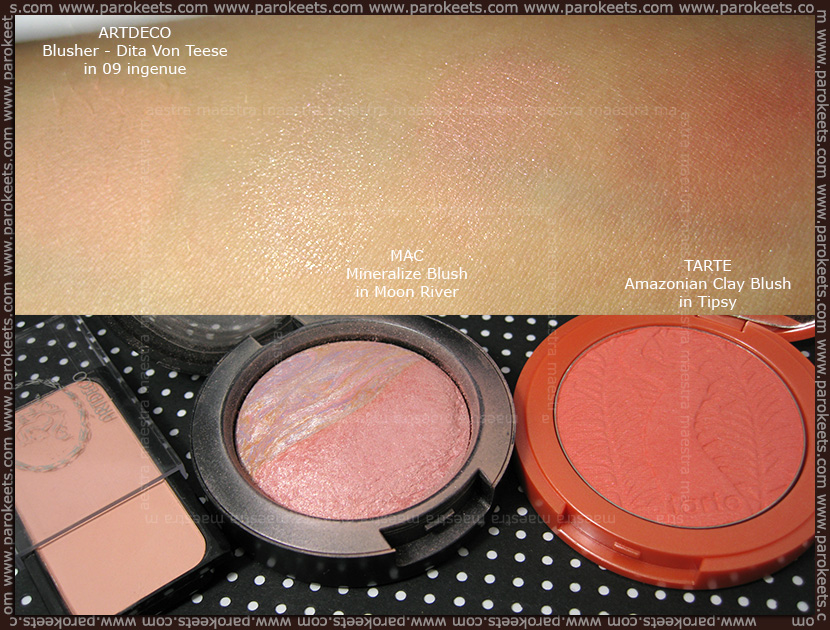 What are your favorite lip and cheek products for summer?
If you missed my previous favorites post. You can find them HERE.
My next favorites will be face, hair and body products and I think I'm going to throw in some of my favorite perfumes for summer.