I am very excited to show you the Ben Nye Glam Shadow Palette. And I am also going to add swatches of additional four Ben Nye eyeshadows that I have in addition to the 12 e/s that are already in the Glam Shadow Palette.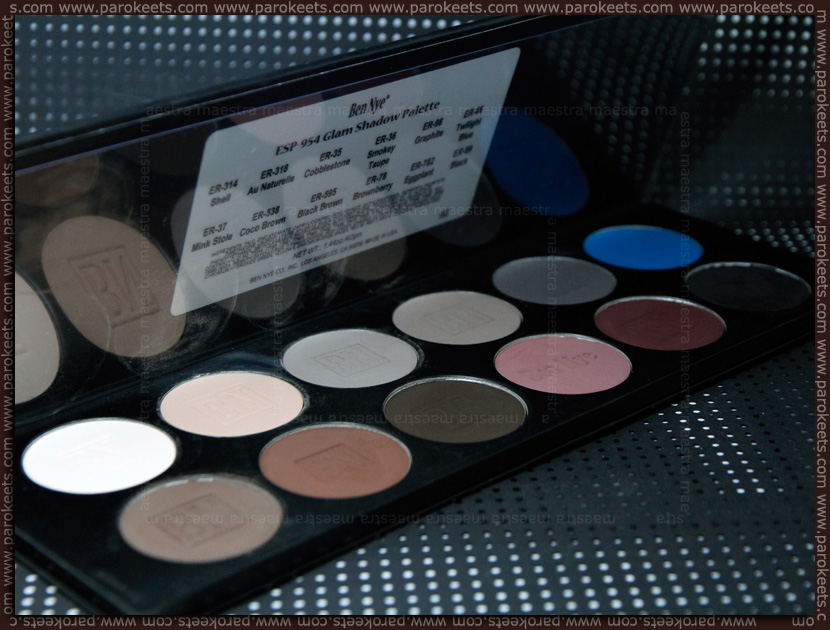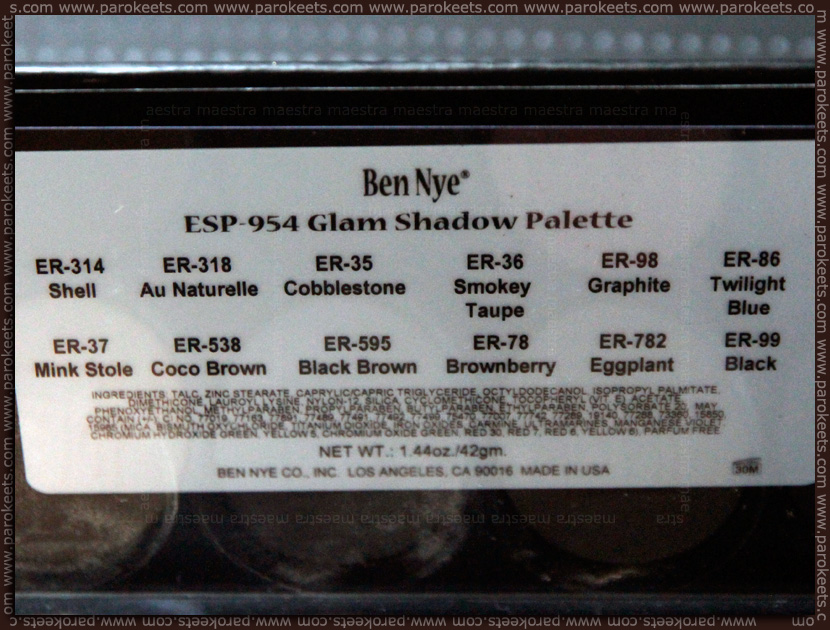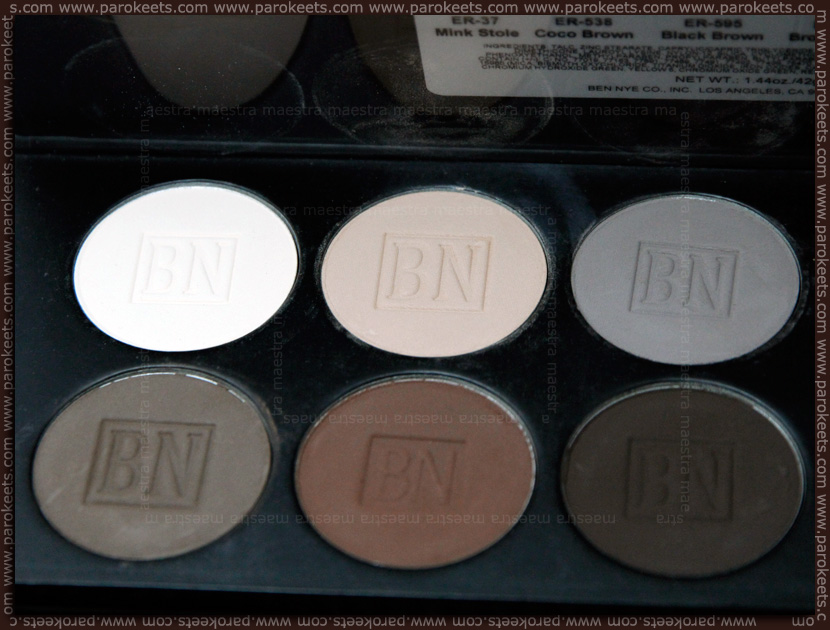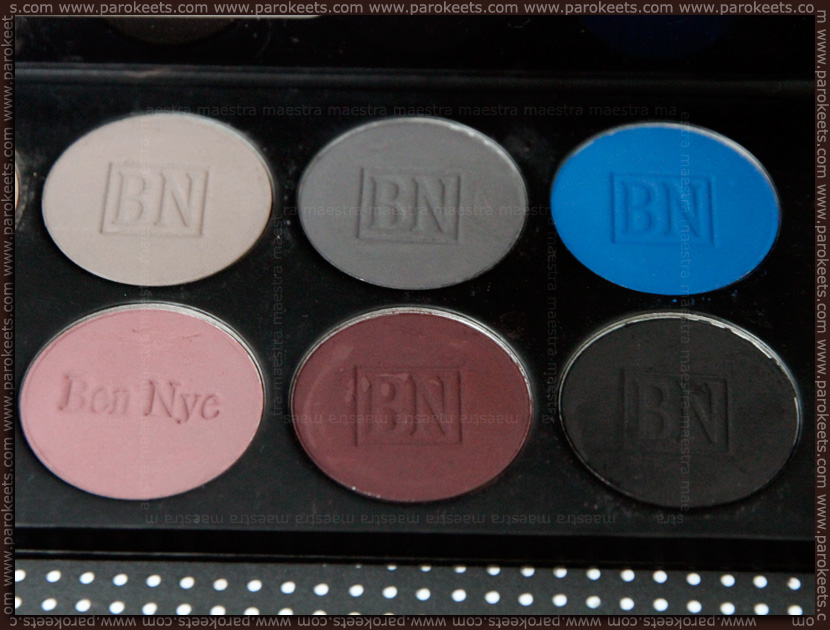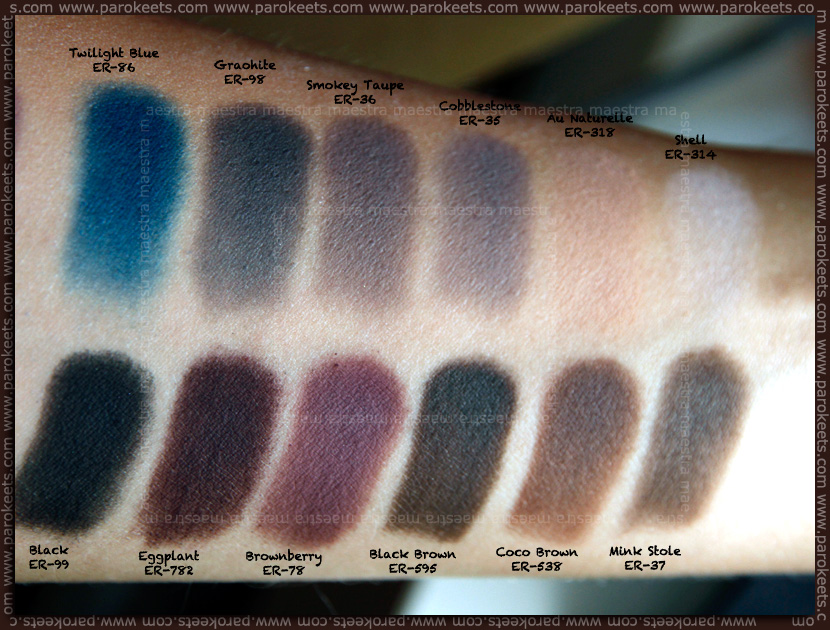 Twilight Blue is an interesting blue, which leans towards green but I wouldn't call it teal (yet). It is a dark "dirty" blue (maybe?). It looks very dark on the skin.
Graphite is a true dark grey.
Smokey Taupe is indeed a taupe shade (grey with a bit of brown in it).
Cobblestone a nice lighter grey.
Au Naturelle a light warm neutral shade (light yellow toned brown). Almost the same color as my skin tone.
Shell is a light creme color. It is not white.
Black is matte black.
Eggplant is very dark eggplant color. It looks very dark on the skin.
Brownberry is a lighter version of the Eggplant shade.
Black Brown is very dark brown shade.
Coco Brown is yellow toned brown.
Mink Stole is grey (neutral ?) toned brown. Skoraj nevtralna rjava.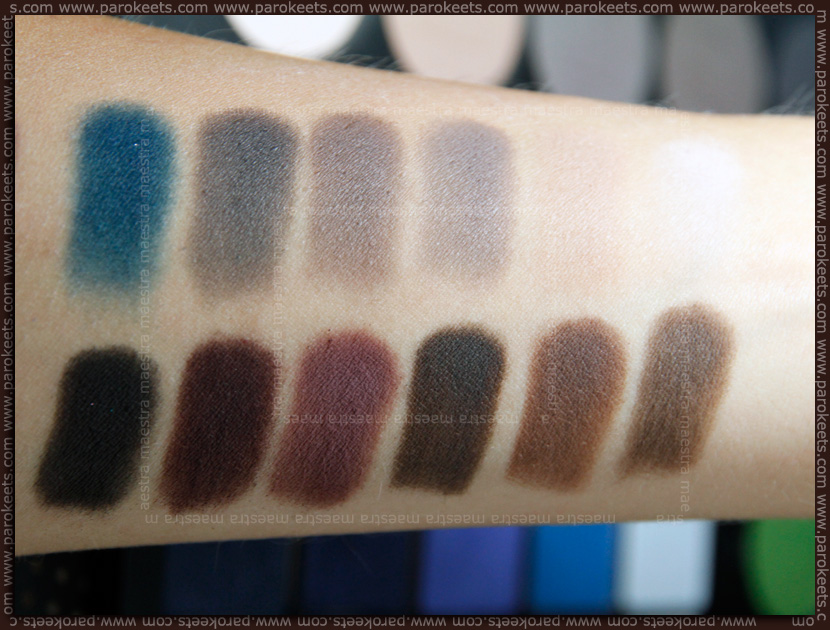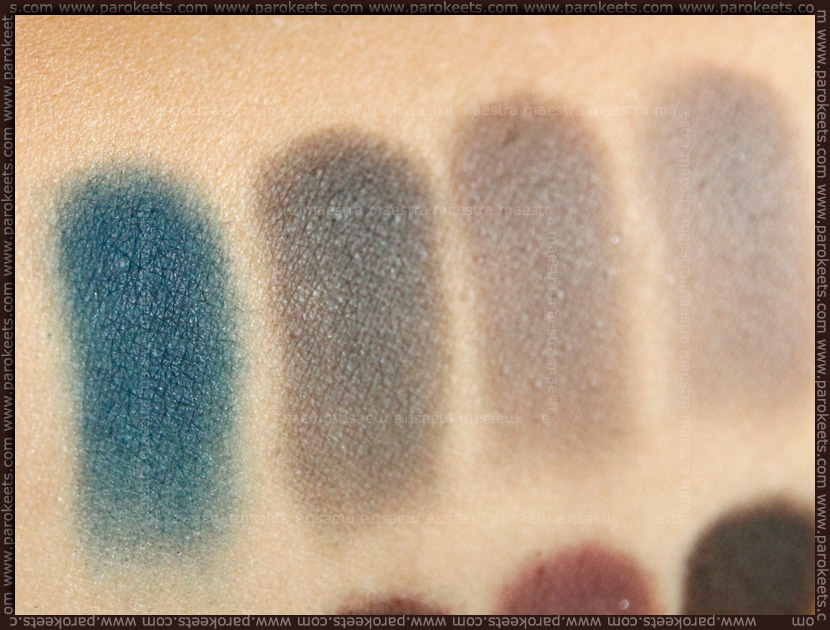 Here are also the additional four eyeshadows by Ben Nye that I own.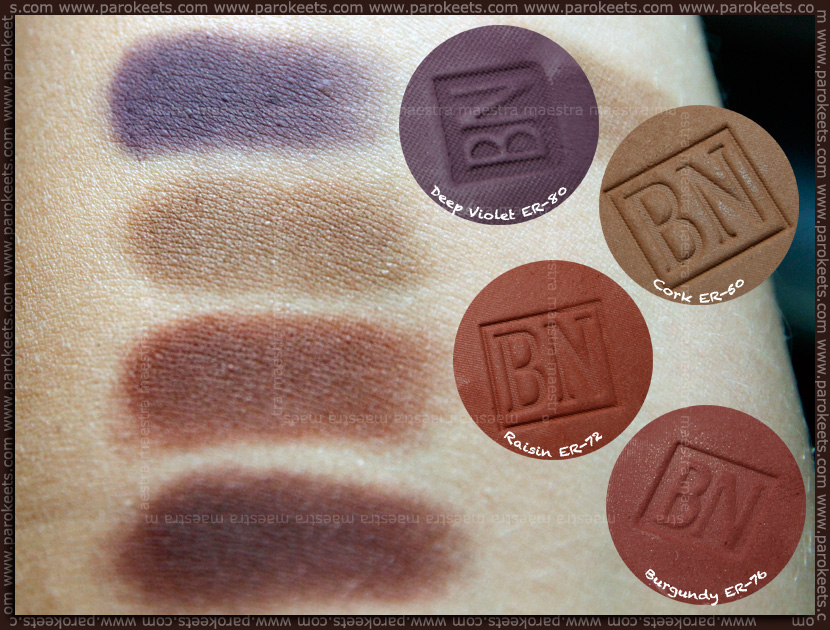 Deep Violet is a dark purple, but not too dark. You can still definitely see that it is a purple.
Cork is a medium brown with strong yellow undertones.
Raisin is brown with a lot of red undertones. You can call it red-brown.
Burgundy is a more cool toned version of the Raisin.
All of these eyeshadows are matte. All are nicely pigmented and easy to apply. There is almost no fall out with these. They have a creamy texture, without being creme eyeshadows (if you know what I mean). The least pigmented and a bit harder was the Burgundy eyeshadow. All the others were beautiful.
The palette is magnetic, so you can get refills for it or you can switch eyeshadows in it, which is great. The pans are huge. Each eyeshadow contain 3,5g of product. For comparison MAC Extra Dimension Eyeshdows are 2g, Inglot square e/s are 2,7g (the round ones are 1,8g), Kiko singles are 3g. I have comparison photos for you.
I would like to mention that the diameter of the Ben Nye Eyeshadows is the same as the diameter of the Kryolan eyeshadows, but you can't put the Kryolan eyeshadow in the Ben Nye palette, because the Kryolan pans do not stick to a magnet, which is unfortunate. So technically you can put them in the Ben Nye platte but they will fall out or you'll have to glue them inside, which is not the purpose of a magnetic palette right? I'll show you my Kryolan eyeshadows in one of my next posts.
Please let me know in the comments if you have ever tried the Ben Nye eyeshadows and what do you think of them? Which shade is your favorite?