Let's see if Essence Breaking Dawn trend edition products are as good as on preview photos.
Today I have for you swatches of all 4 nail polishes and two liquid eyeliners.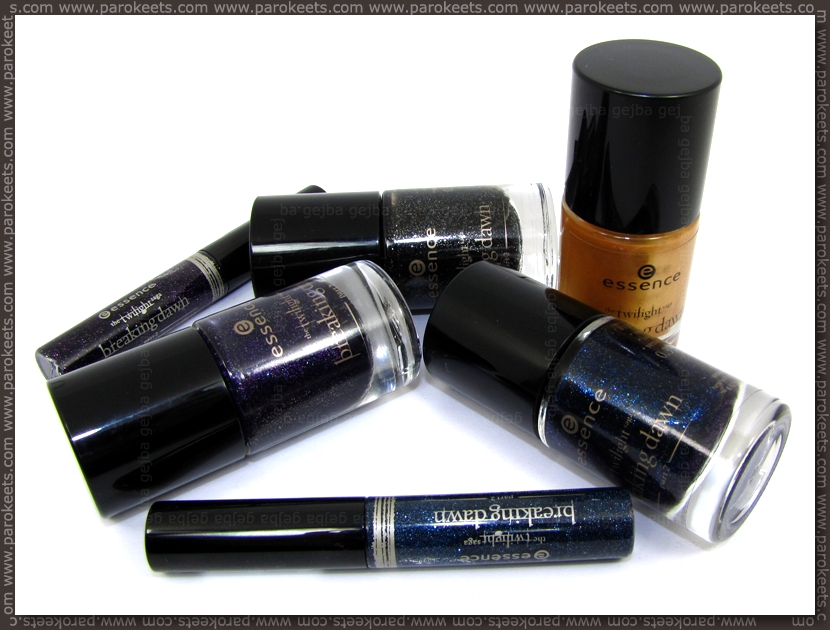 As expected blue and purple nail polishes are my darlings. Together with black one they come in similar formula – quite thick and loaded with lots of tiny flake glitter. I had to apply all of them in two thicker coats and then apply 2 coats of top coat to get the shine I wanted. They look seriously pretty, but drying time was not as fast as I'm used to.
Essence Jacob's Protection is the most complex and "have to have" nail polish in my book. Base is darker blue and sparkles from within in blue, purple, green tones.
Close behind is Essence Alice Had A Vision – Again. Another dark shade with multicolored/duochrome flakies, but this time suspended in dark purple base.
Both nail polishes are almost vampy shades but with a serious punch.
| | |
| --- | --- |
| Essence Breaking Dawn – Jacob's Protection nail polish swatch | Essence Breaking Dawn – Alice Had A Vision-Again nail polish swatch |
I'm guessing someone on Essence creative team is on Jacob's team as Jacob's Protection is way prettier than Edward's Love. :D
Almost black base with loads of primarily silver flakies but green and pink shimmer is also there. Now if they added holo flakies I would be floored by this nail polish, this way it's OK, but nothing spectacular.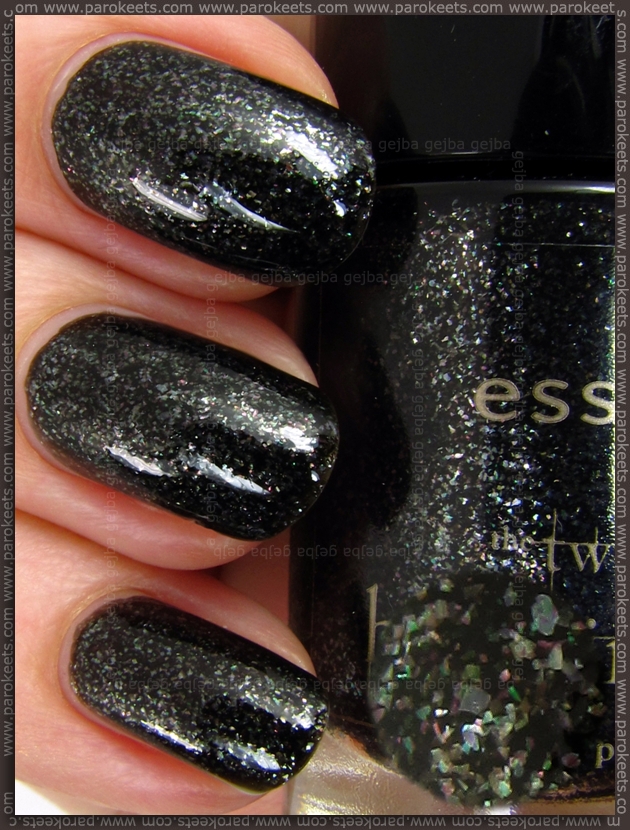 Essence A Piece Of Forever didn't look appealing on promotional photographs and I did not fall in love with it in real life either. It's gold, streaky and well … yellow gold. But it has one major selling point – it's GREAT for stamping (I used one of the new Essence image plates).
| | |
| --- | --- |
| Essence Breaking Dawn – A Piece Of Forever nail polish swatch | Essence Breaking Dawn – A Piece Of Forever stamping over Alice had a vision-Again |
Liquid eyeliners fulfill the promise of thin brush. I had no real trouble applying them and as they have sheer base I guess that is given. :D Each one is loaded with shimmery/glittery particles that give really nice shine, but I would still prefer if the base matched the color of the glitter as I'm one of the lazy ones (I first apply colored eyeliner and they shimmery one). I wore them for few hours and in that time they did not budge, but were easy to remove with my micellar solution. I used 2 layers on swatch.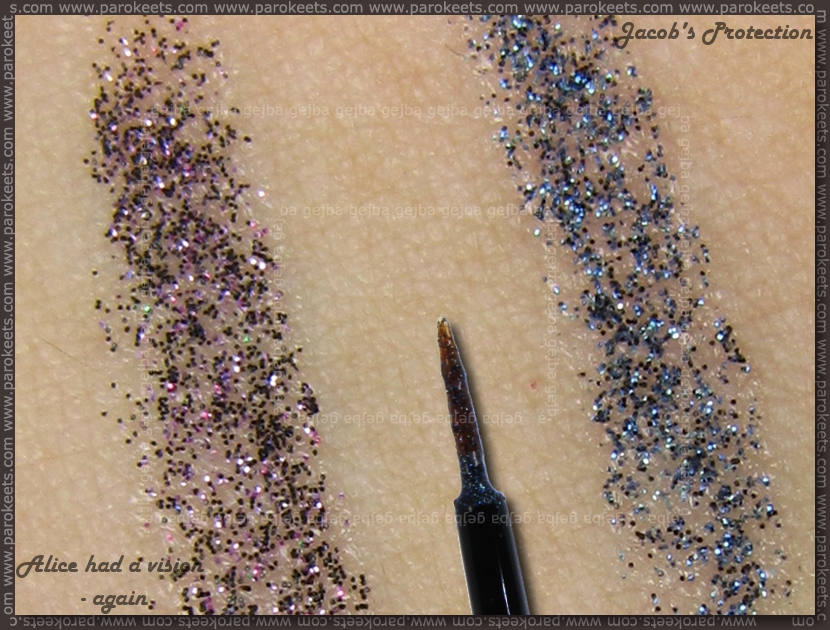 Video review for those that want to see glitter in action. :D
http://www.youtube.com/watch?v=ZET4s0Ns0L0
PRICE:
– nail polish: ~2,20 EUR for 10ml (0.33 fl.oz.)
– glitter eyeliner: ~2,50 EUR for 4ml (0.13 fl.oz.)
I still have pigments and blush on my WL … will see how they look in reality and then buy few more goodies.
Tell me – now that you have seen swatches – are still the same nail polish shades on your WL?
*I received eyeliners for review and bought the nail polishes.