I probably won't be visiting Austria for a while now, so I splurged a little bit on the few things that were on my WL. Plus I picked up few nail polishes in Slovenia and friend brought me 4 from Germany.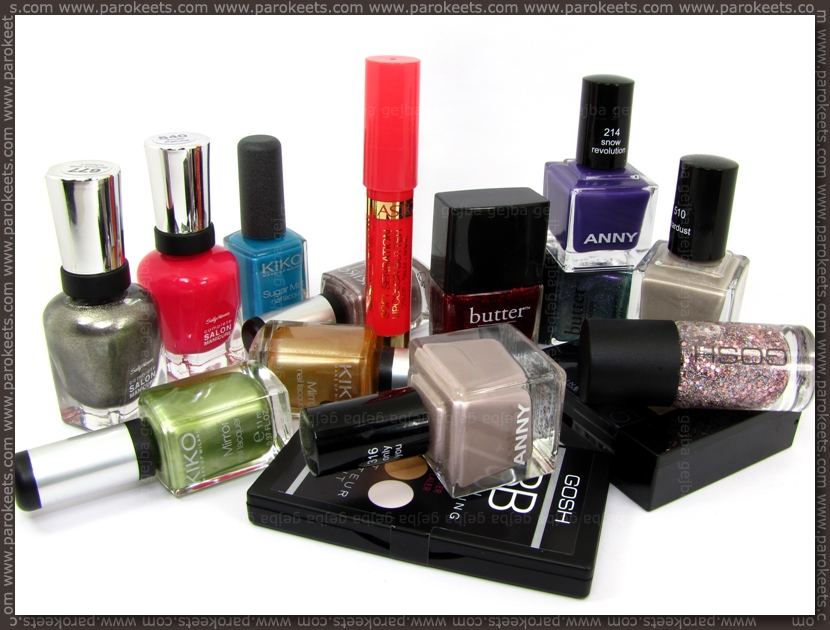 Anny nail polishes are leaving our country, so I bought 2 to finally try them out. I bought shades Only You (316), Stardust (510) + picked up Snow Revolution (214) in Austria. If majority of my Croatian FB friends loves these nail polishes they have to be good, right?
It's high time to try out Sally Hansen nail polishes. I went with Shoot The Moon (677) and Frutti Petutie (540).
Same goes for Butter London polishes: Knackered and unnamed red glitter (anybody knows which shade is this?).
I'm on warpath to collect as many chubby lip sticks as possible so Astor Soft Sensation Lipcolor Butter in 011 Feeling Feline landed in my basket.
Gosh: Girls On Film nail polish and lemming crossed of the list – BB Skin Perfecting Kit in 01 Light.
Maybelline Fit Me Pressed powder in 125.
Kiko nail polishes are currently on sale, so friend of mine bought me 4 of them: 637 from Sugar Mat collection and 3 Mirror ones 627, 628, 617.
I think that is quite enough nail polishes for a while. I guess I'll have to buy more lip products, mascaras … :D
Did you lately buy something you absolutely loved? Something I might want to try out too?