Lot's of time people ask me, how come I love Illamasqua's lipstick so much when they're so dry and matte. I'll admit to reaching for matte shades when I need assurance that my bright and bold lipstick will stay in place for hours, but for everyday use, I would go for their Glamore line (Climax being somewhere in between). They're not drying at all, but due to the waxiness they still stay put for few hours. When I saw that they were about to launch 7 new nude shades, my hart almost gave out. I've spent couple of years not trying to find THE nude lipstick for me in formula that didn't annoy the hell out of me.
My life was in total chaos when all this was happening, so you can imagine my joy and excitement when I received 2 of Illamasqua Glamore Nude lipsticks to test out. I'll bet you coffee that my mom thought I was nuts to be so happy to get 2 "ugly" lipsticks. :D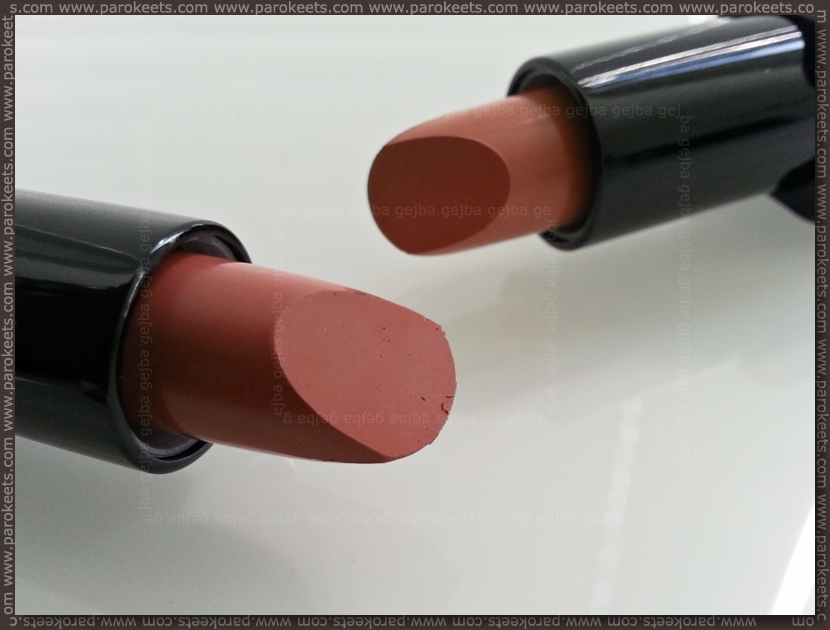 Illamasqua divided 7 new shades into 3 color categories which can help you with selection:
earthy rose (for warmer skin tones): Tease, Naked, Buff
rosy (for cooler skin tones): Rosepout, Starkers
nude corals (nude with kick of color): Minx, Cherubs
Of the 2 I received, Illamasqua Starkers is THE nude lipstick for me. It's nude without washing me out and with very light complexion, that can happen very fast. It doesn't look off and even my better half didn't have anything funny to say about the color … which doesn't happen very often. Considering I'm neutral to warm skin tone you would think that Naked would look better on me, but funnily no warmer tone nude shade works for me – no matter if we're talking about nail polishes or lipsticks. Color reminds me on one of those "meat" colors lipsticks (for which I still don't understand how they got their name). It's more on the brownish/dirty rose side and defines my lips perfectly.
Illamasqua Naked doesn't really look off on me but it's not flattering either. Warm brown shade seems to have too much yellow to really compliment my skin tone. Come to think of it, I think Nude is little bit more dry than Starkers but both are more moisturizing than not.
Price: 22 EUR for 4g (0.14 oz)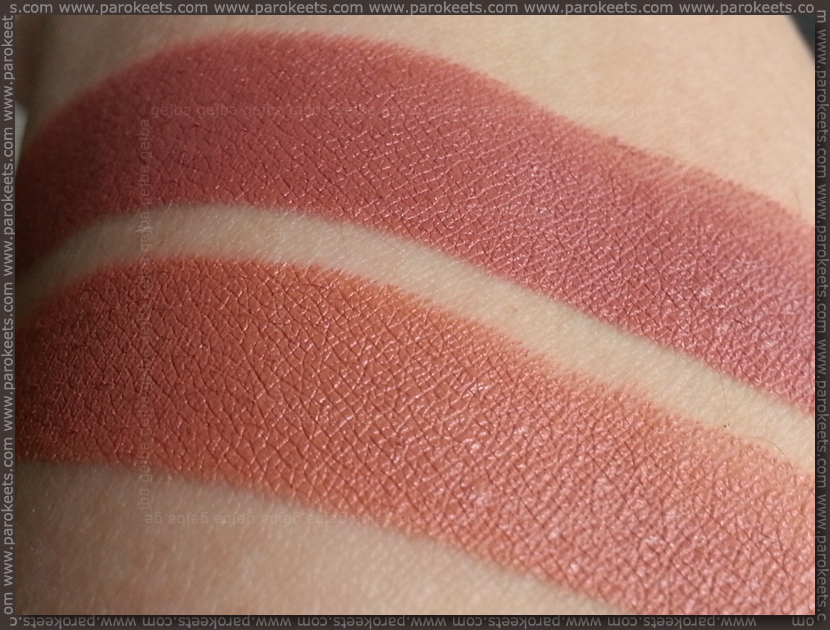 Only reason this post is so late is the fact that for the world of me I can not make non shaky lip swatch with my cell. I finally gave up and will try to make them when I buy new camera.
I have on my wish list Minx and Rosepout. Hopefully they're available in Slovenia so I'll be able to check them out in person and buy right away.
What is your favorite nude lipstick?
*I received lipstick for review from Illamasqua