Latest Ebelin LE called Sweet Blossom caught my eye while browsing through make up shelves. It consists of four make up brushes and some make up sponges. I bought all four make up brushes, because they looked promising to me. I only tried them once, so this is just first impressions type of review. I wanted to show them ASAP, because I assume these are going to be sold out very quickly.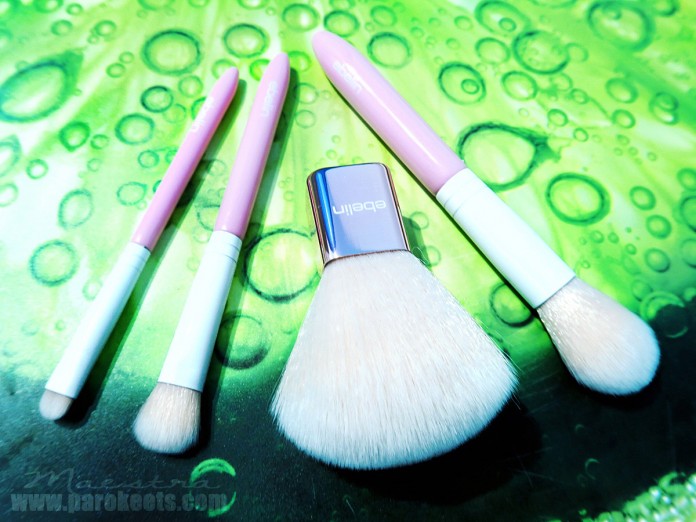 I'll start with my least favourite and also the smallest of the bunch. It has very short hair and thus is appropriate to apply eyeshadow very close to the eyelashes. Because it is very dense and the bristles don't bend easily it is not appropriate for blending. I tried it also for application of gel liner and it performed well. You can't draw a very precise line with it because it is hard to control the brush, but it is ok. I liked it best for brows. It is small enough and stiff enough, so almost perfect for brows. Price: 2,95 eur.
Eyeshadow brush is quite large. If you have very little space on your eyelids, maybe this brush is going to be too big. All in all it is an ok eyeshadow brush. It doesn't pick up a lot of product, so it is best for softer looks. It does a decent job at blending eyeshadow. I have to try it for blending concealer under my eyes in the future. Price: 2,95 eur.
Blush brush is a small blush brush. I prefer bigger brushes for application of blush, so this one is much better for highlighting and contouring the face. Price: 3,95 eur.
Mini kabuki is a very nice brush for finishing powders and bronzer. Don't be fooled by the name. This brush is not small. Price: 3,95 eur.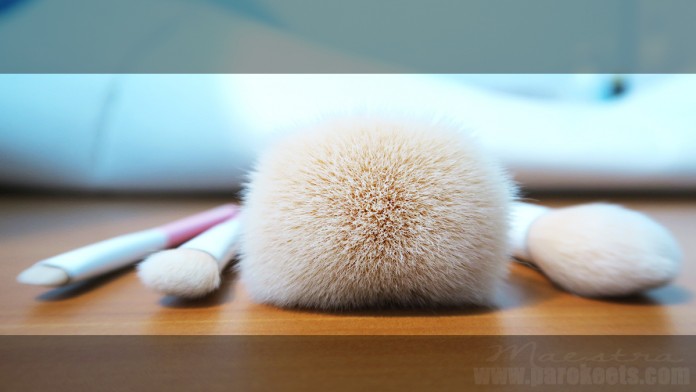 All in all these are nice brushes from Ebelin with very soft bristles. They didn't shed after first wash. The handles are very short, which can be a good thing for traveling. In the hands they feel "light" and … well … price appropriate. They are nice for soft make up look, because they do not pick up a lot of product. I do not regret buying them. My favourites are the blush brush and the mini kabuki.
I am including a photo of a make up look, where I used brushes reviewed above. If you noticed white eyeliner and are curious. I used lilac and white ones from the Essence Wake Up Spring LE. I am not too keen on the eyeliners. The lilac one is not pigmented enough and a bit to dry and the white one is to watery, so it bleeds into fine lines. The final look … well … not everyones cup of tee, I guess. :D