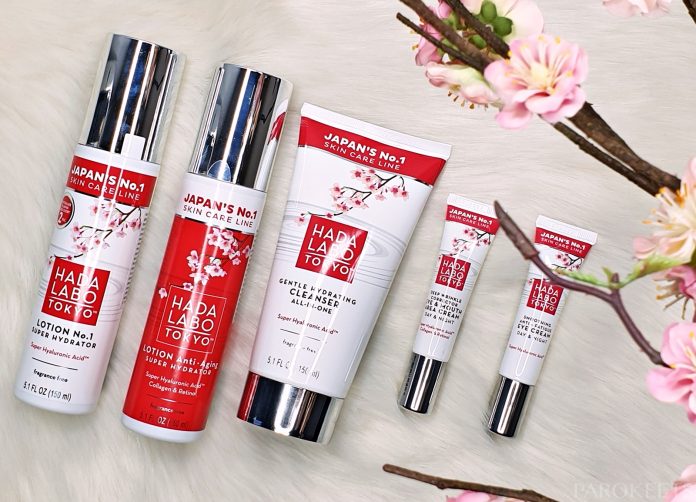 Last spring word reached us in Ljubim kozmetiko Facebook group that Croatian DM drugstores got Hada Labo skincare. Some even organized road trips to get their hands on their goodies, we were that exited. :D
Towards the end of 2019 we finally got the brand in Slovenian DM drugstores.
Immediately confusion set in … why are our products different that the Japanese ones? Why is one called Hada Labo and other Hada Labo Tokyo … do we have lower quality products that that available in Japan?
I did a whole research as the only thing I knew was that Hada Labo Tokyo was the sister brand meant for USA and EU market. We want different things form our products + our cosmetic legislation differs from Japanese one, so they tweeked some products to make it compatible.
Every single product I own is either made in Japan or USA. I would dearly wish to see cult cleansing oil and their hyaluronic foam in Tokyo version as well …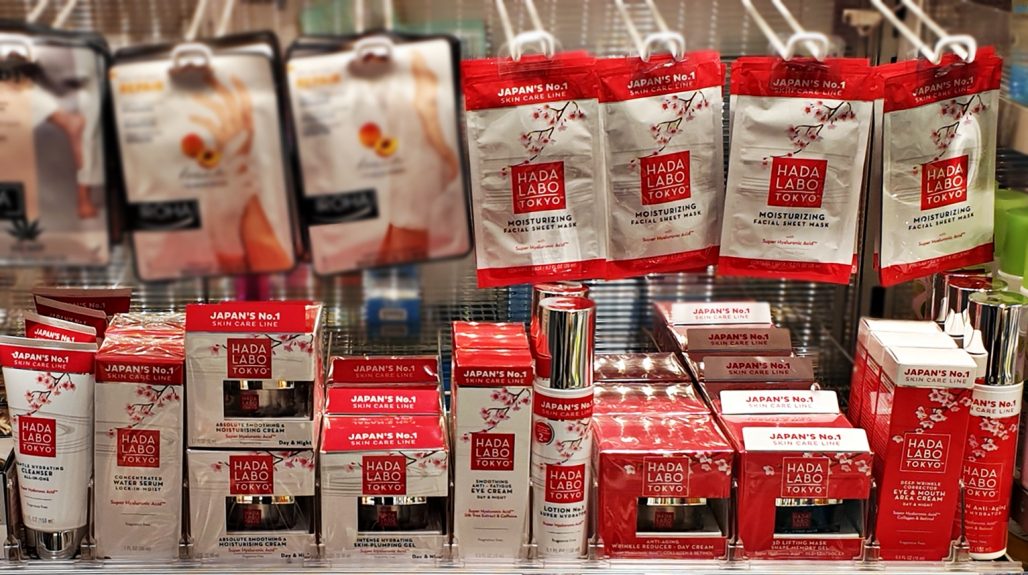 Not a pretty photo, but this it the best way to show you all the products that are available in Slovenia and 2 different lines we have – white and red one.
The "red" line is anti aging one and the main reason I decided to test Hada Labo Tokyo products. Why? Because one of the most asked questions is … what is the best way of starting with anti aging actives and I can get in DM stores? My answer is usually … good luck. :D
Hada Labo anti aging line contains retinyl palmitate … mild retinoid. Something that is appropriate for those in their late 20's or those that don't want the hassle of dealing with stronger actives.
They kept original Hada Labo philosophy and left the product without perfume and of course left in the hyaluronic trio that boosted them to the top of skincare in Japan.
After I posted this in Slovenian language, I got lots of questions about comparison of Hada Labo No. 1 serum with competitive brands. Mainly if it warrants the price tag.
I was little bit confused as No.1 is cheaper than other hyaluronic acid serums the asked me to compare it with. You pay 16 EUR for 150ml, not the usual 50ml. In essence it it a third of a price. :D
Other recurring question was if I am not bothered with paraben in few of their products. Short answer – no. :D
Best preservative for my skin is the combo with methylparaben. It is less likely to irritate my skin than phenoxyethanol on its own (CeraVe new formulation with phenoxyethanol in not as good for me as the old one with methylparaben). As long as I eat (methyl)paraben in tones of blueberry, I think it would be hypocritical of me to crucify it in cosmetics. :D
Third one – can hyaluronic acid cause breakout? Of course. It could be issue with HA in general, only some of the molecular masses or simply not the right combo of ingredients for you. I don't break out from HA in general, so I am not the right person to ask about breakouts from Hada Labo products.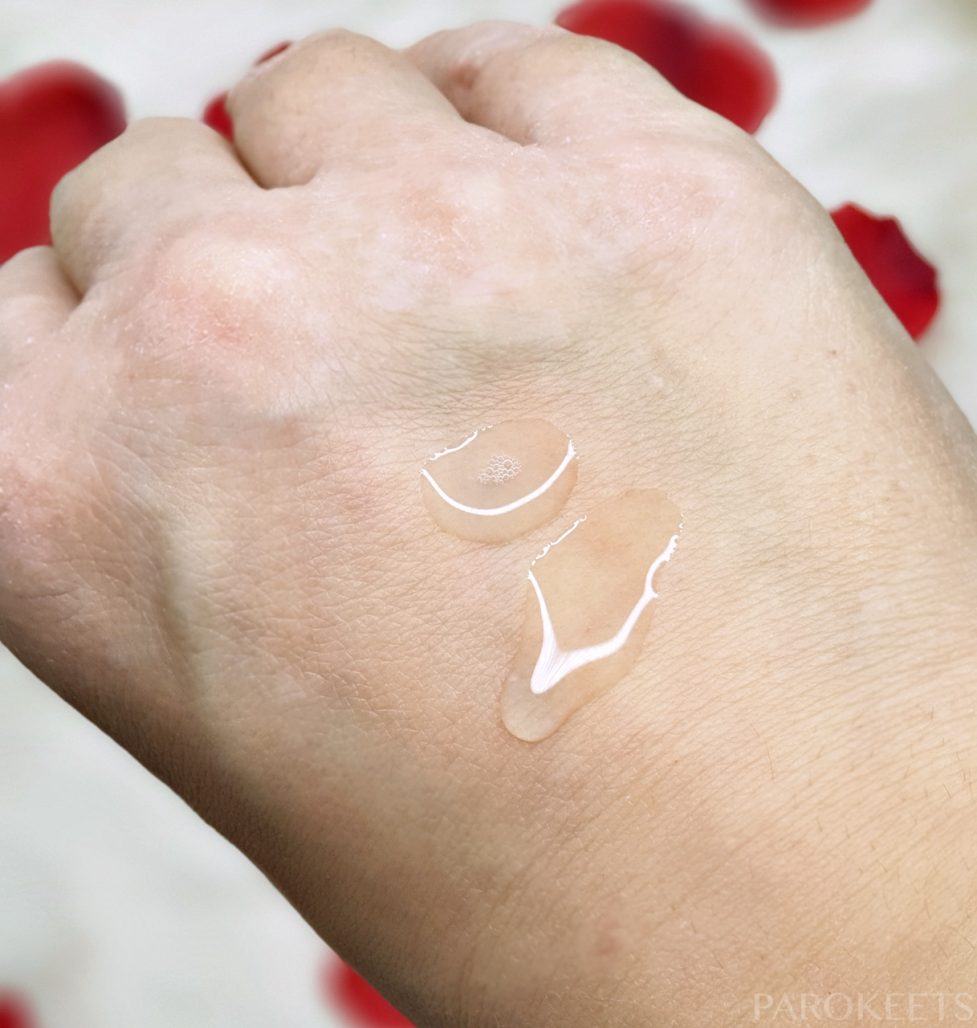 HADA LABO Tokyo Lotion Anti-Aging Super Hydrator is pretty liquidy and feel more like rich toner than serum. It sinks in quickly into the skin and leaves soft feel to it.
Formulations like these scream for fast look-down with something with occlusive power (to lock the moisture in). And don't forget to leave the mace damp to get the most from it.
Besides retinyl palmitat and hyaluronic acid, this serum contains hydrolyzed collagen, vitamin E, beta carotene and little something of alpha lipoic acid.
HADA LABO Deep Wrinkle Corrector Eye&Mouth area cream … mouthful name but this was one of the products I really wanted to try out.
Yellow tinted gel cream doesn't leave film on my skin only smooth skin. I'll see how it performs in the long run but I like it so far. Concealers worked pretty well with it.
BUT – this is not nourishing cream. So don't mistaken it for such.
Ingredient-wise it is similar to the above serum from the same line.
HADA LABO Tokyo Lotion No. 1 Super Hydrator
It doesn't get simpler than this hyaluronic serum. Not a lot of ingredients, no scent, leaves the skin hydrated … and it is paraben free for those of you who are looking for that in a product.
As it goes with anti-aging serum – lock that moisture in.
I see this more appropriate for younger crowd with oily skin who are terrified of more nourishing products. Or for those with all in anti-aging routine who are looking for something moisturizing over tretinoin.
Hyaluronic acid on wet or damp face? I leave the decision in your hands. Personally I can't stand it on wet skin. :D
HADA LABO Tokyo Smoothing Anti-fatigue Eye Cream
Funnily enough, this eye cream leaves little bit more nourishing feel on the skin than the anti-aging one, but is still moisturizing one.
I like this one bit more as it worked better with dryer concealers.
You will find in it caffeine, hyaluronic acid, arginine, hydrolyzed collagen, glucosyl ceramide … simple and straightforward … no issue from my side. :D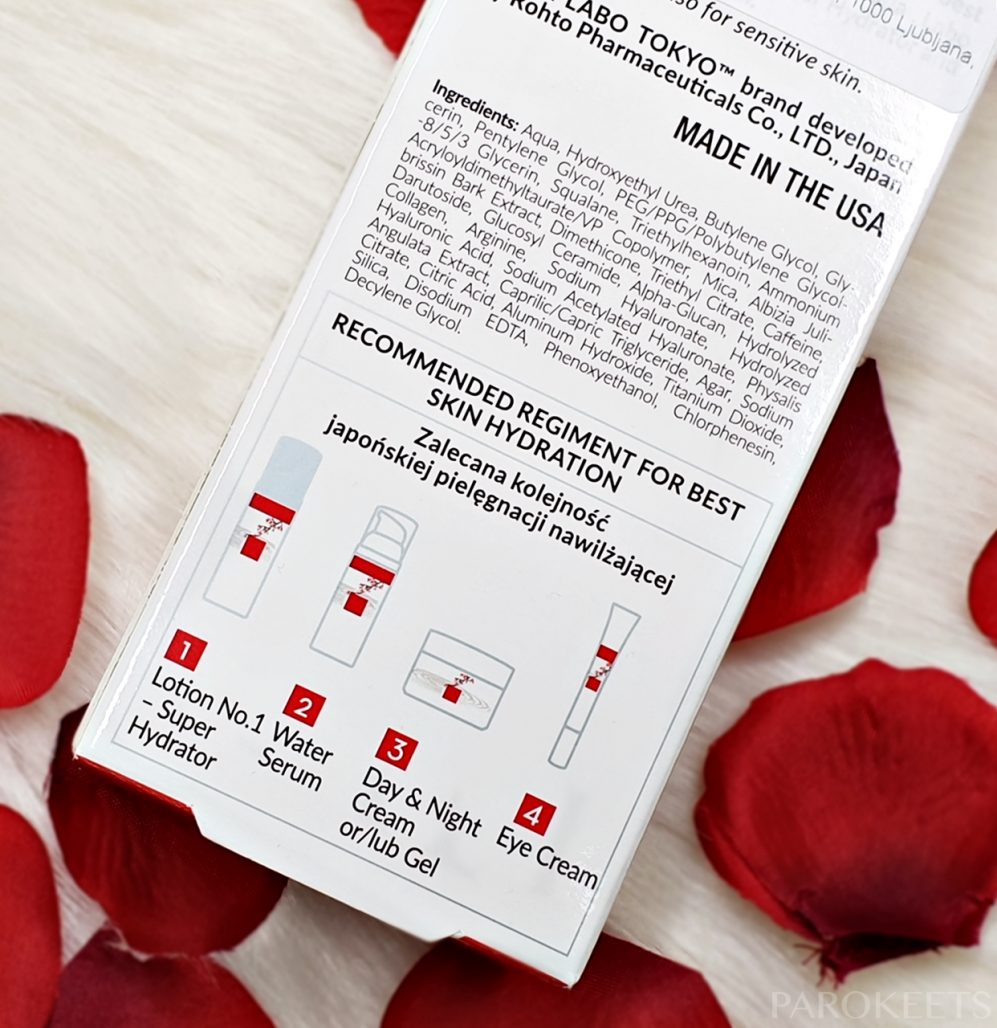 COMPARISON of the 2 lines: there were no issues with eye creams, anti aging went into the night routine and smoothing into day one. I need caffeine help in the morning and vitamin derivatives in the evening.
Serums were not that easy to compare, but in the half of the face duel, anti-aging one won. Skin was smoother, pores looked nicer …
HADA LABO Gentle Hydrating Cleanser
Cleansing gel is more gel cream but it doesn't leave film on my skin as the foam does. It is without perfume as all other Hada Labo products, but I can still smell something that goes hand in hand with higher priced cleansers – not a pleasant smell but not overpowering either. I made a huge test and everybody in my vicinity had to smell it … only one other beside me scented it. So it is more issue of my chemical sensitivity than wide range issue.
Would you recommend and other Hada Labo Tokyo product?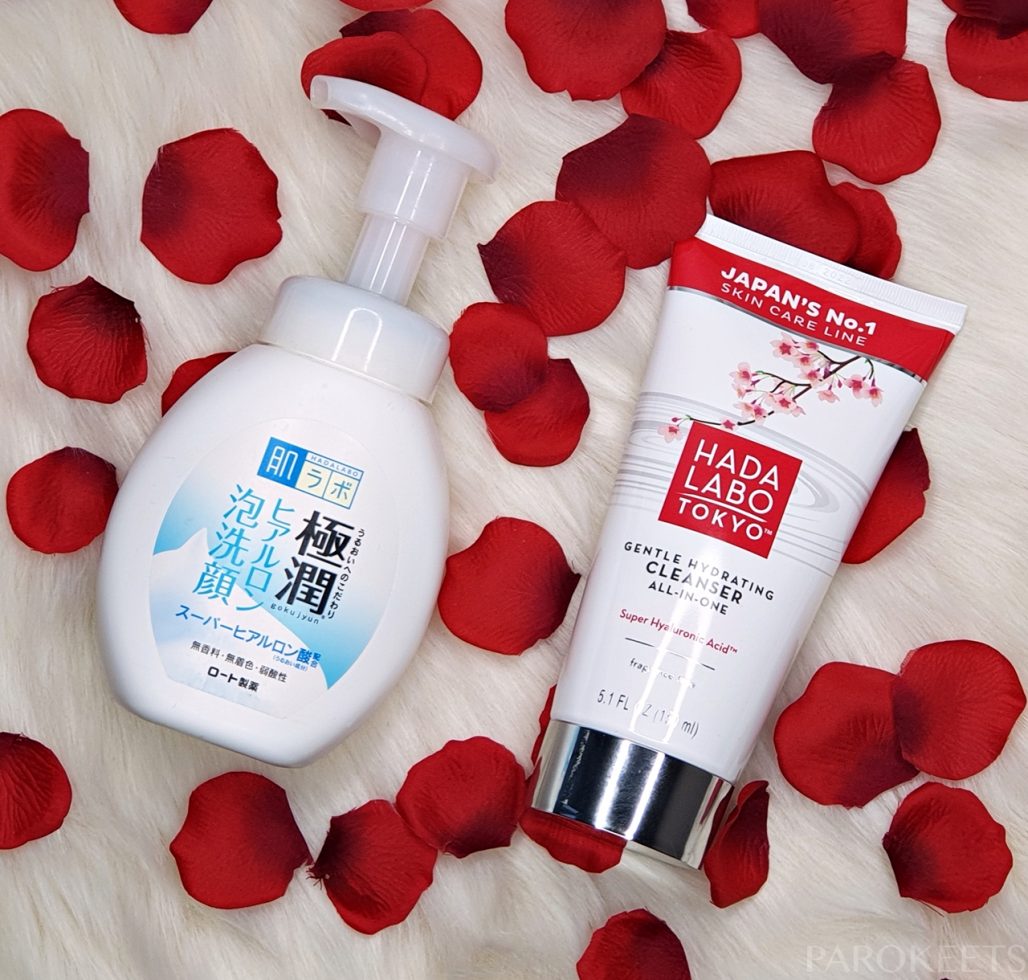 All products have a shelf life of 9 months after opening the product.
Hada Labo Slovenija sponsored this post. As usual, my opinions can't be bought.