Naša zlata Mamy mi je našla My Little Orchid lak iz Return To Paradise TE.  
Takoj, ko ga dobim, pričakujte swatch skupaj s Konad odtisi celotne kolekcije + nekaj sladkega. 
Danes imam za vas samo hitro primerjavo med Essence Jungle Drum (Return To Paradise) ter Essence Chocolicious (Sun Delicious) lakoma. Ker sem Jungle Drum dodala na nail wheel skupaj s prejšnjo primerjavo, dobite kot bonus fotografijo še CND Raisin In The Sun. :D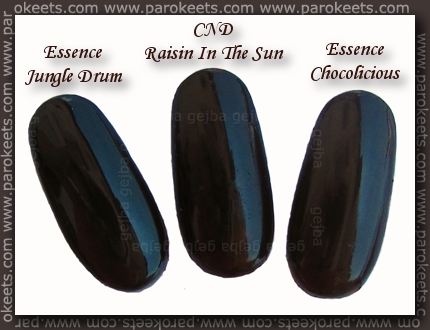 Chocolicious je malce svetlejši in ima rumenkast podton, medtem ko ima Jungle Drum rahlo vijola noto ter šimer.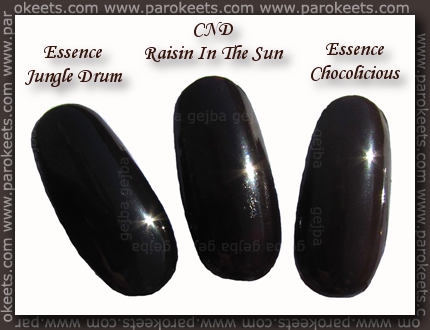 Meni osebno je Jungle Drum rahlo bolj všeč. Predvsem zaradi podtona, čeprav mu štejem tudi šimer v plus. Chocolicious pa diši. :D
Sedaj se pa res odpravljam na mini počitnice. Se "vidimo" v nedeljo .