Saj vem, da sem že rahlo pozna s svojim predlogom za Noč čarovnic. Kaj naj rečem? Čas beži. Ne morem verjeti, da je Halloween že pred vrati. In ko je Halloween mimo, bo tukaj Božič kot bi pihnil. OK, nismo še tam. Najprej uživajmo v Noči čarovnic. Včeraj sem ustvarila letošnjo prvo manikuro za Halloween. Morda bom v prihodnjih dneh naredila še kakšno in vam jo pokazala. Ne vem, bom videla, kako bo z inspiracijo. Kakorkoli včerajšnja stvaritev mi je zelo všeč. Priznam, da se strašansko bojim pajkov, a Halloween-a si ne predstavljam brez pajkovih mrež in pajkov. Seveda mislim na umetne zadevščine! To je moja stvaritev …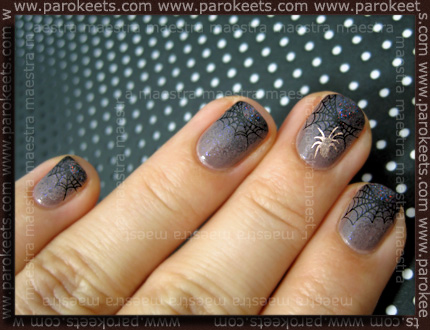 Izdelki, ki sem jih uporabila:
Essence – Walk Of Fame (1 sloj)
Alessandro – Dusty Purple (z gobico)
Jessica – Venus Was Her Name (z gobico)
Orly – Love Each Other (1 sloj)
Bundle Monster IP BM13 z Essence – Stamp me! Black (pajkove mreže)
Bundle Monster IP BM13 s China Glaze – Hi-Tek (pajki)
Stripe Rite – NPST 38 (modre in rdeče bleščice na konicah)
Essence – Matte Top Coat (z gobico)
Sledi še fotografija manikure z mojim novim držalom/stojalom za fotografije, ki mi ga je kupil dragi.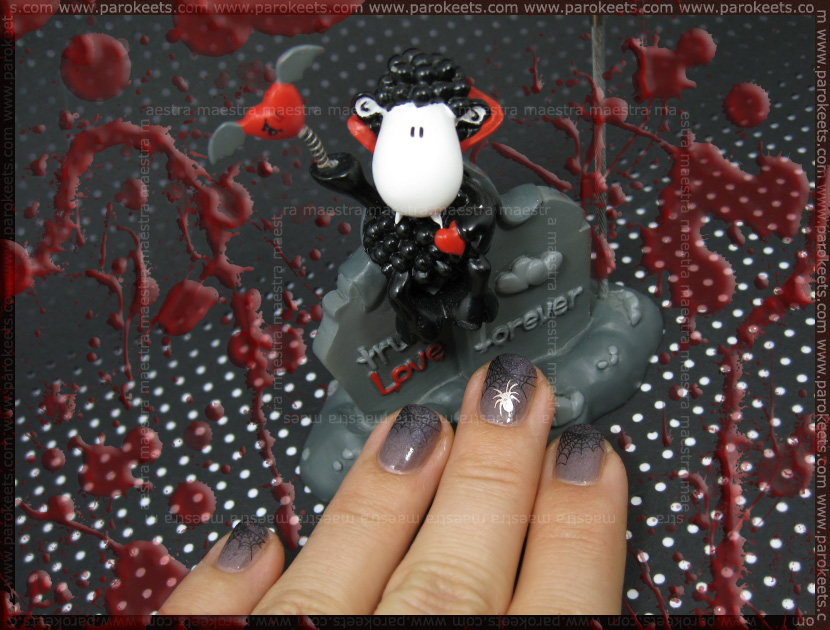 Kako se vam zdi moja manikura za Noč čarovnic? Ali že veste, kaj bo vaše nohte krasilo na to strašljivo noč?
OT: Moji nohti so (spet) čisto čisto kratki. Niso ravno najlepši za pogledati, a jaz obožujem kratke nohte. Super občutek! Jej! :D