Končno je prišen na vrsto prvi izmed Ruby Kisses lakov za nohte, ki sem jih kupila pred časom.
Takoj ko sem zagledala Ruby Kisses Crazy Night Out lak, sem vedela da je tole nekaj za naše ljubiteljice bleščic. Velike šest-kotne vijola bleščice + manjše šest-kotne holografske bleščice + še manjše štirikotne vijola bleščice v prozorni osnovi. Raj za "bleščicoholike".
Debelejšo plasti Crazy Night Out sem nanesla čez p2 Call Me lak za nohte.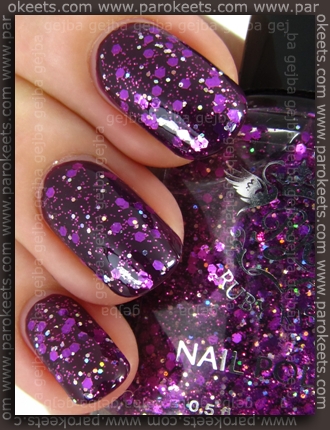 Sama nisem oboževalka heksagonalnih bleščic, ker me spominjajo na … nekaj neprijetnega. Če bi bile v bleščice v obliki krpic, bi bila pa to povsem druga zgodba … slinila bi se namreč do onemoglosti nad manikuro. :D
Pripravila sem vam kolaž detajlov posnetih v lightboxu in na soncu.
Odstranjevanje je bilo seveda težavno … kaj drugega bi bilo utopično pričakovati od bleščic. Sicer pa vse poznamo to zgodbo – če vse ostalo odpove, metoda s folijo vedno uspe.
15ml steklenička stane 3 EUR.
Kaj pravite? Si ga boste privoščile Crazy Night Out ali pa ga obšle v širokem loku?