Končno dobra izbira holografskih lakov za nohte tudi v naših drogerijah! Jap, prav ste prebrali. V DMjih so na voljo luštni holografski laki za nohte in še za znosno ceno. In veste kaj? Na voljo je kar 12 odtenkov! Seveda pišem o Depend lakih za nohte s holografskim efektom. Z Gejbo sva se podali na lov, ki se je uspešno končal. Vsaka je domov prinesla nekaj lepotcev. Naj vam predstavim svoje mavričaste pridobitve. (Mini namig: Kliknite na fotografije, da se povečajo in nato občudujte holo efekt v vsej svoji lepoti! )
Sand Grey 2026 je "nagec" s holo efektom in je verjetno moj zmagovalec izmed vseh. Vem, da bi znal biti za koga izmed vas dolgočasnež, a sama sem si že dolgo časa želela holografski lak v kožni barvi. Ta malček je pravi sramežljivi lepotec. V senci je skoraj neopazen, na sončku pa se prelevi v pravega lesketajočega navihančka. Kot sem že napisala … Izredno mi je všeč!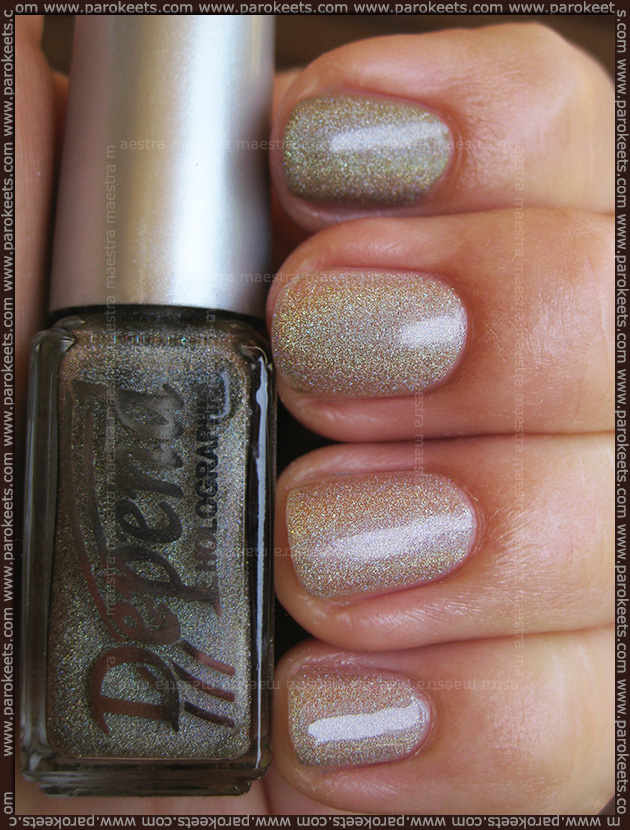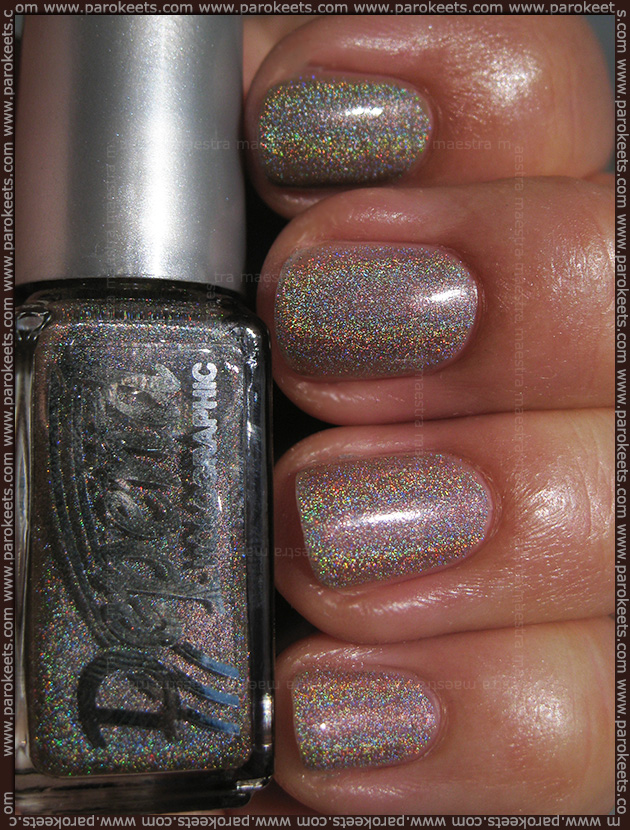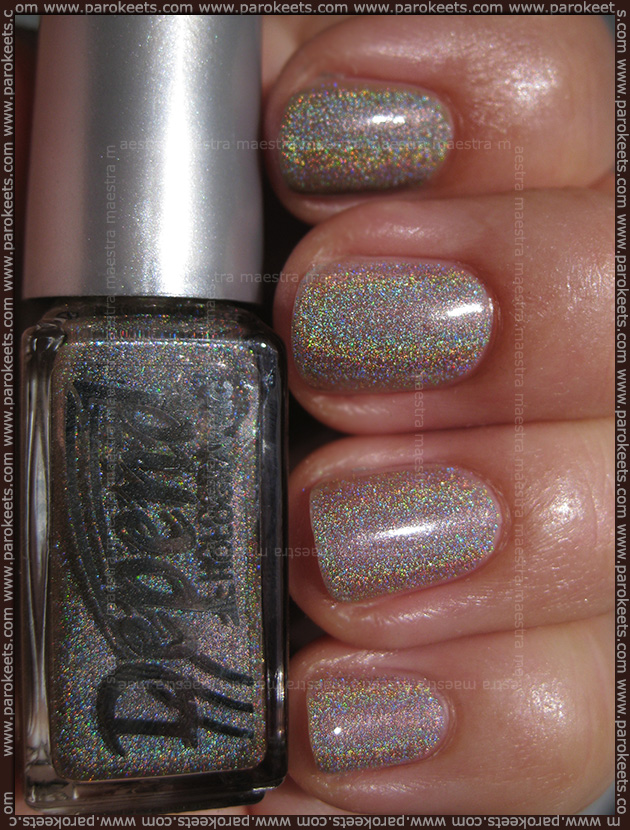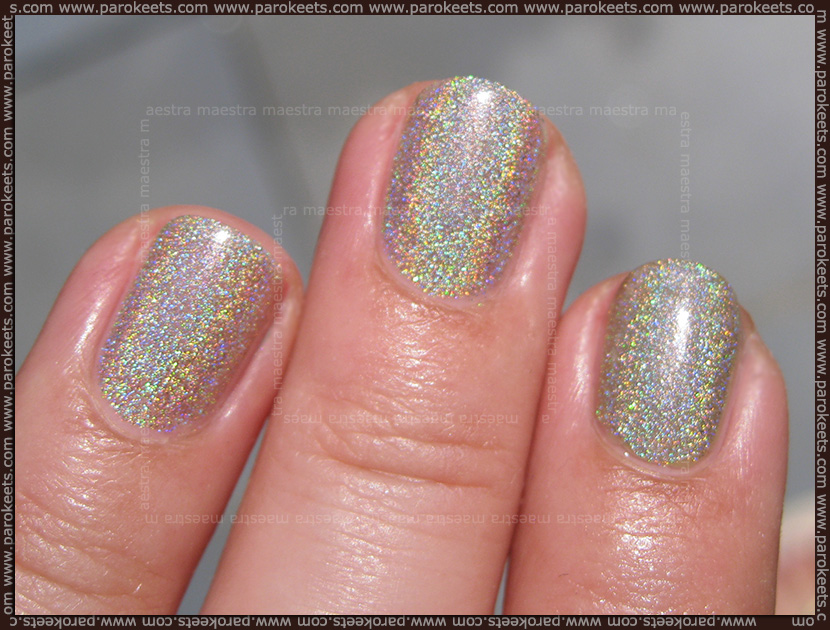 Sand Grey me je takoj spomnil na mojega nekoč najljubšega holota kožne barve – Color Club Love 'em, Leave 'em. Primerjala sem ju. Barvno mi je bolj všeč Sand Grey, ki je bolj sivkast in ne tako zelo rjav. Prav tako je holo efekt bolj opazen, je pa manj prekriven.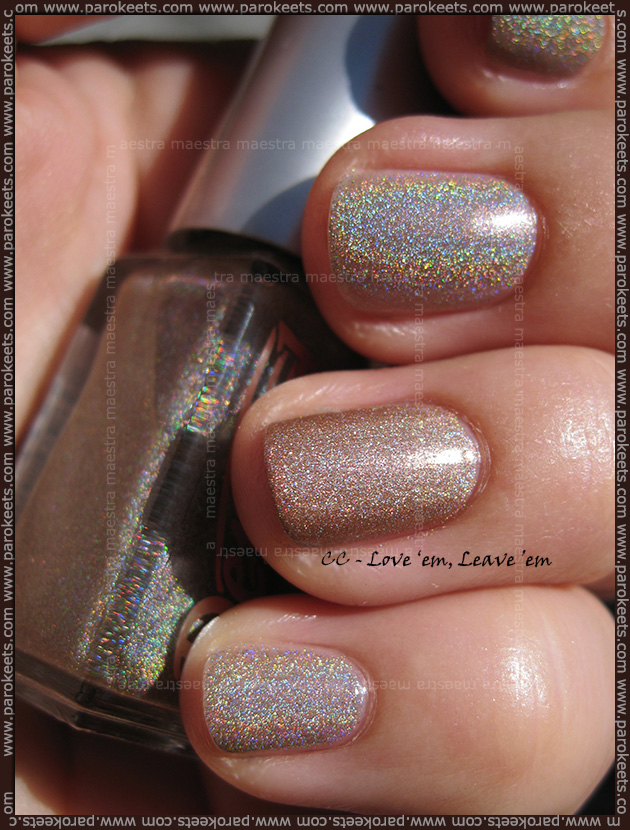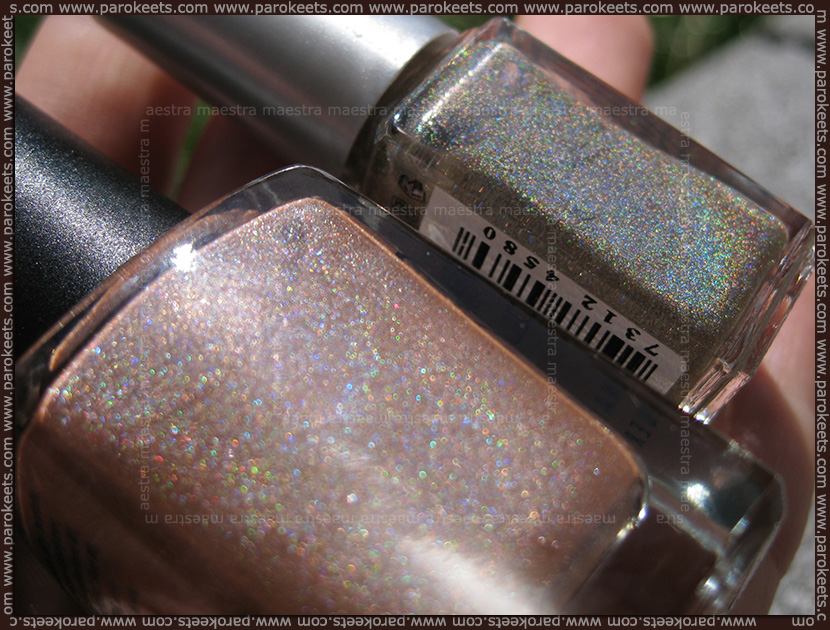 Laurel Green 2035 je svetlo rumenkasto zelen holografski lak. Všeč mi je, ker je zelen (obožujem zeleno) in zelenega holota še nimam. Še veliko bolj bi mi bil všeč, če bi bil bolj žive / močne barve. Sedaj deluje nekoliko bled. Morda se bom lotila "frenkanja" …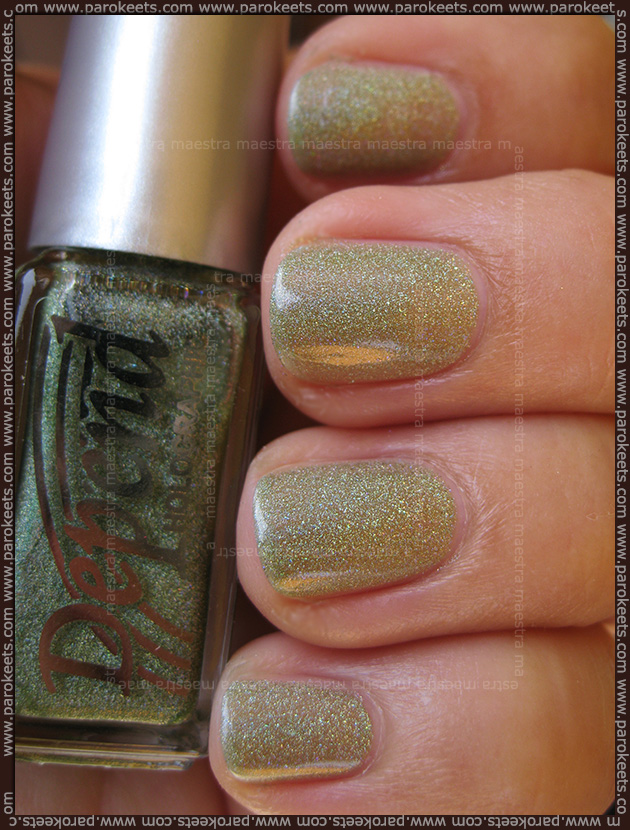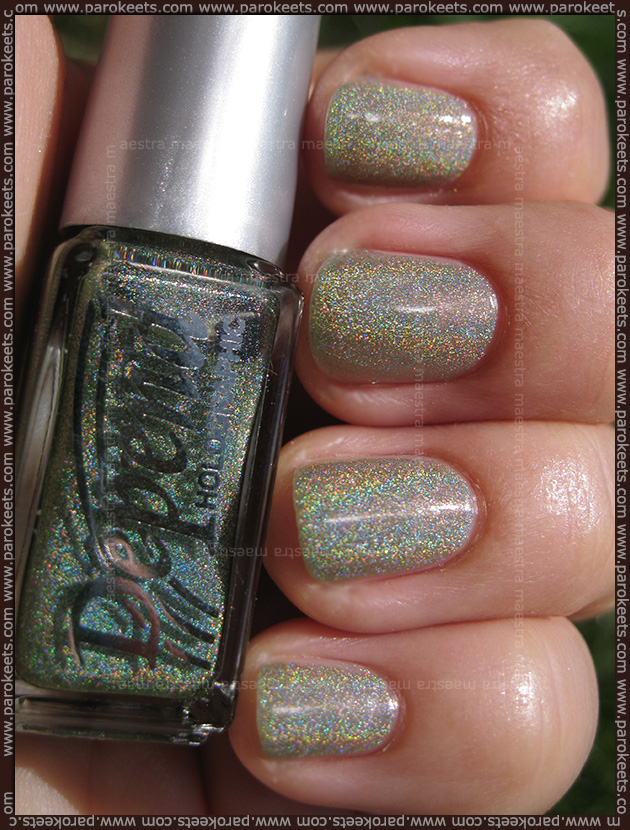 Denim Blue 2032 je vijolično-moder holografski lak. Lepa barva. Zelo mi je všeč.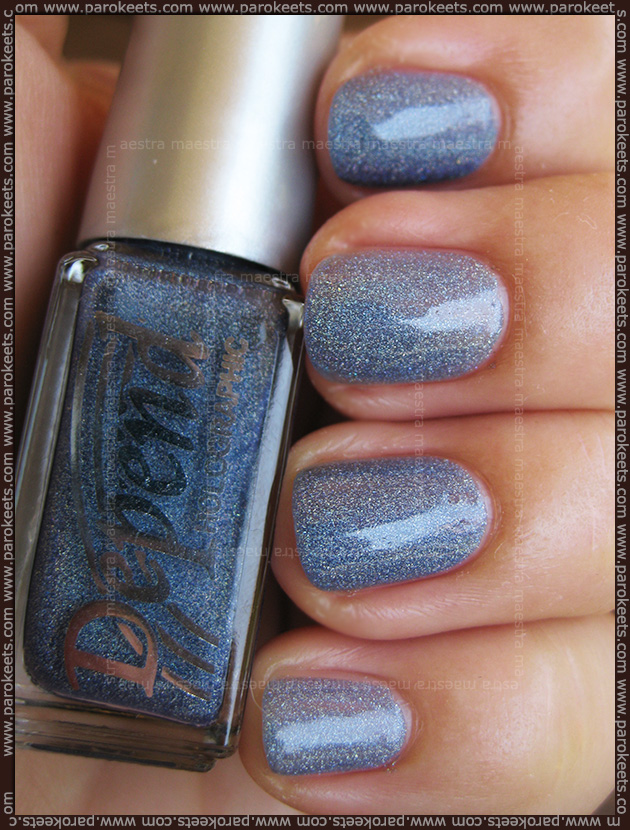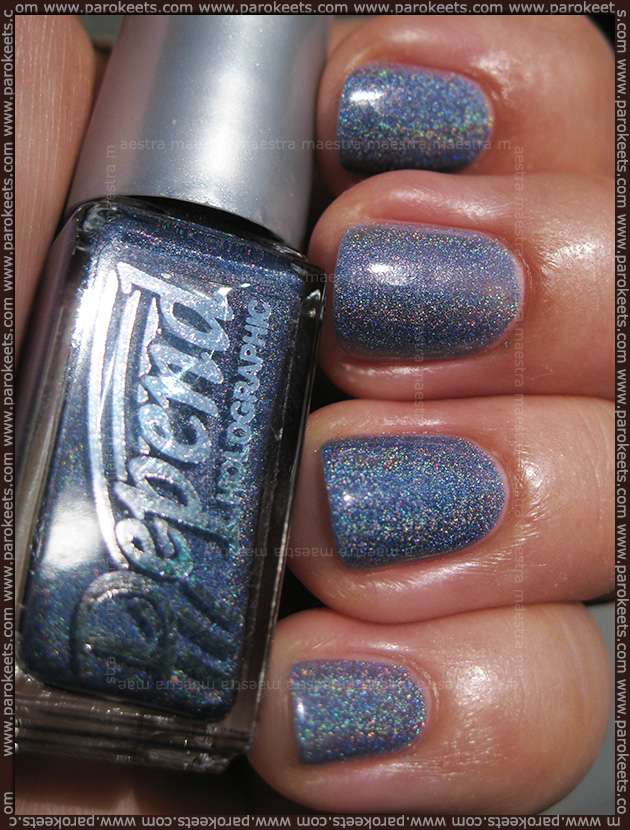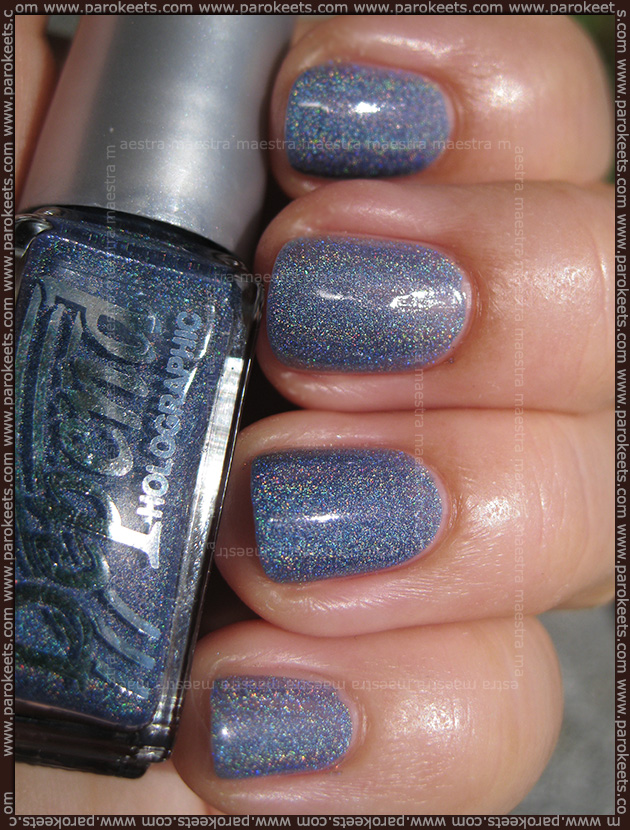 Laki imajo neke vrste gelastim lakom podobno konsistenco. Kar se tiče nanosa, z nobenim izmed zgoraj predstavljenih treh nisem imela težav. Tudi čez navaden podlak so se lepo nanašali. Nadlak holo efekta ni uničil. Vsi so dokaj prosojni. Verjetno boste za popolno prekrivnost potrebovali tri nanose. Lahko pa jih slojite čaz kak drug prekriven lak. V stekleničkah je 5 ml, kar ni veliko. Cena v DMjih je 3,45€, kar ni ravno malo (10ml bi stalo malo pod 7€, 15ml bi stalo 10,35€).
Če ste se spraševali, kako se holo efekt Depend lakov primerja z ostalimi holo laki, sem jih za vas med seboj primerjala. Kot lahko vidite na fotografijah spodaj, čisto noben ne more s holo prestola spodriniti originalnih Nfu Oh holo lakov, ki na soncu žarijo, da oči bolijo. Kljub temu pa so tudi Depend laki zelo luštni in na sončku "sproducirajo" dobro mavrico. Efekt je sicer razpršen, a vseeno dobro opazen. Dodati moram, da so med vsemi tudi najbolj prosojni. Sicer pa en velik lajk za Depend!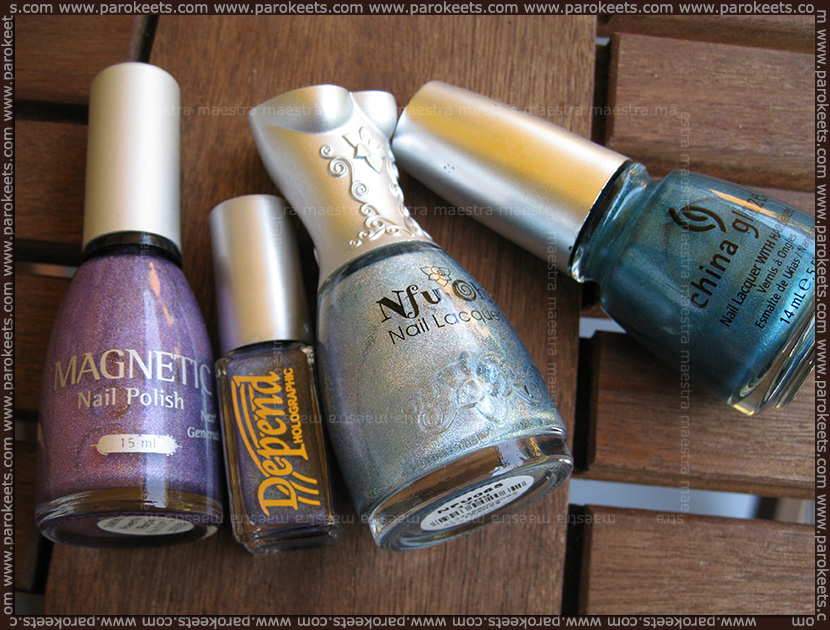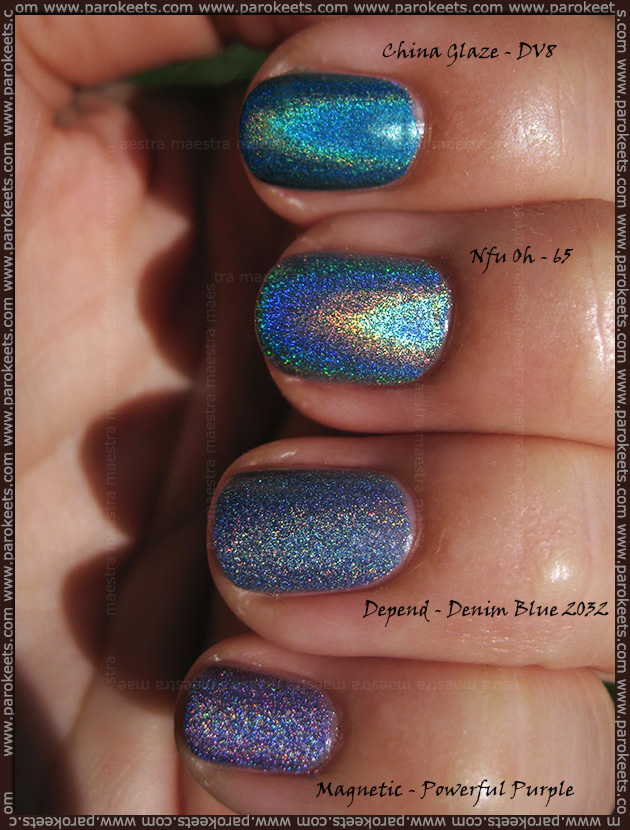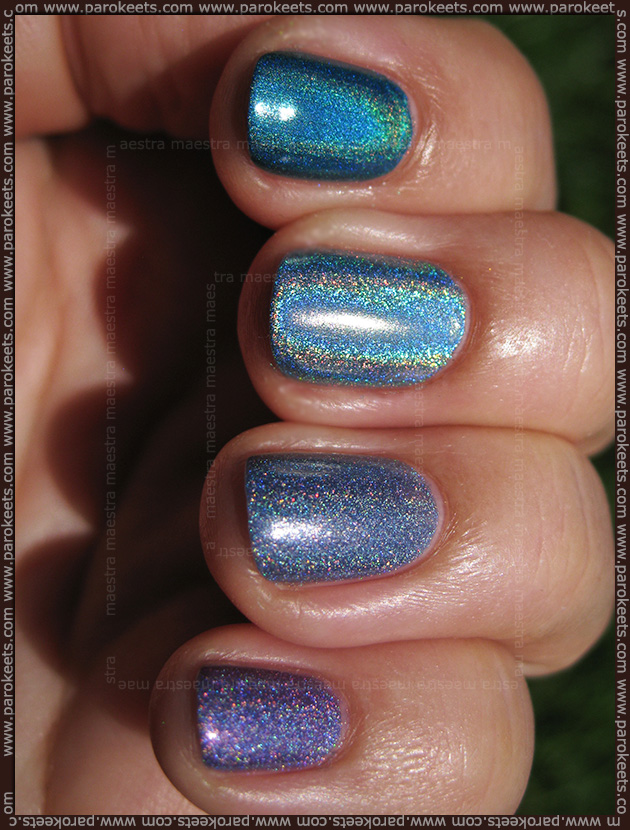 To je vse iz moje strani, a prispveka še ni konec. Tudi Gejba vam po danes predstavila svoje lepotce. Uživajte!
---
Ko sem pred kakim mesecem prvič videla predogled Depend holografskih lakov, je bila to ljubezen na prvi pogled. :D Največji problem je predstavljalo preveliko število lepih odtenkov. Na koncu sem se s težkim srcem odločila le za dva laka – Sand Grey (št. 2026) in Ocean Green (št. 2036) … vsi preostali zeleni in modri odtenki pa so pristali na seznamu želja.
Ocean Green ima krasno modro-zeleno bazo v katero je ujeta prava mavrica holografskih delcev. Na Maestrini primerjavi je lepo vidno, da je holo efekt lepo viden, kljub temu da ne gre ravno za spektakularen holo. Ocean Green lak sem nanesla čez Essence Studio nails 24/7 podlak. Ne morem reči, da je bil nanos enostaven – še najbolj me je spominjal na nanos jelly lakov. Na koncu sem uporabila 2 debelejše plasti in na mezincu dodala še nadlak … da vidim, če kaj vpliva holo efekt.
| | |
| --- | --- |
| Depend Ocean Green (2036) holografski lak za nohte (swatch, lightbox | Depend Ocean Green (2036) holographic nail polish swatch - sun |
Depend Sand Grey (2026) sem nanesla čez Jessica Retro Revival podlak na vodni osnovi in lahko samo rečem, da je bil nanos poezija. Tudi meni se je zelo priljubil tale nevtralen odtenek, ki v sebi skriva holo mavrico. Ker se Depend holografski laki dokaj hitro sušijo, sem tudi tokrat uporabila 2 debelejši plasti in spet nanesla nadlak samo na mezincu.
| | |
| --- | --- |
| Depend Sand Grey (2026) holografski lak za nohte (swatch, lightbox) | Depend Sand Grey (2026) holografski lak za nohte (swatch, sonce) |
Z obema lakoma sem zelo zadovoljna in bom zagotovo kupila še kakšen odtenek ali 2 ali 3 … Danes je šele drugi dan odkar sem nanesla Depend Sand Grey, tako da je še prezgodaj govoriti o obstojnosti … vendar za enkrat dobro kaže.
---
Giveaway je ZAKLJUČEN.