I loved it the first time I saw it. I knew I have to have it. So here it is, Zoya – Crystal from the Winter 2010 Flame collection. It's a light blue metallic with gold irregular shaped glitter. The glitter looks like tiny gold flakes. And the best part is, that the glitter is also visible on the nails (not only in the bottle). The down side is that the polish itself is a bit sheer and it needs about three coats to be fully opaque. But you can always layer it. In fact, I think it looks best layered over dark blue or black polish. Because dark base gives it depth.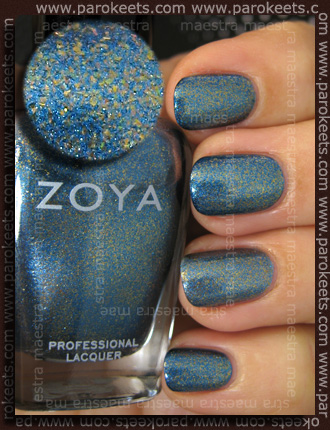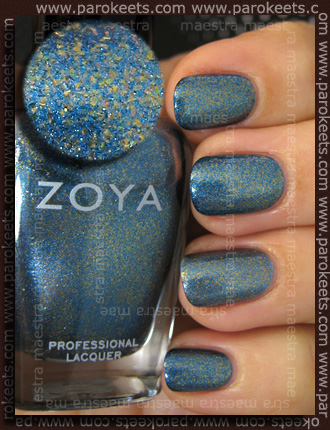 The funny thing about Crystal is, that I like it better in the shade. The glitter looks better in the shade, while in the sun … well, it sparkles but not in a good way. At least for my taste.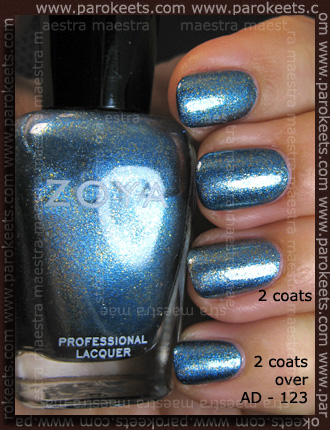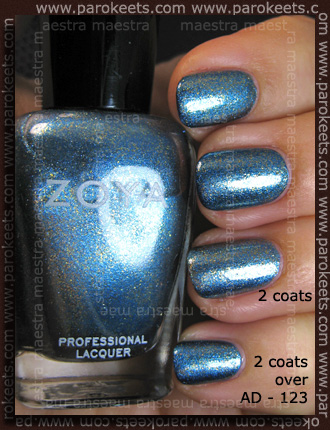 What do you think about Crystal? Like it or not?
Ljubezen na prvi pogled. Takoj mi je bilo jasno, da ga MORAM imeti! In zdaj je moj, Zoya – Crystal iz Winter 2010 Flame kolekcije. Gre za svetlo moder odtenek s kovinskim videzom in zlatimi bleščicami nepravilnih oblik. Bleščice izgledajo kot majhne zlate krpice. Najboljše pri vsem pa je to, da so dobro vidne ne samo v steklenički, ampak tudi na nohtih. Slaba stran tega je dejstvo, da je lak zaradi tega nekoliko prosojen. Za popolno prekrivnost rabi tri nanose, še bolje pa je, če se ga sloji čez kak temen lak. Pravzaprav je meni osebno najlepši slojen čez temno moder ali črn lak, saj to da barvi globino.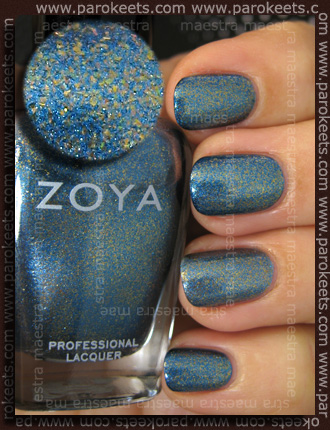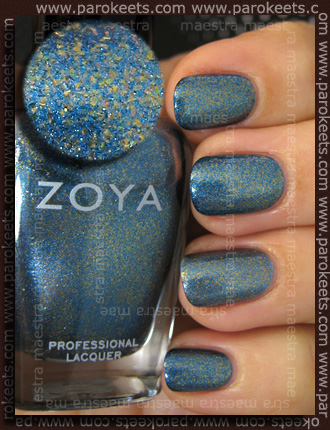 Pri odtenku Crystal mi je zanimivo tudi to, da je meni osebno bolj všeč v senci ali v slabši osvetlitvi kot na sončku. V senci so bleščice bolje vidne in tudi celotni izgled je bolj kovinski. Na soncu se odtenek blešči, kar pa mu odvzame čar.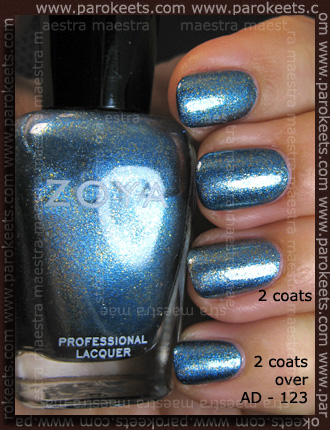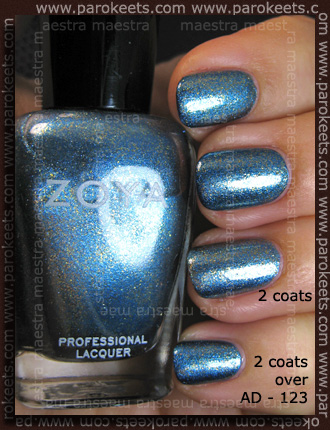 Kako se vam zdi Crystal? Všečen ali ne preveč?
p.s. Prodajna mesta lakov Zoya si lahko ogledate TUKAJ. Sama sem svojega kupila v Maximarketu.