I enjoyed watching "My Favorite …" videos on YouTube lately, so I thought you might also be interested in my favorite products at the moment. I'm intentionally not calling this post "My favorite products of July" because I'm not doing these sort of posts regularly. Because it is mid summer here I'm just calling this post "Maestra's Favorite Summer Products". Make sense right? :w00t:
I've split this post into three posts, because I would like to show you a lot of products. Let's start with foundations, contouring products and highlighters.
Make Up
Foundations, contouring, bronzing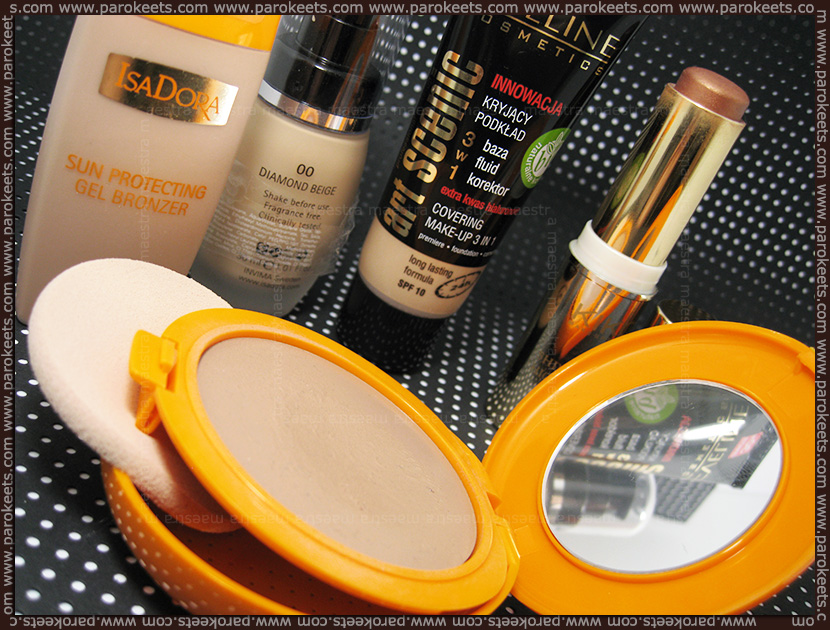 IsaDora Sun Protecting Gel Bronzer with SPF 10 in 60 Soft Tan is a product I bought last summer in a set and I've been using it a lot last summer and also in the past month an a half. It's a sheer gel with shimmer. I'm using this product in (at least) two different ways. As a bronzer on high points of my face or I mix it with foundations to achieve darker shade and lighter coverage.
IsaDora High Performance All Day Foundation with SPF 12 in 00 Diamond Beige, which is a nice foundation for combination to even oily skin. Gejba and me were a bit confused when we first tried the foundation, because we thought this foundation is going to be nice on dry skin (because it promises to visually minimize fine lines and wrinkles), but we were mistaken. It is actually much nicer on combination to oily skin. It looked cakey on me in the winter when I had normal to dry skin and now when I have more combination skin and I use a "greasy" sunscreen, it looks nice. It still gets a bit into my larger lines around my mouth though. I like to mix it with the Sun Protecting Gel Bronzer. It's a nice lightweight foundation.
Eveline Covering Make-Up 3 in 1 with SPF 10 in shade Ivory. Very lightweight foundation with a good coverage. It is very easy to apply and gives a dewy finish. I'd say it is nice for normal to dry skin. It says it has long lasting formula and it is supposed to be a combination of primer, foundation and corrector. I always get compliments on my skin when I'm wearing this foundation (with combination with their primer for dry skin). I like it a lot. It's like I'm not wearing anything and it still covers very well. Unfortunately Eveline has ridiculous dark shades in their range of foundations.
Kiko Shimmering Highlighter in shade 03. It's a shimmering stick for face and body. I mostly use it as a bronzer for my face. I apply it with a brush. It gives a nice bronze effect to the face.
IsaDora Sun Protecting Compact Foundation with SPF 25 in shade 53 Brown, which is way too dark for me to use it as a foundation. I use it for contouring and it is perfect! Love it! I bought it like a month or two ago and it was part of a summer set. The set was very good value for money (around 8€ for three IsaDora Products).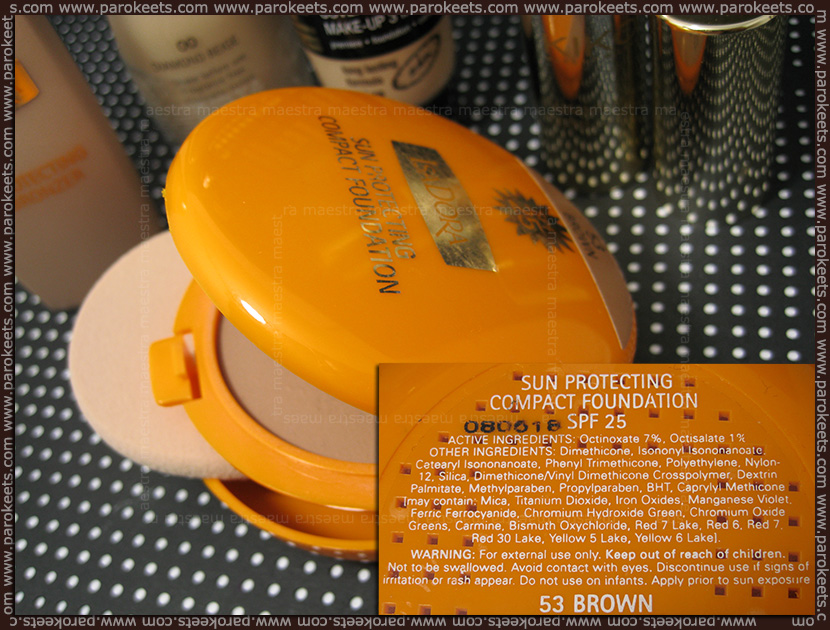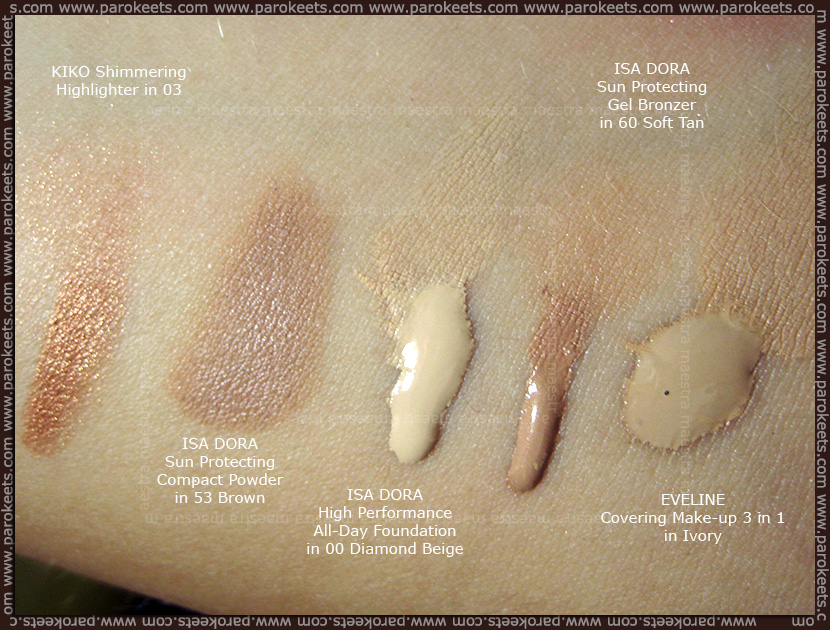 Highlighters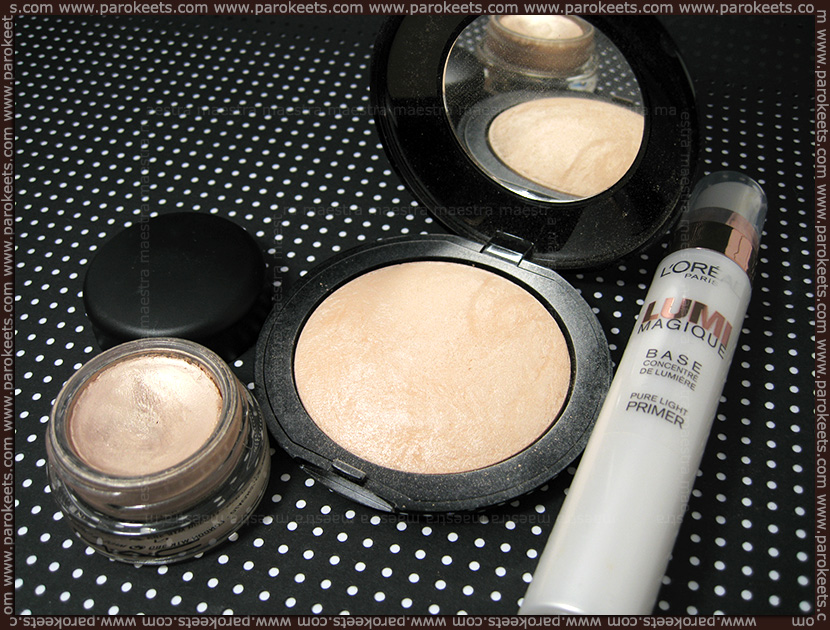 MAC Paint Pot in the shade Bare Study (wrong name in the photo). I'm sure you are all familiar with MAC's Paint Pots. This is the only one I have and I love it even more than I thought I would. It's such a pretty champagne shimmer shade. I mainly use it as an eyeshadow base, but sometimes I also use it as a face highlighter.
Basic Beauty Terra Cotta in shade TC04. I bought it maybe two years ago and didn't use it a lot, because it is quite shimmery. I don't know how and why I rediscovered it this summer, but I'm using it a lot lately and it is such a nice warm light gold shade. If I use it very lightly it gives a nice glow to the face.
L'Oreal Lumi Magique Pure Light Primer is a stunning product. It gives the most natural glow to the face. I sometimes mix it with foundations or I use it just on the high points of my face. Usually I apply it after I put on my foundation. Love this product!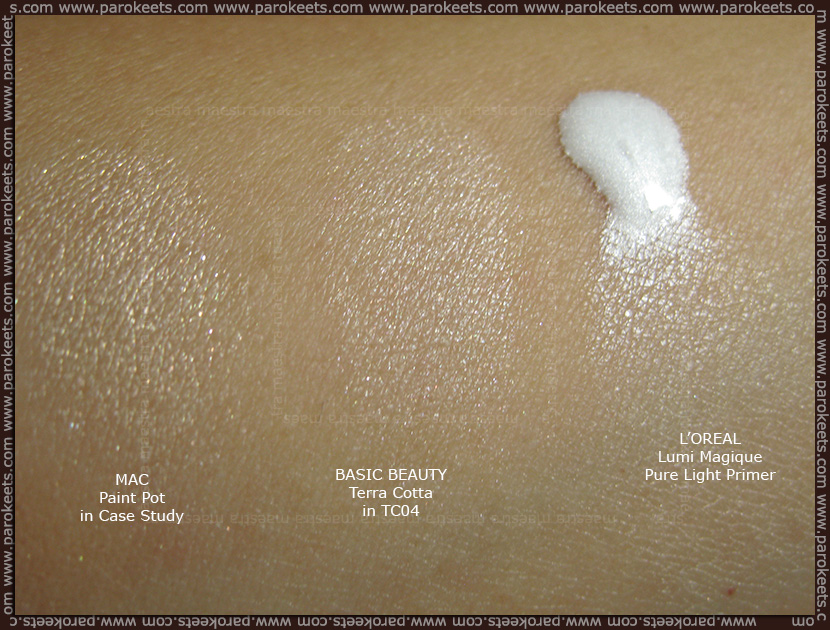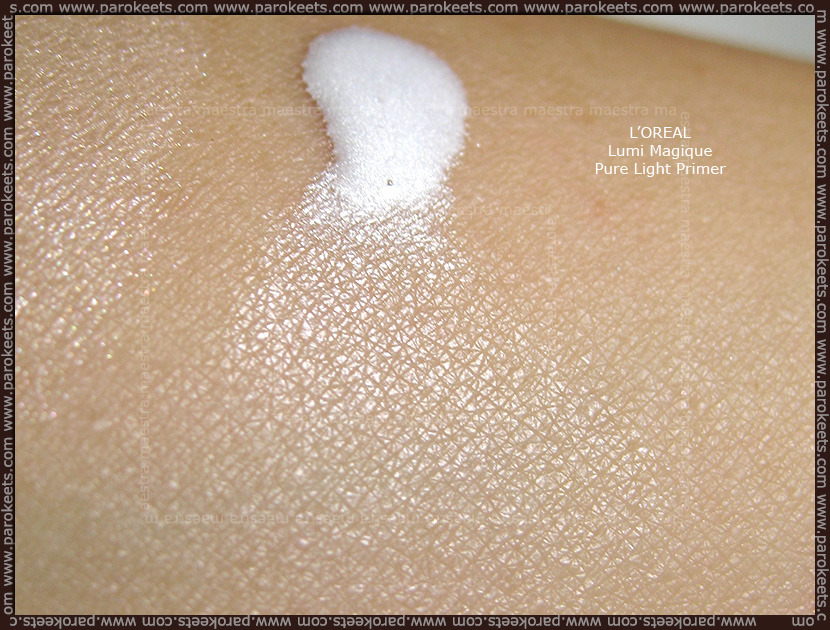 Next I'm going to show you my favorite lip products, eyeshadows, eye pencils and blushes.
What are your favorite foundations, highlighters and contouring / bronzing products for summer?
Zadnje čase sem uživala v gledanju videov na YouTube tipa "Moji najljubši izdelki …" Rekla sem si, da bi morda tudi vas utegnilo zanimati, kaj so trenutno moji najljubši izdelki. Namenoma pa prispevka nisem poimenovala "Maestrini najljubši izdelki meseca julija", ker teh prispevkov ne pišem redno. Tako sem prispevek poimenovala kar sezonsko, saj smo sredi poletja in lahko že napišem, kaj letos poleti uporabljam najraje. Ima svoj smisel, kajne? :w00t:
Pokazati vam želim res veliko izdelkov, zato sem prispevek razdelila v tri prispevke. Danes bom začela s podlagami, izdelki za konturiranje in osvetljevalci.
Make Up
Podlage, izdelki za konturiranje in bronzerji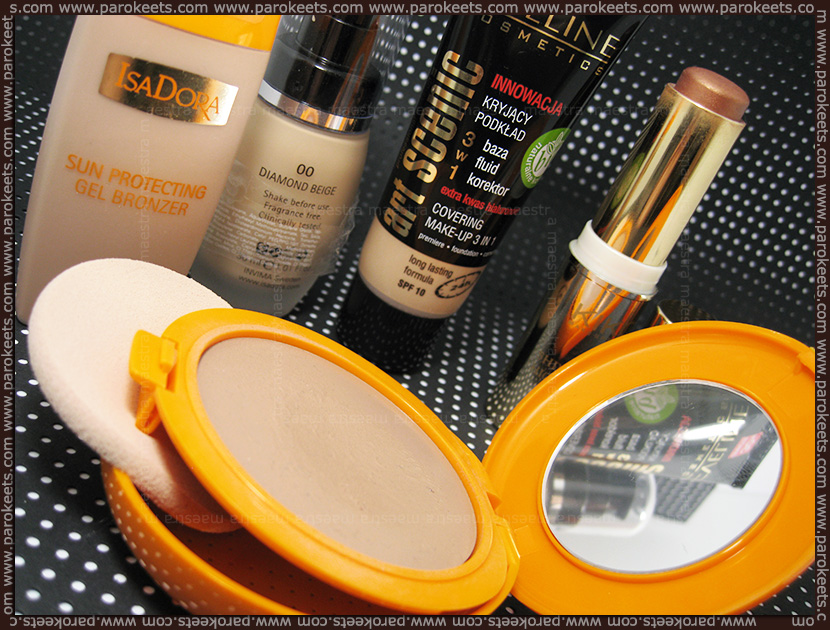 IsaDora Sun Protecting Gel Bronzer s SPF 10 v odtenku 60 Soft Tan je izdelek, ki sem ga kupila lansko poletje. Bil je del seta. Cena pa zelo ugodna. Že lani sem izdelek veliko uporabljala, tudi letos nisem pozabila nanj. Gre za gel konsistenco z drobnim šimerjem. Zadeva je precej prosojna. Uporabljam jo na dva načina. Kot bronzer na "najvišjih" točkah obraza, kjer se me dotakne sonce. Velikokrat ga pa mešam s podlago, da dobim malo temnješi odtenek in manjšo prekrivnost.
IsaDora High Performance All Day Foundation s SPF 12 v odtenku 00 Diamond Beige, je dobra podlaga za mešano do mastno kožo. Z Gejbo sva bili rahlo zmedeni, ko sva podlago prvič preizkusili, saj sva mislili, da bo podlaga bolj primerna za suho kožo, kajti obljublja glajenje gubic ipd. A sva se motili, saj je v zimskih mesecih, ko imam normalno do suho kožo, podlaga na meni izgledala "zapečeno", na Gejbi, ki ima mastno kožo, pa je izgledala krasno. Sedaj, ko je moja koža mešana in uporabljam mastno SPF kremo, pa tudi na meni izgleda lepo. Še vedno pa se mi vsede v veliki smejalni gubi ob ustih. Podlago rada zmešam z zgoraj omenjenim gel bronzerjem. Sicer pa gre za res lahko tekočo podlago.
Eveline Covering Make-Up 3 in 1 s SPF 10 v odtenku Ivory. Zelo lahka podlaga, ki pa dobro prekriva. Zelo enostavna je za nanos in pusti sijoč / zdrav videz. Rekla bi, da je primerna za normalno do suho kožo. Piše, da je dolgo obstojna in naj bi bila primer, podlaga in corektor vse v enem. Vedno dobim pohvale glede kože, ko nosim to podlago (v kombinaciji z njihovim primerjem za suho kožo). Podlaga mi je res všeč. Žal pa imajo pri Eveline prav smešno temne odtenke v njihovih linijah tekočih podlag.
Kiko Shimmering Highlighter v odtenku 03. Gre za šimrast stik za obraz in telo. Jaz ga uporabljam za obraz kot bronzer. Nanašam ga s čopičem. Daje lep zagorel videz.
IsaDora Sun Protecting Compact Foundation s SPF 25 v odtenku 53 Brown, ki je mnogo pretemen zame, da bi ga nosila kot podlago. Uporabljam ga za konturiranje, za kar se mi čudovito obnese. Kupila sem ga kakšen mesec ali dva nazaj. Tudi tale je bil del seta po ugodni ceni (okrog 8eur za tri IsaDora izdelke).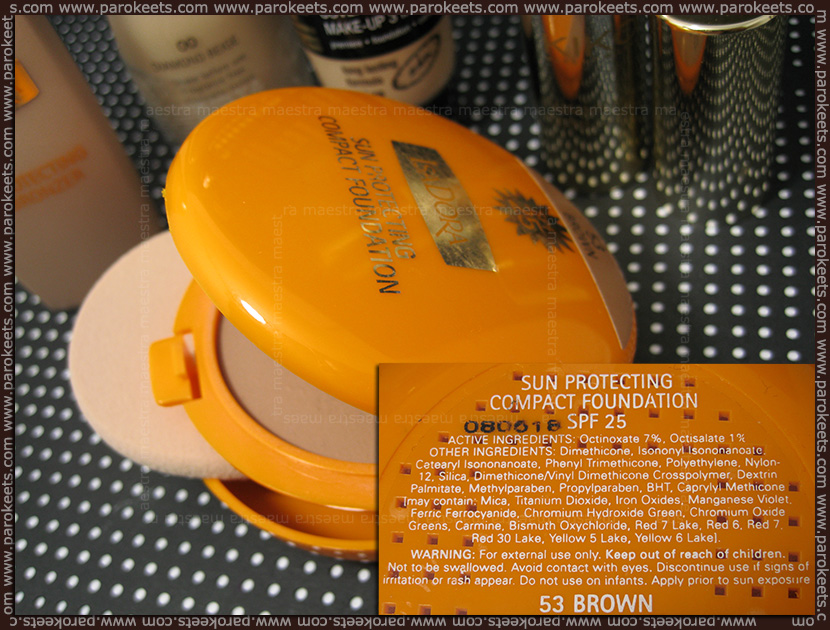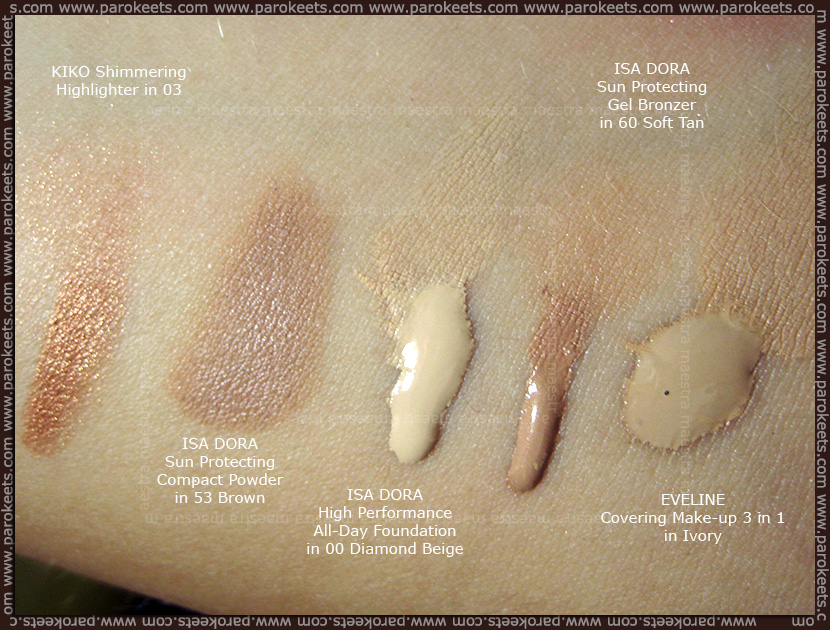 Osvetljevalci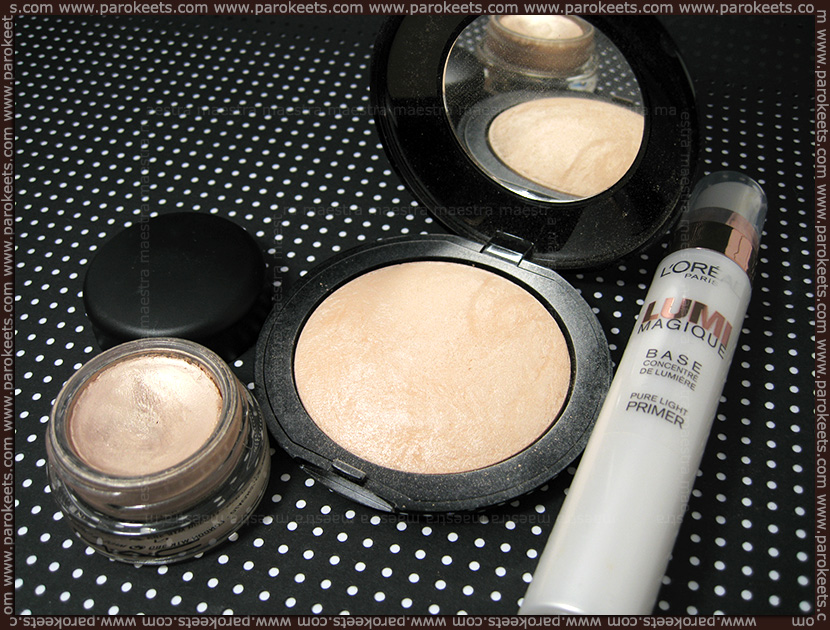 MAC Paint Pot v odtenku Bare Study (na fotografiji je napačno ime). Prepričana sem, da ste vsi že slišali za Paint Pote. Tale je moj edini in ga obožujem mnogo bolj, kot sem si predstavljala, da ga bom. Odtenek je enostavno čudovit. Šimrast nežno šampanjčast. Večinoma ga uporabljam kot podlago za senčila za oči, a občasno ga uporabim tudi kot osvetljevalec obraza.
Basic Beauty Terra Cotta v odtenku TC04. Mislim, da sem to reč kupila dve leti nazaj, a je nisem uporabljala prav veliko do letos. Niti prav ne vem, kako sem zadevo ponovno odkrila, a sem prav vesela, da sem jo, saj gre za zelo lušten osvetljevalec. Odtnek je lep, topel, svetel, zlat. Uporabljam ga resnično nežno in da obrazu lep sijaj.
L'Oreal Lumi Magique Pure Light Primer je krasen izdelek! Koži da izredno naraven sijaj. Včasih ga mešam s podlago, največkrat pa ga uporabim kot osvetljevalec obraza samo na "najvišjih" točkah obraza. Večinoma ga nanesem, ko sem podlago že nanesla. Obožujem ta izdelek!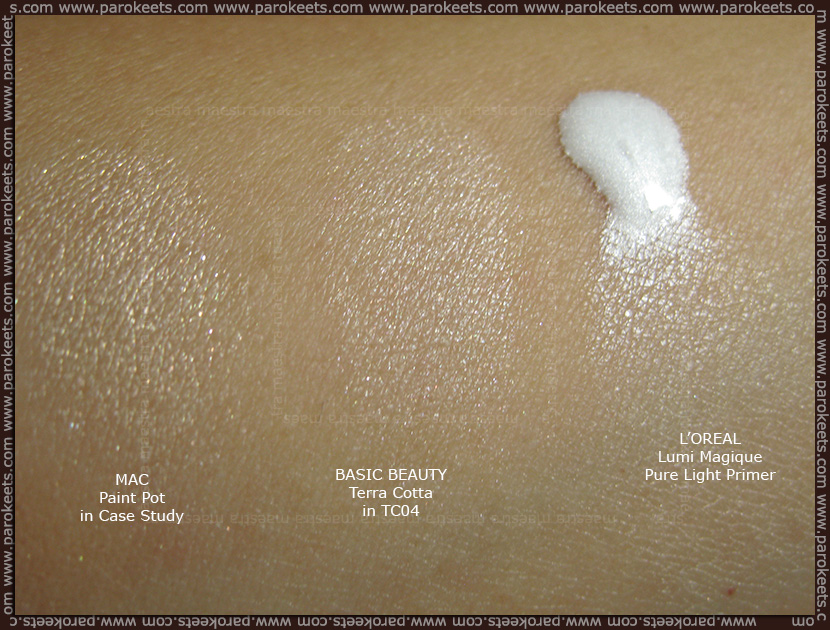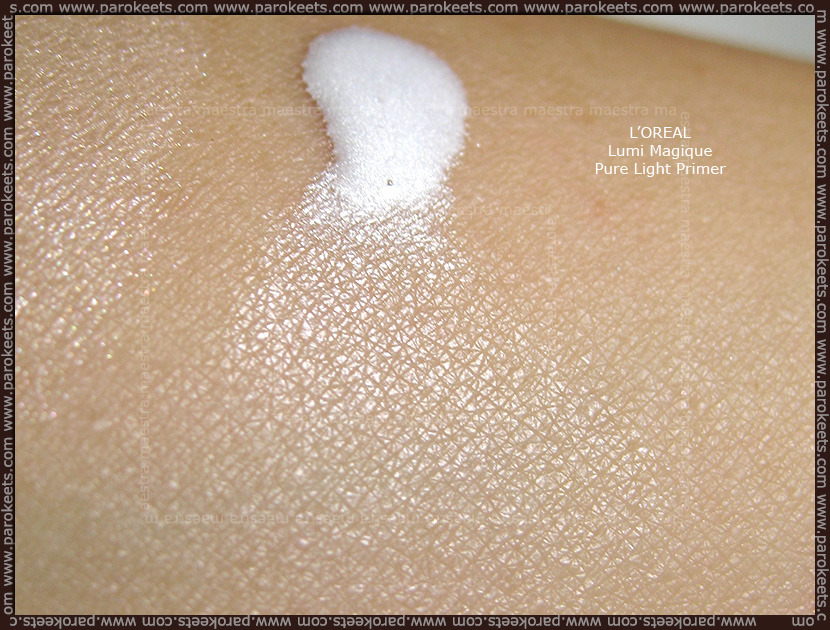 Naslednji prispevek bo o mojih najljubših izdelkih za ustnice, senčila za oči, svinčniki za oči in rdečila za lica.
Kaj pa so vaše najljubše podlage, izdelki za konturiranje in osvetljevanje za letošnje poletje?