I read on beauty forums that new Bourjois liquid shadows worked great as base for mineral eyeshadow so I just had to try them out.
They come in following shades: Beige Metallique (33), Brun Magnetique (32), Gris Platine (35), Molecule d'Or (31), Rose Acier (34), Rose Electron (38), Bleu Electrolyse (36) and Blanc Chrome (37).
I chose Beige Metallique, Brun Magnetique and Gris Platine.
Beige Metallique is soft beige color which becomes peachy-gold if you layer it. I use it a lot for daytime makeup.
Brun Magnetique is beautiful warm brown color – very good base for bolder look.
Gris metal has very appropriate name. My first association was – silver metal. It's gorgeous gray, but it clashes with my warm toned skin so I don't use it much. Well, except for occasional gray smokey eye. ;)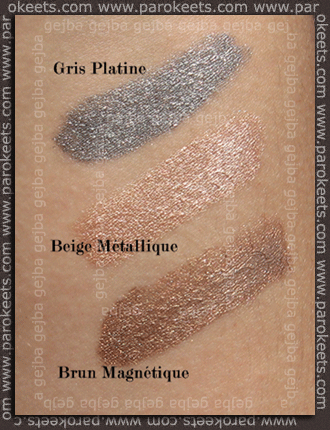 All the shades have very fine shimmer that gives them metallic appearance.
As you can see in the picture below eyeshadow comes with applicator which is part of packaging, but since it to clumsy to work with, I transfer eyeshadow to taklon eyeshadow brush with which the application works like charm. Eyeshadow is very pigmented, dries fairly quick (10-20 seconds) and creates a good base for the application of mineral shadows. It can be used alone if you when you want to create glossy metallic look. Eyeshadow don't crease even on oily lids.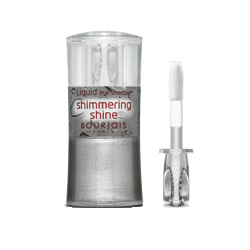 Since they have only 6 month self life, I sill haven't decided to purchase other shades.
I ordered them on UK Ebay and paid 6 EUR for each.
Second picture: source.