Essence week continues… Today we'll focus on two cream red shades called Drama Queen and Glam Girl.

Drama Queen is a cold dark red shade, which is useful for every occasion and every season.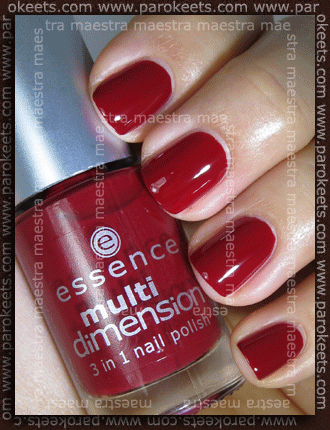 Glam Girl is a lively bright red. Perhaps more appropriate for spring or summer, but this is certainly not a rule.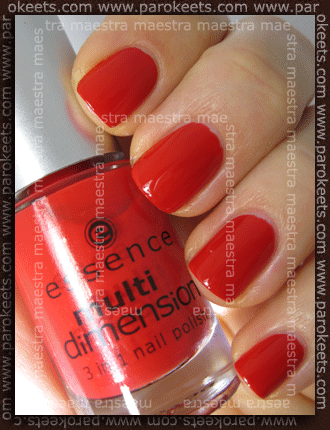 In general, both shade are simple to apply. Two coats are enough. If I'm not mistaken, there are only two red shades in the Multi Dimension line. I really couldn't decide which one I prefer as they are simply so different. Each is suitable for various opportunities and a different moods so that they simply can not be compared. Indeed, I am glad that I have both, especially at their price …
I would like to say one more thing. My NOTD is still Essence Groovy, about which I wrote yesterday. It's been on my nails for almost three days and still looks almost flawless. There is minimum tip wear and on one nail there is only a really minimal chip. I am positively surprised and very pleased about this, because with most of the polishes I get chips and tip wear within a day or two. With Groovy I used Sally Hansen Miracle Cure as basecoat and Poshe as topcoat. I'll be changing my manicure today though, because I need a change.