Yesterday I mentioned that there is going to be a color themed week. As you probably figured out, the theme is Essence…
Essence is a low-price cosmetics, which is sold in drugstores. The prices are really affordable and suitable for every pocket. The quality is good for that price and sometimes is even better than the quality of some more expensive brands.
In their offer there are two lines of nail varnish. One of them is Multi Dimension line, which contains 24 shades. Of this, some are sheer and some are really crazy shades. The bottle is 8ml. Local price is 1.69€. The second line is the Colour & Go, which contains 16 shades. There are also some sheer shades as well as several uncommon shades. Special to this line is the brush, which is slightly flattened. Bottle is smaller and contains 5ml of product. I don't remember exactly what the price was, but it was lower than the Multi Dimension line. I would say that it was around 1.39€.
The snow is falling outside, so I decided to get some spring or even summer feeling on the screen with a few hot shades.
The first is the Obsession with a gently pink tint and hint of lavender. Application is fairly sheer. After three coats, as shown in the photo, the tips are still visible.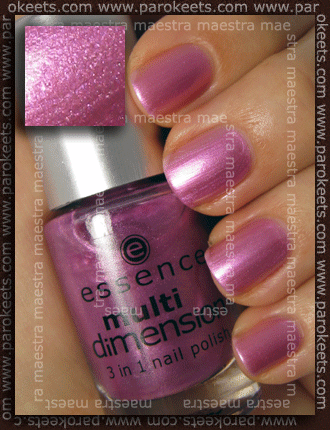 The next one is That's Life! I admit, describing the colors is not my forte, so I used wikipedia for help. I found out that the color "Fashion fuchsia" comes very close to the shade photographed below. Judge for yourself …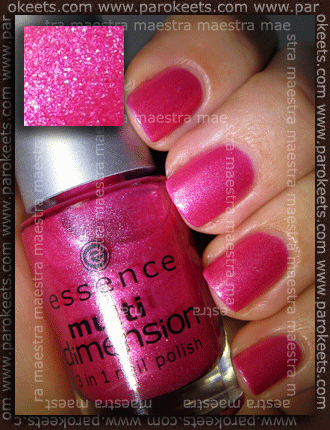 Whatever the color is, I really like it. Even if the shade applies somewhat sheery, in three coats it is almost completely opaque.
Last shade for today is Groovy. Probably one of the most unusual shades of the Essence collection. It is a cream blue-green shade. It has been a problem to get a good photo. Under certain light it is completely bright blue under a different light, however, has a strong green undertone.
Under poor lighting…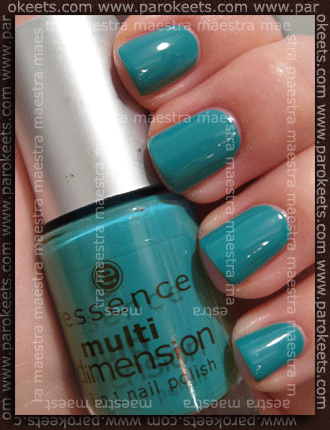 Under strong lighting…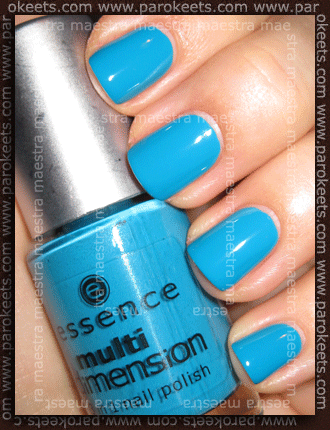 Groovy is my current NOTD, and I can not believe how much I like it.
Tomorrow, the Essence week continues …