This shade was on my wish list for quite some time now. Finally I bought it and I am really glad I did. It is such a great blue shade with blue, silver and green medium-sized shimmer. Shimmer is not rough and it does not pose any problems when removing the polish. It is really such a beautiful dark blue colour and in the right lighting it even shows some green tint to it. The green is more visible in one coat, but its is with no doubt dark blue. Currently, this is my favourite blue shade.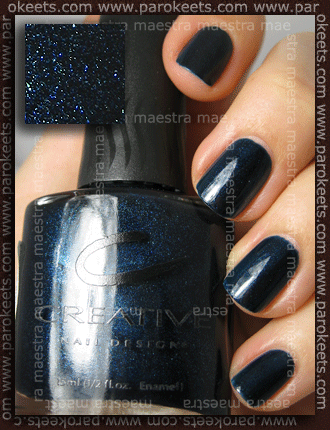 Creative Nail Design or shorter CND has a lot of wonderful shades. My only problem with this brand is the drying time of the nail polish. At the beginning, when I haven't used their basecoat Stickey and fast drying topcoat Air Dry, I had even bigger issues with their polishes. I had a feeling that they never dry completely. Now in combination with Stickey and Air Dry I don't have any problems as they dry fast enough. However, I would recommend that you apply these polishes in thin coats and wait a little between the coats.
This post is also available in SLO.