Essie's new spring 2009 collection is made of six cream shades, which will make cream polish lovers very hap
Promotional material looks like this: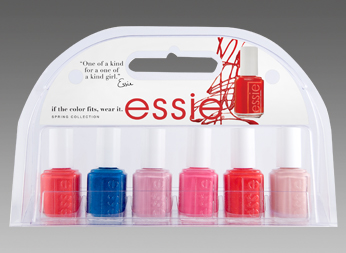 The shades are:
Lacquered Up – Red Hot Crimson
Flawless – Cherry – Blossom Pink
Eternal Optimist – Spiced Tea Rose
Mesmerize – Royal Va-Va Blue
One Of A Kind – Poppy Red Kiss
Status Symbol – Feisty Hot Pink
So far I have to show you only two shades – Mesmerize and One Of A Kind. I'm expecting the third – Status Symbol to arrive next week. The remaining three, I passed on because they did not convince me (yet).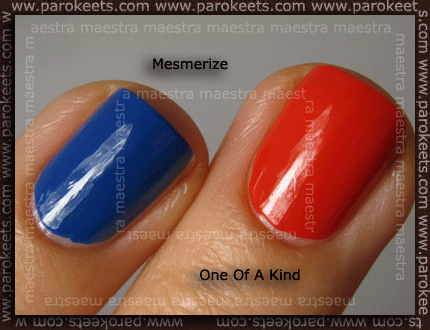 Mesmerize is a blue cream, which many people were waiting for. Medium dark blue cream, which applied flawlessly and is highly pigmented. It applied streak-free. In the picture it is shown with two coats.
One Of A Kind is orange-red cream shade, which also applied well and is highly pigmented. The photo is shown only with one coat!
As soon as I saw One Of A Kind, I thought that it was very similar to the Escapades shade of Essie's last summer collection. I made a comparison and found out that they are similar but not identical.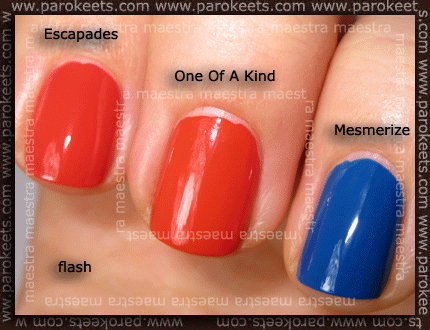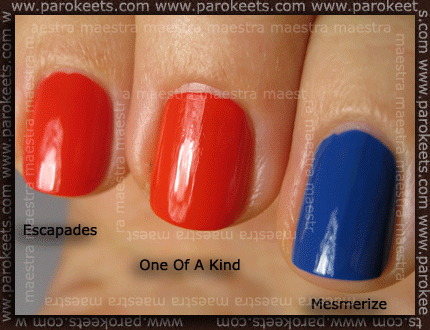 Bottle comparison…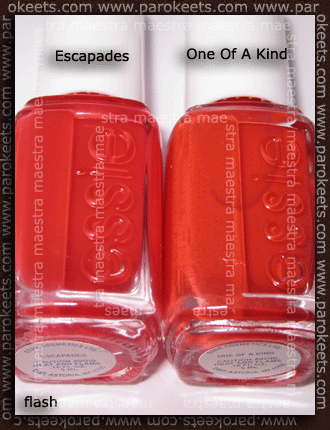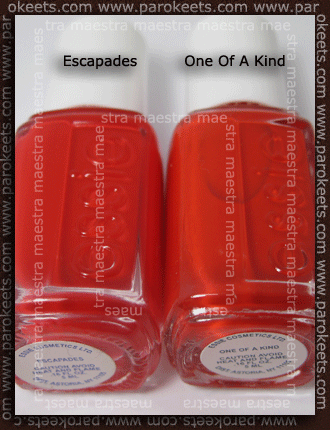 As I wrote before, the shades are similar, but not identical. OOAK has significantly more orange in it as E does.
As soon as I get the Status Symbol, I'll write more about this collection …
First picture: Source