I know, I know… Everybody already knows, that it is Valentines day. It's like almost every other holiday. Too comercialised, but OK. It's a day when you should tell your beloved person that you love him or her. It's a day when a man should buy a red rose to his girlfriend. It is also a day when you should buy your love a cute teddy bear on which is written: "I Love You". Oh, how original Oh, yes one should do all that and a lot more on Valentine's day. But why exactly on this day and not, ie. on friday the thirteenth? Ok, it is as it is. And it's nice to have such days when you have another reason to spoil the one person you love. And I must say, I love to give and receive presents, but I don't need a holiday to do that. Enough said. Let's move to the manicure I choose for Valentine's day. It is not a pink or red one. It is E.L.F.'s Coral.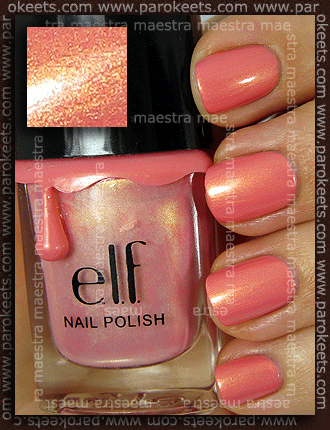 It's a lovely coral shade packed with gold shimmer. It was easy to apply, because it is very well pigmented. But you'll need two coats to get an even application.
After somer time I added some "sugar" to it. I applied one coat of Essence's Ice Sparkles from the Trend Edition Arctic Lights.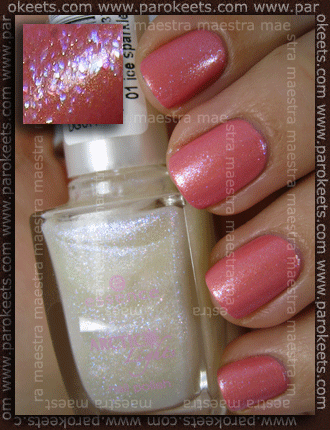 I don't really like the end result. Ice Sparkles is a sheer polish with shimmer that turns from pink, purple, silver to blue. And that shimmer "killed" warm gold shimmer of the base color. A detail of a Ice Sparkle…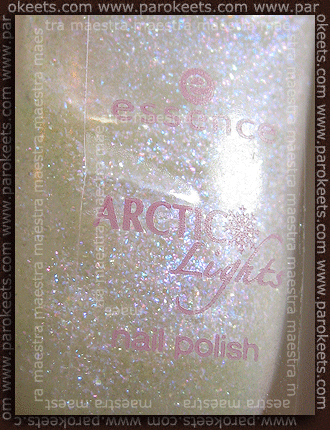 I ordered my E.L.F. polishes from UK, where they cost 1,5£. They have interesting bottle with a plastic drop. Otherwise I am not overwhelmed, but they are OK. My only issue with them is that they have a strange brush which doesn't bend easily. Sometimes it leaves brush strokes because of that and the only reason they are there, is because of the inappropriate brush.
And what is your Valentine's manicure? Or do you maybe have an Anti-Valentine's manicure?