Today I present to you – champagne trio: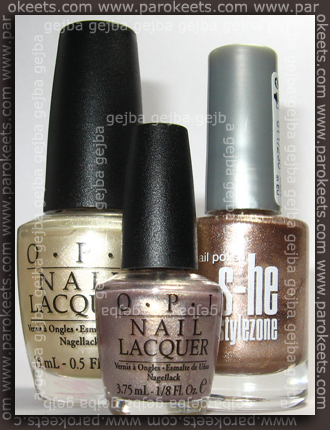 I compared two of my polishes: S-he 230 Aqua shine in OPI Glamour Game (Holiday in Toyland collection) to Maestras OPI I Only Drink Champagne.
First to join our little family was OPI Glamour Game. I bought it in mini size as part of the Tiny Toybox set. I was really liked combination of grayish base and mainly gold shimmer. From unknown reasons, I had bubbles in Glamour Game and S-he 230 polish. It never happened before so I guess it was just weird set of circumstances.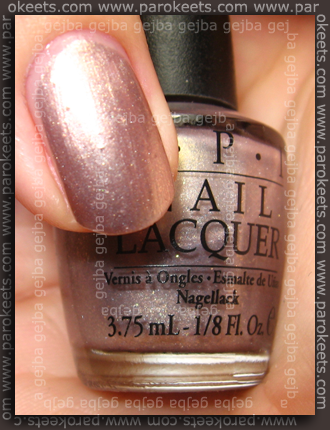 S-he 230 Aqua Shine falls into "holiday sparkle" category. Color is pretty goldish-beige (with silver shimmer), but way to shimmery for everyday use … at least for me. :D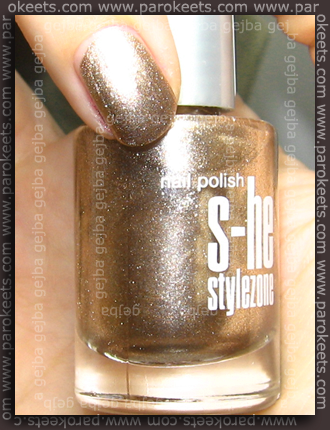 Last polish that reminds me of champagne is OPI I Only Drink Champagne. I didn't like this shade much. It clashes with my skin tone and makes my nails look yellow. Looks great on Maestra but on me … This shade falls into frost category.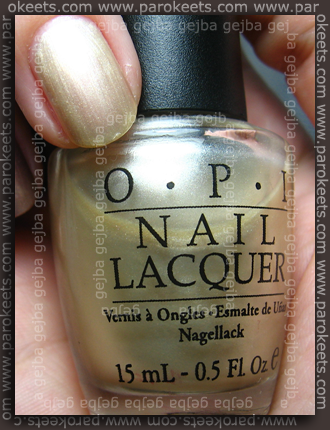 All in the row (from left to right): Glamour Game, I Only Drink Champagne, S-he 230 and Glamur Game bottle.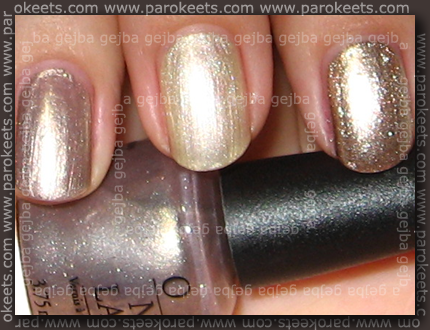 In all pictures there are 3 layers, no top coat. Pictures were taken under bright light or with flash – that was the only way to achieve realistic color.
Slovenian DM could not provide us with color chart of S-he nail polishes – if you have information on one avalable on internet, I would be gratefull for the link.