Since I don't like bright colors much, I'll be using red, purple, maybe dark blue or green colors all spring and summer on. Maestra tells me I'm the winter gal all year around. I have to remember the tip and stock my nail stash in autumn and winter.
One of the creme polishes in my collection is OPI Little Red Wagon, the last mini from the Holiday in Toyland set.
Beautiful red – I can not decide weather is neutral, warm or cool shade. You change lighting – polish changes the undertone. :D I had no problem with application, staying power was good – around 3 days with minimal damage.
Under bright light (2 coats):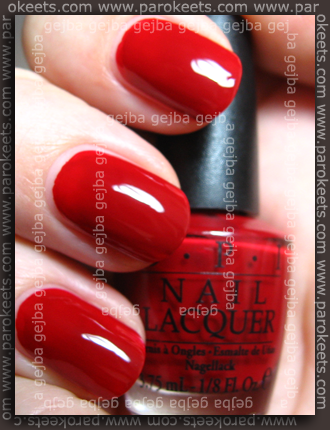 In the sunshine (2 coats):